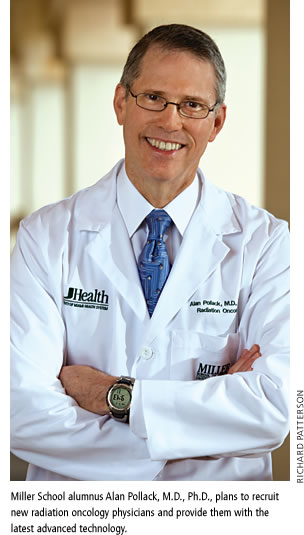 Alan Pollack, M.D., Ph.D., an alumnus of the Miller School of Medicine, has returned to take the helm as the new chair of the Department of Radiation Oncology. Pollack will oversee clinical and research teams at the University's Sylvester Comprehensive Cancer Center and serve as chief of service at Jackson Memorial Hospital.
Pollack comes to UM from Philadelphia's Fox Chase Cancer Center, where he was a leading physician-scientist specializing in external beam radiation therapy for prostate cancer. He says both external beam radiation and brachytherapy are advancing quickly, and he would like to "see greater integration of conventional CT-planning with functional imaging using MRI." The benefits, as Pollack explains, are in more clearly delineating tumors and allowing doctors to effectively plan a patient's treatment.
Pollack made great strides at Fox Chase and at M.D. Anderson Cancer Center at the University of Texas, where he served as professor of radiation oncology. He describes new contrasting agents coming into play, such as iron-based nanoparticles that work with MRI to give physicians a better view of lymph nodes. Pollack also plans to facilitate the incorporation of new technological advances, such as 4-D planning, respiratory gating, and real-time tumor tracking at Sylvester to better target tumors and save healthy tissue.
There are now eight physicians in the Department of Radiation Oncology, but plans are in place to double the size of the department over the next one to two years, says Pollack.
Treating prostate cancer is of particular interest to Pollack. He challenges doctors to more liberally use multimodality therapy to ensure cures. "Prostate cancer is notorious for coming back even ten years after treatment. Patients are being diagnosed at a younger age, and we must ensure that the cancer is completely eradicated."
For Pollack, a return to South Florida, where he also attended high school, wasn't a difficult decision. He was drawn by the diversity of patients and the "tremendous potential for making advances in this environment." And he would be working among friends, rekindling relationships from medical school days.
"Coming back to South Florida and the University of Miami, seeing many familiar faces on the medical school campus, and renewing collaborations is making the experience all the more rewarding."