Robin Cleary's Abiding Passion
Quadriplegic horse lover raises more than $1 million for Miami Project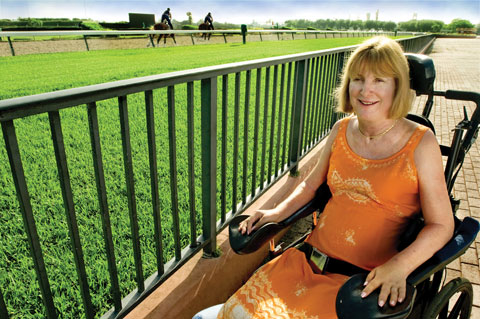 Robin Cleary, who became a quadriplegic after a horseback riding accident 13 years ago, trains horses and raises funds for The Miami Project to Cure Paralysis.
Sashaying housecats are the last thing you expect to encounter in Calder Race Course's stable enclosure. Along with keeping rats out of oat-filled feed rooms, the felines show skittish thoroughbreds how to approach life with a more laid-back mien.
If Robin Cleary notices the cats, she doesn't let on. Seated beside a stable in her wheelchair, Cleary only has eyes for Tina's Legacy, a dark filly that Cleary and her husband, Brian, own.
Shaded from the afternoon sun by a green and white awning running the length of the stable, Cleary gazes lovingly upward at Tina's Legacy, whose massive head juts through an opening in the cinderblock structure. A horse trainer who became a quadriplegic 13 years ago after a riding accident at Calder, Cleary subsequently discovered fundraising abilities that have generated more than $1 million for the Miller School and The Miami Project to Cure Paralysis.
But something she'd always known—that her thirst for all things equine is unquenchable—has remained unchanged.
"Thoroughbreds are very high-strung," the Pembroke Pines resident reflects quietly, as though Tina's Legacy might hear her. "Everything they see, they're going to jump away from. You never know what they're going to do—they're very unpredictable."
Even so, Cleary was inexorably drawn to the world of thoroughbred racing, perhaps due to experiences dating back to when she was in the womb.
"My mother likes to say that I've been riding since before I was born," Cleary says of her early years in Tenafly, New Jersey. "She was riding when she was pregnant with me. So after that, I was addicted, too. My brother, too, was into the horses." Capping off her horse-loving DNA, Cleary's father was a jockey.
As she reminisces, puttering nearby is her husband of 30 years, Brian Cleary, a short, wiry man with salt-and-pepper hair and a spring in his step as he tackles one of the million and one tasks associated with caring for horses. Along with training Tina's Legacy, the Clearys also are responsible for training two thoroughbreds owned by others.
As Brian tends to the horses, Cleary is vigilantly monitored by Karen White, an assistant who helps her with her daily activities. She gently removes Cleary's medium-length, blondish hair from her face after wind gusts.
From the age of 6 till 18, Cleary was a show-horse rider. By the time she stopped riding the even-tempered animals, Cleary and her family had moved to Florida, where she was attending Deerfield Beach High School. "I didn't have what it takes to guide a horse over the big, big jumps," Cleary says with unflinching honesty. "I wasn't comfortable, going over those big high fences. When it got to more than 4 feet, that was a little too much for me.
"In my last year of high school, I started exercising quarter horses for a friend," she remembers. "We had quarter horse racing at Pompano Park at the time, and I rode there as a jockey for one summer."
Compared with quarter horses, nervous thoroughbreds are practically Zen-like. Quarter horses are basically a half-ton of nervous energy on the hoof prior to races, and are prone to rearing up on their hind legs and falling over backward before leaving the starting gate.
On at least two occasions, track workers had to drag Cleary from starting gates before her races were under way. A wise teenager, Cleary had had enough.
Ultimately, moving away from quarter horses wasn't that big a deal "because the horses I was riding weren't that good," Cleary says with
a throaty chuckle. "I never won a race."
At least that year, 1975, wasn't a total loss, because Cleary met Brian while working at L'Amour Farm, a Davie horse training center. She worked at L'Amour Farm every winter for ten years, including a stint with well-known trainer T.J. Kelly.
Cleary was an assistant trainer at Miami's Calder Race Course on the morning of July 29, 1996. "I was on a horse we thought a whole lot of, named Phoney Actor," Cleary says. "He just felt fabulous."
In the middle of a brisk morning workout, Phoney Actor took a bad step, and Cleary pulled back on the reins. "And as I was standing up, I felt the other leg go," Cleary relates. "As soon as the other leg went, I went over his head, and hit my head on the ground.
I instantly felt a sensation go through me, and I realized right away that I was paralyzed."
Phoney Actor sustained two broken legs and had to be euthanized.
Cleary started coming back to Calder a year after her accident. She initially loathed watching others do what she loved, but her passion for horses eventually won out. In 1998 The Miami Project to Cure Paralysis asked Cleary if she'd be willing to do some fundraising. Up for the challenge, Cleary approached individuals in the thoroughbred industry and amassed $25,000 that year and $36,000 in 1999.
In 2008 Cleary's cumulative fundraising efforts surpassed $1 million. She makes it clear she's raising money for spinal cord research so she can eventually rise from her wheelchair and resume riding thoroughbreds as a trainer.
It's a racetrack wager she'd give anything to win because the horse racing business is Cleary's life.
"Nothing happened to the love," she says of her lifelong obsession. "Thank goodness for that!"