Eyesight for the Blind
Eyetooth implanted in eye enables patient to regain sight


The faces of Sharron "Kay" Thornton's seven youngest grandchildren, born during her near-decade of blindness, are no longer left to the imagination.
Since a surgical team at the Miller School's Bascom Palmer Eye Institute restored Thornton's vision using her eyetooth, she finds their smiles as mesmerizing as the billowy clouds and blue skies she once took for granted.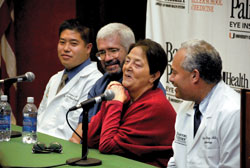 Sharron "Kay" Thornton describes her joy over being able to see again. At her side, from left, are Yoh Sawatari, D.D.S., Rick Brister, a family friend, and Victor L. Perez, M.D.
"It's like Christmas every day,'' Thornton said when introduced as the first U.S. recipient of a modified osteo-odonto-keratoprosthesis (MOOKP) at a September 16 news conference.
Just two weeks after Thornton's surgery, which used one of her extracted canines as the platform for a prosthetic lens, she was boasting 20/60 vision in her left eye, making her a believer in miracles and a beacon of hope for patients around the world blinded by corneal scarring.
Now 60, the former restaurant manager was blinded nine years ago by Stevens-Johnson syndrome, a rare skin disorder that destroyed the cells on the surface of her eyes, leaving the corneas severely scarred.
Blindness from such inflammatory or immunological disorders, or from chemical and thermal burns, deeply frustrates Thornton's doctor, Victor L. Perez, M.D., a cornea specialist and associate professor of ophthalmology, because the inner structure of the eye still works—but the scarred outer cover blocks vision. A Bascom Palmer patient for six years, Thornton was not a candidate for a more common corneal transplant and was referred to Perez as a last resort. The timing was fortuitous. Perez had just begun exploring the MOOKP procedure pioneered in Italy in the 1960s and knew Thornton could be a candidate. Last year, he went to Europe to learn the procedure from Italian ophthalmologist Giancarlo Falcinelli, M.D., who modified the original technique invented by Benedetto Strampelli, M.D.
In the MOOKP procedure, a scarred cornea is covered with a layer of oral mucosa. A tooth and surrounding bone is extracted and sculpted into a platform with a hole in the middle to hold an optical lens. The prosthesis is implanted in the eye through a flap in the mucosa. The lens protrudes slightly, admitting light and allowing the patient to see. Eventually, a cosmetic shell covers the lens.
Under Falcinelli's guidance, Perez completed Thornton's surgery just before Labor Day. But the process began six months earlier when Yoh Sawatari, D.D.S., assistant professor of clinical surgery in the Division of Oral and Maxillofacial Surgery, extracted Thornton's eyetooth and the surrounding bone.
He and Perez sculpted the tooth and bone into a platform, drilling a hole in the middle to hold a lens crafted by Jean-Marie Parel, Ph.D., research associate professor of ophthalmology.
With the one-eighth-inch lens firmly inserted in the hole, the prosthetic package was implanted in a subcutaneous pouch of Thornton's skin for several months, allowing it to "bio-integrate" into one unit.
Meanwhile, doctors prepared the dry surface of Thornton's eye for the prosthesis by covering it with a layer of oral mucosa taken from her cheek. Organically similar to a normal eye's moist surface, the membrane provides a nurturing environment for the tooth—like turning a desert into a garden, Perez says.
In the final phase, the prosthesis was retrieved from the skin pocket and inserted into the cornea, through a flap in the mucosa. Protruding slightly from the eye, the lens allows light in and Thornton to see.
"I got to see all my grandbabies. They were beautiful,'' Thornton told People magazine.
People joined numerous major news outlets, including CNN, NBC, ABC, NPR, BBC, The Washington Post, The Wall Street Journal, and AOL, in chronicling Thornton's amazing journey.