Second Chance
By Lisa Worley | Photo By John Zillioux
Diagnosed with hepatocellular carcinoma, a deadly form of liver cancer, Raul Valdes-Fauli and Phil Corey turned to the Miller School's Center for Liver Diseases and Miami Transplant Institute, whose nationally acclaimed physicians saved their lives.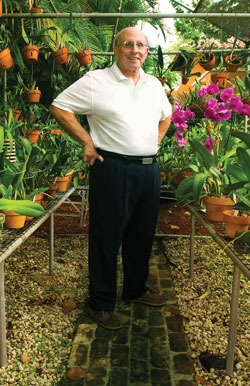 Former Coral Gables Mayor Raul Valdes-Fauli received a liver transplant and successfully recovered from liver cancer.
The subplots of Raul Valdes-Fauli's life have the makings of a good Hollywood feature: A teenage boy flees Havana with his family after Fidel Castro's takeover, comes to
America, attends Harvard Law School, works with prestigious international corporations, and becomes mayor of Coral Gables.
But like any good script, there is a crisis. In Valdes-Fauli's case it was hepatocellular carcinoma, the most common cancer of the liver.
The real-life medical drama began in May 2006 when the prolific attorney went to a cardiologist with chest pain and was admitted to a hospital. It turned out that his heart was fine—his liver was not. A scan and a biopsy uncovered a cancerous tumor and his alpha fetoprotein (AFP) level, a marker for liver disease, was "off the charts" at 12,000. A normal count is five.
For such a life-altering illness, Valdes-Fauli—the father of three children, plus
three stepchildren—turned to physicians at UHealth–University of Miami Health System. The University of Miami/Jackson Memorial Medical Center is one of the nation's foremost centers for liver transplants and treating liver diseases. Under the leadership of Eugene Schiff, M.D., director of the Center for Liver Diseases, and Andreas Tzakis, M.D., founding director of the Miami Transplant Institute, hundreds of lives have been saved.
Schiff, who is internationally known in his field, did not sugarcoat Valdes-Fauli's condition: "Dr. Schiff looked at me and said, 'Raul, this is bad,'" the former mayor recalls. "He brought up a transplant from the very beginning."
Still, Valdes-Fauli was not a viable transplant candidate—at least not yet. At nearly 9 centimeters, his tumor was too big and had to become smaller for him to be placed on the transplant list. That summer, Valdes-Fauli underwent transarterial chemoembolization under the care of Lynn Feun, M.D., a medical oncologist at Sylvester Comprehensive Cancer Center. In chemoembolization, a catheter is inserted in the femoral artery of the leg, then directed to the hepatic artery. The goal is two-fold—to inject a chemotherapy drug into the tumor and block off the artery feeding it. Following the chemoembolization, Valdes-Fauli was given chemotherapy every four weeks.
By September, after ten treatments, his tumor had shrunk to 4 centimeters and his AFP level dropped to four.
'I Thought I Was Invincible'
A successful entrepreneur, Phil Corey regularly traveled to Latin America and North Carolina for his seafood importing business and rode his bicycle 25 miles a day. "I thought I was invincible," says the Coconut Grove resident.
Then two years ago, at the age of 68, he got a dose of terrifying reality: He was diagnosed with hepatocellular carcinoma (HCC) and needed a liver transplant.
The events that would lead Corey to UHealth and the Miller School's renowned liver experts began in 1965, when he received a blood transfusion and contracted hepatitis C. But for many years he was unaware of his condition and embarked on a normal life. A routine blood test discovered his hepatitis C, but he never felt ill and put the disease on a back burner.
All that changed when his close friend, Jamie Barkin, M.D., professor of medicine at the Miller School and chief of gastroenterology at Mount Sinai Medical Center in Miami Beach, saw something behind Corey's kidney. "He said, 'I'm not sure what it is, but let's check it out,'" Corey says, recalling the doctor-patient conversation that took place in the fall of 2005. When his AFP level came back elevated, an MRI was ordered. Three months later, with a still-elevated AFP level and the same shadow on his liver, Schiff was brought in.
Doctors twice used radio frequency ablation, a therapy using heated probes, to remove suspicious tissue from Corey's liver. Nearly a year later, when another cancerous spot was found, Schiff got Tzakis on board.
Still there was more bad news for Corey. He had diffuse coronary artery disease, and Tzakis insisted he have bypass surgery before a liver transplant. "I got totally freaked," Corey says.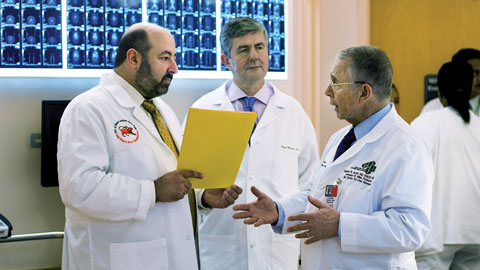 From left, David M. Levi, M.D., Paul Martin, M.D., and Eugene Schiff, M.D., lead the team conducting liver transplants at the Miller School.
Battling an 'Epidemic'
Valdes-Fauli and Corey are among the 25,000 Americans who have HCC. Worldwide it is the fifth most common cancer, responsible for 600,000 deaths each year. According to the latest National Cancer Institute data, while most cancers saw declines from 1996 to 2005, HCC is one of the few that is still increasing in incidence and death rates.
"We're experiencing an epidemic of hepatocellular carcinoma," Schiff says, adding that in the United States most HCC stems from hepatitis C.
The trigger for this explosive increase was actually pulled about 40 years ago. It was a time, Schiff explains, when many young people experimented with drugs. Even sporadic needle sharing could transmit hepatitis C, which often resulted in cirrhosis of the liver—nodules and scarring that destroy the body's primary blood filter. With no screening test for hepatitis C and relatively few symptoms at its onset, many people didn't realize they had contracted the disease, and some unknowingly spread it during blood donations. For a lucky few, the virus didn't survive. But for about 85 percent who contracted hepatitis C during that time, it became a chronic condition.
Neither Corey nor Valdes-Fauli knew anything about a so-called epidemic, but their Miller School physicians had seen the increase building over the last few years and started treating HCC from a multidisciplinary approach.
For at least two hours each week, a group of oncologists, hepatologists, surgical oncologists, transplant surgeons, pathologists, radiologists, and gastroenterologists gather in a Jackson Memorial Hospital conference room. The meetings, says Paul Martin, M.D., chief of the Division of Hepatology, are the optimal way to get specialists' opinions and "patients ultimately benefit from the high-level of input" on as many as 15 HCC cases each week.
At one of those meetings it was determined that Valdes-Fauli and Corey should get transplants.
Hepatocellular carcinoma is one of the very few cancers that can be treated with a transplant. David M. Levi, M.D., professor of surgery in the Division of Liver and Gastrointestinal Transplantation, says in patients who are transplanted, the recurrence rate of HCC is less than 10 percent. Doctors, however, must perform the transplant before the tumor spreads outside the liver.
When liver transplants were first examined as a potential therapy for HCC, doctors had to prove that despite the risk of recurrence it was worth giving a cancer patient a liver instead of giving the organ to another patient without HCC. Levi says it's "an added burden." Doctors had to prove that five-year survival rates for tumor patients were just as good as non-tumor patients.
In the mid-1990s a group of Italian physician-scientists began a study of transplant patients with tumors. They only transplanted patients with one tumor, less than 5 centimeters, or two to three tumors, none bigger than 3 centimeters. Tumor-free survival was 83 percent. That became known as the Milan Criteria; it is still the guideline used by UNOS, the United Network for Organ Sharing, which governs organ transplant policies in the United States. Each patient is also given a MELD score that quantifies the degree of illness. The MELD (model for end-stage liver disease) score is higher for sicker patients and a score of 15 is required to get on the organ donor list.
The Wait, Transplant, and New Life
Getting on the transplant waiting list requires passing a series of milestones, and Corey and Valdes-Fauli endured months of treatments to meet the Milan Criteria."The waiting time is horrible," says Valdes-Fauli. "You don't know when or even if anything is going to happen."
Even so, an astounding 90 percent of South Florida patients are transplanted within three months if they meet the criteria. UNOS has set up dozens of procurement organizations across the nation, including the Life Alliance Organ Recovery Agency at the Miller School. Levi notes that Life Alliance's academic ties to the Miller School, along with its research and grants, have made it "a leader in procurement around the nation and, because of the partnership, many people are alive today."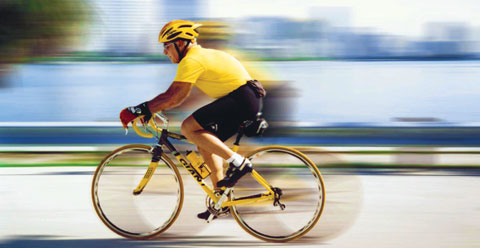 Phil Corey, an avid cyclist and liver transplant recipient, credits his great physical condition to a smooth recovery.
Like nearly every transplant patient, Valdes-Fauli and Corey can recall the exact date they got the call of hope, where the voice on the other end of
the phone said a donor had been found. For Corey, it was April 11, 2007. Valdes-Fauli remembers it was January 30, 2007—a most joyous Tuesday evening.
The next three days were the "longest days of my life," he says.
Valdes-Fauli's many months of battling cancer with chemotherapy and chemoembolization were turned around in the operating room. He is now back to swimming a dozen laps daily.
Corey, a long-distance cycler and runner, credits being in great physical shape before the surgery with helping him recover. Both men are now on a daily regimen of immune-suppressant drugs.
Interferon helped Corey beat hepatitis C, and there's no sign of the virus now. He was fortunate, Schiff explains, because the majority of patients with hepatitis C who undergo liver transplants aren't able to shake the underlying virus. But Schiff predicts that new drugs in the works will increase the success rate in the next five years.
Valdes-Fauli keeps a close eye on any recurring cancer, going for check-ups with Feun every four months. He's been cancer-free for two years now, but doctors want to see every patient hit the five-year mark before letting down their guard.
To reduce the chance of HCC recurrence, Miller School physicians are working with researchers from the University of Hiroshima. Tzakis says they have started a study using natural killer (NK) cells, the body's own white cells. These cells can attach themselves to tumor cells and attack them. Working with cadavers, doctors take a donated liver, flush out the NK cells, and grow them in the lab. Three days after a donor liver is implanted, a larger army of NK cells is injected into the recipient to wipe out any lingering tumor cells. A clinical trial in Hiroshima has been successful in every patient.
For both transplant recipients, the experience has been life-changing. Corey wanted to give back to those who saved his life; he realizes "how efficient, dedicated and professional the entire staff was." He has pledged $4 million to the Miller School—with $1.5 million going to the Center for Liver Diseases, $1.5 million going to the Miami Transplant Institute, and $1 million to the Division of Gastroenterology. He has pledged an additional $1 million for an athletic scholarship endowment. "I am living for today," he says.
Valdes-Fauli says he will be forever grateful to the doctors and nurses who treated him and has since worked to raise money for the Miller School's Division of Hepatology. "It was a difficult time, but their kindness and amazing efficiency made all the difference," he says. "I am lucky and blessed."