By Pascal J.Goldschmidt, M.D.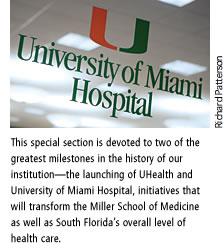 In our efforts to create a real opportunity for transforming medicine in South Florida, and Miami in particular, it rapidly became clear that the availability of a private hospital—a University of Miami hospital—was at the top of the list of priorities.
Making Miami a medical destination, where patients come from all over to access the best doctors, the best nurses, and the best medicine, could not take place without the Miller School of Medicine taking on the responsibility of becoming a true academic medical powerhouse for this region. For years the school has been a pipeline producing great physicians who have raised the level of medicine in South Florida and elsewhere. But the full-scale delivery of our academic mission could not be fulfilled without a hospital we could call our own.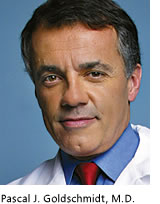 Time always does tell whether a plan was the right one. When we look back, we see that Ed Norton and his team understood 30 years ago that to build the premier eye institute in the United States, there was a need for a private eye hospital that Bascom Palmer Eye Institute could call its own. After years of maturation and progress, the Miller School of Medicine has reached the level of medical opportunity that the premier eye institute enjoyed some years ago. The UM Miller School of Medicine is now ready to deliver an unprecedented opportunity for health and wellness to our patients, to our citizens, and to people coming from everywhere in the United States and abroad.
What makes great medicine is not the beauty of the facade or the color of the marble floor. Instead it is a culture. The culture of great medicine is a complex mix of compassion, safety, commitment to the most advanced technologies and progress in medicine through science and research, a team approach to patient care, and absolute focus on what benefits the patient. For such a culture to impact every part of our health system, every member of the Miller School of Medicine must realize his or her contribution to the overarching delivery of great medicine. Each person can bring to the medical community a special quality of care, regardless of one's job responsibilities.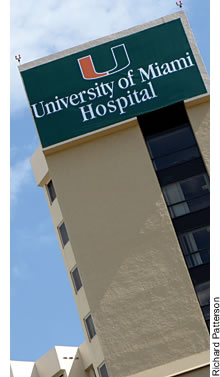 The creation of a medical destination in Miami requires the University to pay attention to and take good care of its neighbors, Jackson Memorial Hospital, the Veterans Affairs Medical Center, and our community. We also want all our colleagues—physicians, nurses, and staff—outside the Miami Health District campus to benefit from our reputation, which will be shared collectively. In addition to a great opportunity for patients to access the best health care system in the world right here in their own backyard, there will also be great opportunities for health care providers across the entire region. The best medical students, the best nursing students, and members of our community who are eager to contribute will find an unmatched opportunity for education and for career development not only at the Miller School of Medicine but also throughout South Florida.
Once again, business will be booming in Miami, with a lot of great jobs for the community—except perhaps for one line of business, which consists of flying patients from Miami to distant medical centers. We will indeed make sure that no one needs to fly anywhere from Miami to get great health care.