Over a period of months, and in some cases only a few weeks, the Miami medical community will marvel over the physical changes at the 13-floor, 1.5 million-square-foot University of Miami Hospital. The plans to transform the former Cedars Medical Center don't miss a detail, from the aesthetic accoutrements such as modern furniture and earth-toned finishes that will soon update the lobby, to giant steps such as the expansion of medical specialties that will require significant upgrades to operating rooms and labs.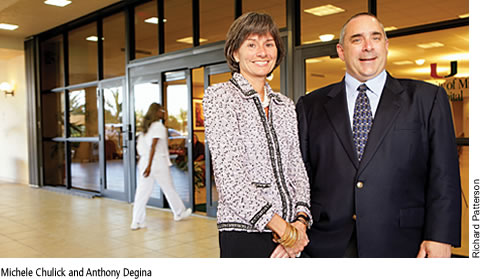 "There's great expansion capabilities in some of the areas like radiology, cardiology, and the catheterization lab," says Michele Chulick, associate vice president and director of hospital operations. "There is space for us to expand and build programs you might not find in another facility. There is space for us to show more people the quality medicine that is practiced by University of Miami physicians."
Chulick has been studying the hospital for a while now and easily rattles off some of what's to come: "We are going to add new technology, upgrade the operating rooms, renovate the patient rooms. The Miller School of Medicine has also recruited highly talented cardiologists with expertise in interventional cardiology and electrophysiology. With this expertise and a state-of-the-art catheterization lab we will be positioned to provide world-class cardiology services for all patients. In addition, we are launching a center for minimally invasive surgery that will become one of our specialty areas."
The transition is being made easier because Chulick retained the management group of the former Cedars, a team led by CEO Anthony Degina, a man who knows every corner of the hospital.
"When you hear Dean Goldschmidt lay out the vision for the health system as a destination academic medical center, that got us really excited," says Degina. "There is going to be a lot happening, and that's why I wanted to continue to be a part of it."
But he also acknowledges the remarkable progress and good reputation of Cedars, factors that helped buoy the purchase by the University. "We're not starting from zero," adds Degina, who joined the hospital in June 2006. "We're starting from a much higher point."
One of the most significant high points is the hospital's all-private room layout— 560 single-bed rooms with full bathrooms from the fifth floor to the penthouse. "This is a real advantage. You get privacy, and you have less of a chance for disease transmission and infection," says Degina, adding that a growing number of patients are requesting such medical accommodations. "But it's expensive to build today, and that's why you don't see many hospitals like this. Most hospitals have only a small percentage of private rooms."
There are many more medical services that set the hospital apart from others in South Florida, including dermatology and hepatology, both UM programs that have been based at the hospital for several years. Of particular note is the hospital's sixth-floor dermatology ward; it is one of only two medical facilities in the country with in-patient dermatology, and there are plans to give it more national and international exposure. "The dermatology residents do a lot of their training here, and from a volume standpoint the unit is pretty much full all the time," Degina says. "It's also a unit where some of the most rewarding work goes on."
The hospital's critical care fifth floor was designed and built only a decade ago on what was once the roof of the building. There are 46 beds for patients from four units— surgical critical care, cardiac critical care, neurosurgical intensive care, and intensive care—and an intensivist, certified in critical care medicine, is available at all hours.
The third floor houses the pharmacy, the cardiac catheterization lab, 14 operating rooms (four more ORs are in the ambulatory center), and eight post-surgery rooms. Plans call for merging three of the ORs into two, one of which will be used to perform operations using the robotic da Vinci Surgical System. The changes are all according to a carefully drawn plan: "We're doing what's necessary to make UM Hospital a destination for the most advanced medical care," Degina says.
Adds Chulick: "This is a chance to show people the wonderful achievements our doctors have made and the new research they are working on—in an environment that's ours. A first-class environment."