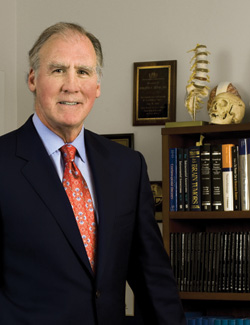 Roberto C. Heros, M.D., will receive the Harvey Cushing Medal, the highest honor given to a neurosurgeon by the American Association of Neurological Surgeons, in May.
Sixteen year-old Carlos Heros knows that, at certain moments, he can look at his father and expect to see tears in his eyes. The uncontrollable reaction comes during events that extol the courage and virtues of Americans. Even a patriotic-themed television program in which Old Glory is prominently featured can cause Carlos's dad, Roberto C. Heros, M.D., to be overcome with gratitude toward the nation that welcomed him when he fled Cuba.
In May, Heros, professor and co-chair of neurological surgery and residency program director, will likely shed another thankful tear when he walks across a stage to receive the 2010 Harvey Cushing Medal, the highest honor given to a neurosurgeon by the American Association of Neurological Surgeons (AANS). Heros's much longer walk in life is summed up in the award letter from AANS president Troy M. Tippett, M.D.: "Your contributions to neurosurgical education, your efforts in helping to bring the XIV World Congress of Neurological Surgery to fruition, and your personal traits, scientific honesty… are models for all neurosurgeons and deserve the highest recognition our specialty can bestow."
In March the American Heart Association honored Heros with the 2010 Cor-Vitae Award for his contributions to stroke care.
As Heros likes to tell his American-born teenage son, his heart fills with gratitude when he thinks about his life's journey. A former paratrooper in the Bay of Pigs invasion, Heros spent two years in prison in his native Cuba before settling in Miami, a result of the prisoners-for-goods exchange between the United States and Cuba.
"That period was tough, but my memories of it are not terrible," says Heros, who decided then not to dwell on memories of his past life in a prominent Cuban family. "Some of those locked up with me in prison had a much harder time, because they had wives and children to worry about. I didn't know what was ahead—but when I arrived here, I could never have dreamed of the kindness this country would show me."
Though Miami in the 1960s was the center for Cuban exiles, Heros decided after a few months to venture farther into Americana. He chose Memphis. "There was something unusual about being a Cuban in Memphis," Heros says. "The people didn't know me, but they embraced me."
In Memphis, Heros went from eking out a living as an insurance salesman to entering college on a scholarship after a college officer heard him tell his life story to a group of students. When he did well in college, the same officer and others helped him get into medical school at the University of Tennessee, where he graduated first in his class in 1968. A two-year surgery residency at Massachusetts General Hospital came next, followed by two years in the U.S. Air Force. Heros returned to Mass General for his neurological surgery residency.
Heros's stellar career has taken him to the University of Pittsburgh, to Harvard as a full professor, and to the University of Minnesota, where he was chairman of the Department of Neurosurgery. Along the way he met and married an Iowan. His wife, Deborah Heros, M.D., is a neurological oncologist and associate professor at UM.
In 1995, when the Miller School came calling, Miami—the second time around—seemed the perfect place for a Cuban doctor who had seen much of the country and the world. Heros brought with him his clinical and academic prowess in cerebrovascular surgery and impressive research in cerebral protection from ischemia, which has been funded by the NIH for 15 years.
Today Heros is renowned nationally and in dozens of countries around the world where he has lectured or made presentations. He has served as president of the AANS and the World Congress of Neurological Surgeons. Still, he says, he remembers the days when he was a young man who was still learning the language in a strange country.
"I will forever be grateful for the kindness and opportunities this country has offered me," Heros says. "This is a country where anyone can succeed."