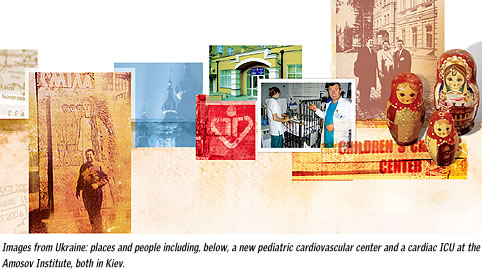 It turns out that you can go home again—even when you don't realize it's home. That's what Steven Lipshultz, M.D., professor and chair of the Department of Pediatrics at the University of Miami Miller School of Medicine, discovered as he began a series of trips to Ukraine on a mission to improve the health of the nation's children. Ukraine, the second largest country in Europe, has a population of around 48 million. The country was declared an independent economic state from Russia in 1991, but it was only after 2004's "Orange Revolution" that Ukraine moved toward democracy. Shortly after the 2004 revolution, Lipshultz took his first trip to Ukraine as part of a U.S. congressional and State Department delegation examining children's medical services and health. One area of special concern was the availability and quality of care for children born with heart diseases. "I was not able to find consistent figures, but it appears that there are between 6,000 and 8,000 children who are born needing cardiovascular surgery in Ukraine each year. However, not more than 1,500 of these children actually receive cardiovascular surgery. That means there are thousands of other children who need surgery, and most will die or develop symptomatic irreversible heart disease without it," Lipshultz says.
Touring the National Center for Pediatric Cardiovascular Surgery in Kiev, Lipshultz observed many children were hospitalized due to symptoms related to heart disease that would have been detected and corrected early in life in the United States. Most were suffering from the complications of not having been diagnosed or treated during that early critical therapeutic window. A very high percentage of all children born with congenital heart disease not compatible with life—who do not have access to needed surgery—die within the first year of life. And the rates of congenital heart disease in Ukraine are among the highest in the world, in part due to birth defects related to the 1986 Chernobyl nuclear disaster and other environmental teratogenic exposures.
"In the United States many of these infants and children would never need surgery because specialists in pediatric interventional cardiology would be able to balloon open sticky heart valves or close holes in the heart, among other procedures, in the catheterization laboratory," says Lipshultz. "Due to limitations related to expenses, facilities, and training, interventional pediatric cardiology has not been a realistic option for children throughout Ukraine."
Many of the children do not receive any treatment at all, surgical or otherwise, and the fact that they have heart disease is never even discovered. "They just die as babies," explains Lipshultz. "Here, most children with congenital heart disease receive treatment, grow up, and get on with their lives. There, many of them are medically left alone and they die or suffer many cardiac disabilities."
That was one of the harsh realities that Lipshultz learned about Ukraine. Despite the sophistication and grandeur of the cities, Ukraine's health care facilities and systems are in many cases as meager as those in the poorest parts of the world. A tour of the country's "finest" pediatric cardiac critical care unit showed that it had "ventilators that should have been retired years ago," says Lipshultz.
During that first visit to Ukraine, Lipshultz discovered many things: hard-working, dedicated staff, deplorably antiquated facilities and equipment, inadequate training, and something else—a deeper connection to Ukraine than he realized.
"Some of the officials said, 'I know some people who have your name—do you have any relatives from here?' And I said I had no idea where my relatives were from; I just knew they were from Eastern Europe. My family never spoke about them because anybody who didn't make it out was killed as a Jew living in Eastern Europe," Lipshultz says.
Lipshultz understood his parents' silence—but the questions of origin, of lost family members, of history, persisted. For all he knew, family ties could be a few miles away or around the corner in Kiev.
Upon his return to the States, Lipshultz told his parents about the trip, then cautiously pressed for more information. His mother, who had become gravely ill, simply didn't recall much—except for Smila Soup. The borscht-like soup, per tradition, was named for the cook's village.
Lipshultz passed on the bit of information to his new Ukrainian colleagues but was careful not to get excited about finding kinship based on borscht. In the meantime, he concentrated on strengthening the relationship between the medical community in Ukraine and the Miller School.
As a result of that December 2005 visit, a delegation of six Ukrainian pediatric specialists was sent in January 2006 to attend the internationally renowned Masters of Pediatrics educational program presented by the Miller School and to work with UM's Children's Heart Center. Working closely with members of the Children's Heart Center team, including Steven E. Schultz, M.D., director of pediatric cardiac critical care medicine, and Eliot Rosenkranz, M.D., chief of pediatric cardiothoracic surgery, the Ukrainian delegation pledged to continue to develop the relationship between the two groups to improve outcomes for Ukrainian infants.
"We hardly manage to treat one-third of the children who need surgery, so this collaboration is very important," says Igor Mokryk, M.D., a congenital heart disease specialist.
Later that spring, the first lady of Ukraine invited Lipshultz to address the Ukrainian leadership in March and April 2006 to discuss the late health effects in long-term survivors of radiation exposure during childhood at the government's humanitarian forum on the 20th anniversary of the Chernobyl disaster.
These trips culminated in the country's first educational conference on improving heart care outcomes in their new children's heart surgical institute in October 2006. The Ukraine minister of health declared the University's training program to be a national summit, which attracted hundreds of children's heart specialists from all parts of Ukraine.
On one of those trips, Lipshultz finally learned where his family was from.
The mention of Smila Soup to his Ukrainian friends led them to investigate this further on Lipshultz's behalf—without his knowledge. The chief congenital heart surgeon for Ukraine worked with the minister of health for Cherkasy Oblast, the province where Smila is located. In April 2006 "they insisted that I get in a car with one of the cardiac surgeons. I was initially not sure where we were going but he drove me down to Smila, which is a city many hours outside of Kiev in the central agricultural region of Ukraine," Lipshultz says. He arrived to a remarkable welcome.
"When we got there, I met with the mayor of the city, the assistant mayor of the city, and the physician who was in charge of all health care for the region, and they brought me around to the neighborhood my family had lived in and other memorable locations," he says. He received the Medal of Smila, which is adorned with symbols of courage, fortitude, and the victory of good over evil.
After that heartwarming visit, Lipshultz got back to medicine. "The head doctor for the region took me to several of the hospitals—and for a city with a population of 65,000 and for the surrounding region, I was told that there was no service for any child with heart disease. For the entire province—this is an area perhaps as large as Florida—there was not a single doctor who specialized in the care of children with heart disease. They don't have ambulances or helicopters to easily transport the children to Kiev," Lipshultz says.
At the October conference, which coincided with the opening of the first Ukraine National Children's Heart Surgical Hospital, Lipshultz was joined by Schultz and Rosenkranz as invited speakers, the only three non-Ukrainian faculty asked to speak. The two UM physicians found their reception to be just as warm as Lipshultz's welcome had been.
"Our sponsors had to drag us out because their children's heart specialists just kept asking more and more questions and wanted more information," Lipshultz says. "The health care workers in Ukraine really want to learn, whether they have the equipment—or will ever see the equipment or use the techniques they were taught.
"That's why we're trying as hard as we can to help them in any way, whether it be telemedicine, whether it be teleconferencing, whether it's through having children's heart specialists come to the University and train, or having us help consult on how to build the best facilities and outfit them.
"There's such an opportunity to make a difference. We're at the point now where we can see a difference. I want to continue that momentum."