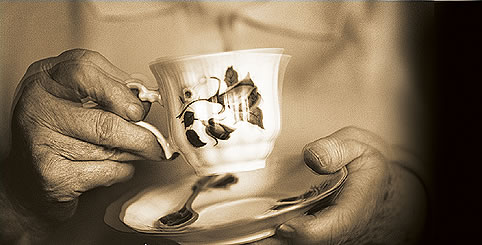 James Orovitz thought he was in the best physical shape of his life. He was 60 years old and enjoyed normal blood pressure and low cholesterol. Still, he felt a little odd.
"I went to my family physician for my annual physical, and I brought a list of symptoms with me," says Orovitz, whose complaints included slower and stiffer walking, illegible handwriting, and a soft, hoarse voice. "I'm the kind of person who smiles a lot, and it just felt difficult to smile," he says. His doctor diagnosed Parkinson's disease. A neurologist tested Orovitz with a surprise backwards push. "I just lost my balance totally," Orovitz says.
The National Parkinson Foundation (NPF) was there to pick him up. Another beneficiary of NPF is Bernard J. Fogel, M.D., now dean emeritus at the Miller School of Medicine. Fogel's personal connection dates from the early 1960s, when he was serving as assistant dean of medicine and recognized that his father was suffering from Parkinson's.
"Back then it was a pretty obscure disease," he recalls. "I would bring my father to the NPF, which was adjacent to the medical campus, for treatment three times a week."
Fogel says his father's regular visits made a big difference. "The major thrust of his care consisted of physical therapy and massages. But the consistency benefited him in many ways beyond medication. It allowed him social interaction with other people suffering from the disease, he felt the therapeutic modalities were very beneficial, and it permitted him to get out of the house in an independent manner."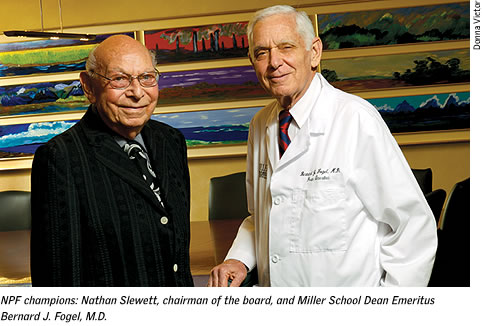 Parkinson's disease is a motor system disorder that occurs when dopamine-producing brain cells die or become impaired. It is named after James Parkinson, the London physician who in 1817 was the first to describe the disease in "An Essay on the Shaking Palsy." Well over a century later, in 1957 Jeanne C. Levey founded the National Parkinson Foundation to help her husband who suffered from the disease. In the 50 years since, it has become the largest and oldest organization of its type in the country.
Levey nurtured the NPF until her death at 92 in 1979, when the directors turned to board member, businessman, and attorney Nathan Slewett, who became president and, later, chairman of the board.
The University of Miami's relationship with the NPF began at the same time through the efforts of Slewett, Fogel, Harold Kravitz, Sidney Schreer, and Herb Zemel. The partnership led to sharing of medical expertise and emphasized patient care. "Under the terms of the agreement," says Slewett, "the medical school moved the entire departments of neurology and neurological surgery into the NPF building and agreed that these clinicians and surgeons would be the ones to take care of all our Parkinson's patients. We also established a unique clinic that provided physical, speech, occupational, and recreational therapies, which became a national model."
Perhaps most importantly, Slewett, who at 94 years young continues his relationship to the institution as a daily volunteer, says, "It was also agreed that every patient would be treated regardless of their ability to pay."
The foundation's mission is threefold: to determine the cause of Parkinson's and ultimately find a cure; to improve the quality of life of patients and caregivers; and to educate the patient, their caregivers, health care professionals, and the general public about Parkinson's disease and its treatment.
"The NPF's relationship with UM was a giant step in our history because it gave us credibility," says Slewett. "About three years after our partnership started, the foundation created Centers of Excellence that provided clinical care and outreach. We now have 54 centers all over the world."
The centers are designed to act as regional "hubs" for Parkinson's disease research, care, education, and outreach. They also offer innovative models of service such as the Allied Team Training for Parkinson's, a one-of-a-kind interdisciplinary training program specifically designed for allied health and nursing professionals across the country.
"It's unique because most training programs have very little emphasis on Parkinson's disease, which is a very complex, idiosyncratic disease," says Ruth Hagestuen, R.N., M.A., director of field services for the NPF in Miami. "We teach the cutting-edge treatments in such areas as physical therapy and speech pathology. These services, when delivered properly, can make an enormous difference."
When it comes to clinical care, the physicians in the UM-NPF Division of Parkinson's Disease and Movement Disorders are at the forefront of diagnosing the disease, setting up treatment, and developing appropriate therapies. "We see patients in every stage of the disease," says Carlos Singer, M.D., professor of neurology and division director.
Singer says that Parkinson's does not just attack motor skills. "For instance, sleep, diet, and depression, gastrointestinal problems, and blood pressure problems also arise. We try to establish if their symptoms are linked to the disease or not." He says that listening to patients and helping them cope with the unknown is key. "We acknowledge their fear and see if we can allay it by reassuring them and educating them. Patient education is very important because it empowers them."
For some patients, surgery can also be an option. Bruno V. Gallo, M.D., assistant professor of neurology, and Jonathan R. Jagid, M.D., assistant professor of neurological surgery, use electrodes to perform deep brain stimulation. A patient's brain functions are measured to see whether he or she would be a good candidate for surgery, a procedure that modifies the behavior of the "trouble-causing" cells.
At any given time, Parkinson's patients can take advantage of dozens of clinical trials that are under way to test new medications that are not yet publicly available. Community outreach is also a big part of the UM-NPF partnership. Nurse practitioner Angela Russell, A.R.N.P., Ph.D., has a patient practice at Saint Catherine's Rehabilitation Hospital in North Miami. "This has allowed us to establish contact in the community with the purpose of focusing on the issue of treatment and sharing information," explains Singer.
For more than two decades, the Miami Brain Endowment Bank housed at the NPF has worked on unlocking the mysteries of the human brain. Under the direction of Deborah Mash, Ph.D., professor of neurology and the Jeanne C. Levey Professor of Parkinson's Disease Research, the bank is one of the nation's largest collections of postmortem tissue from patients who have willed their brains to science. Researchers probe the tissue for clues to the causes of brain-related disorders and diseases.
This vital center at the National Parkinson's Foundation is providing answers from a new frontier. "We've long suspected an environmental link to these illnesses, but now we think there is a complex interplay between the genes and the environment," says Mash, who is now working closely with the acclaimed genetics team that recently came from Duke University to the Miller School. Margaret Pericak-Vance, Ph.D., has identified genes critical to neurological illnesses. Her husband, Jeffery Vance, Ph.D., M.D., chief of the Division of Human Genetics, is a world leader in the genetics of Parkinson's disease.
Vance says conventional wisdom about the disease has changed radically in recent years.
"James Parkinson, in his famous monograph describing the disorder, considered that 'lying on the damp ground' could contribute to the development of Parkinson's disease," says Vance. "While we consider this a bit humorous today, the environment as the primary if not the only cause of Parkinson's disease was in favor until as little as ten to 15 years ago.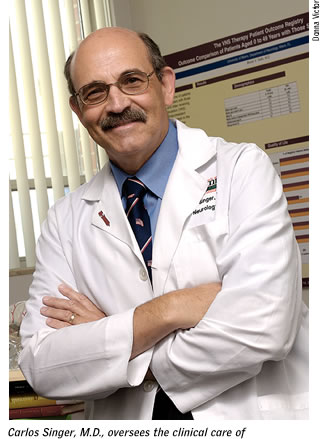 "Today we know that genetic mutations in several genes [Parkin, Leucine Rich Repeat Kinase (LRRK2), a-synuclein, PTEN-induced putative kinase 1 (PINK1), and DJ1] can all cause Parkinson's disease, each by themselves. But these mutations represent only a small percentage of the folks suffering from the disease. It is currently the belief that most patients develop it through an interaction between variations of certain genes and the environment. This complex genetic picture is one which we are just beginning to unravel."
It's an exciting time for Parkinson's research and the NPF. Just ask James Orovitz. In the decade since he began treatment, Orovitz—a generous NPF donor who serves on the board of directors' executive committee—has been managing his illness with four medications that have slowed the disease's progress so he can continue to play golf and "live a very, very normal life."
Orovitz partially attributes the successful management of his disease to NPF's support groups. "They provide perspective—one day you may find someone who is doing better than you, and the next day you might find someone who is much worse. In the end you come to the realization that you are what you are, and you accept it and live with it. There are a lot of good days."