Learning by Doing
By Maya Bell
Medical student Elizabeth Greig put her life— including preparations for her wedding—on hold to provide the urgently needed care that has always been her passion.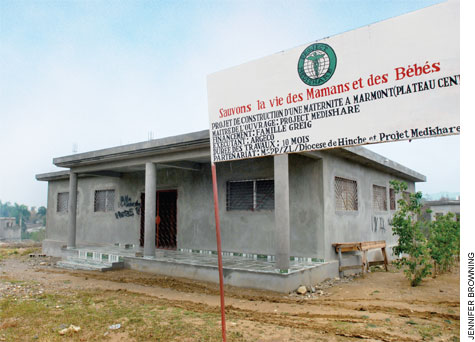 George and Margot Greig, parents of Miller School student Elizabeth Greig, financed the construction of a maternal health center, above, in Haiti's Central Plateau.
When the earthquake decimated Port-au-Prince, Elizabeth Greig flew into a heart-thumping panic. The fourth-year Miller School student had just written a trauma and disaster plan for Haiti and knew how vulnerable the capital was, how flimsy the buildings, how primitive the medical system, how vast the needs.
A volunteer with Project Medishare, which has worked for 16 years to improve access to health care in Haiti, Greig didn't yet know the specifics, but she knew misery would grip the impoverished nation. And her panic came from thinking there was little she could do about it.
At the time, Greig was in New York interviewing for her internal medicine residency. Her wedding was less than six weeks away. She had to finish three rotations before graduating in May. There was no flexibility in her schedule.
But Greig's fiancé Jason Extein, a medical student at Cornell University, set her straight. "He said, 'You don't write a report on trauma and disaster management and sit at home when there's trauma and a disaster,' '' Greig recalled.
Miller School leaders agreed, granting Greig a leave. When she arrived in Haiti eight days after the quake to coordinate patient transfers and care at the UM Global Institute/Project Medishare's 240-bed hospital at the edge of the airport, she was shocked by the capital's transformation into an apocalyptic war zone.
But she never panicked again.
Not when the hospital became the staging ground for dying survivors awaiting overseas evacuations delayed by bureaucratic bickering. Not when supplies ran low, tempers flared, and mobs of hungry, desperate Haitians gathered outside. Not when attending physicians almost twice her age and with four times her experience besieged her with emergencies needing resolution right now.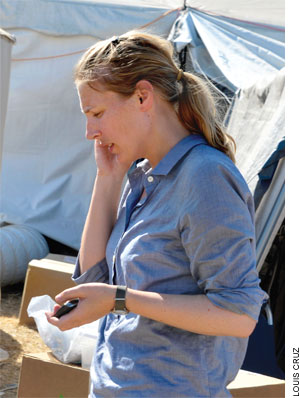 Miller School student Elizabeth Greig, above, who coordinated patient transfers and care at the UM hospital in Port-au- Prince, had previously written a trauma and disaster plan for Haiti.
"There is a big difference between the panic you have when you can't do anything and the panic you can't have when you are doing what needs to be done,'' Greig explains. "I wouldn't let anyone use the word 'emergency' because everything was an emergency.''
The consummate calm in the storm, Greig could multitask and prioritize. She was easy-going but decisive. She cried only once, when a critically injured 6-year-old girl she sent to the U.S. Navy's hospital ship without her parents died alone.
"My initial reaction when I first met Liz was, 'Wow, who is this?' " remembers Jim Guest, M.D., Ph.D., associate professor of clinical neurological surgery who twice served as chief of surgery at the field hospital. "She is a remarkable person and a natural leader.''
At 31, Greig is older than most students in the Class of 2010, but her abilities have little to do with age. As an undergraduate at the University of Pennsylvania, she coached the men's water polo team while playing on the women's.
As a member of the first class selected for the Pathway in Social Medicine at the Miller School's Jay Weiss Center for Social Medicine and Health Equity, she impressed both fellow students and mentors.
"She is one of the most active and knowledgeable students I ever met in terms of global health,'' said Michel Dodard, M.D., co-director of the Medical Student Pathway. "But she doesn't flaunt her knowledge. She leads by virtue of her commitment.''
Indeed, Greig's account of the shocking health disparities she found on her first clinical trip to Haiti's Central Plateau, where a third of the women die in childbirth, inspired her own parents to act. George and Margot Greig financed the construction of a maternal health center in Marmont.
"The horror of having such a high rate of maternal death so close to the United States really moved us,'' Margot Greig recalls.
The maternal center, as well as a Medishare facility to produce Akamil, a nutritious supplement to the meager Haitian diet, was nearing completion
when the earthquake struck. So, instead of gathering with her family in the Central Plateau for a long-planned dedication, Liz Greig rushed to the capital in its darkest hour. Nobody who knows her was surprised.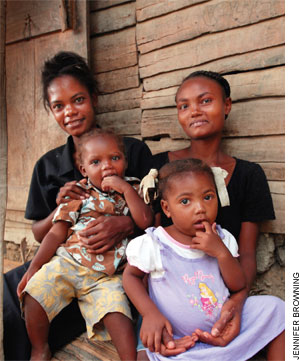 Haitian mothers and children will have access to an array of vital services at the new maternal health center.
A child of the world, Greig grew up in Philadelphia and London, visiting every continent but Australia. She has worked in the high-finance realm of Hong Kong, the shantytowns of South Africa, and a hospital in Tbilisi, Georgia. When she arrived in Miami for medical school, she was smitten by the sunshine, the city, the diversity, and the young man from Boca Raton who made her laugh—and two years later asked her to marry him.
She also believed fervently in the same standard of care for rich and poor she witnessed at the University of Miami/ Jackson Memorial Medical Center, a philosophy that drove UM to build the best-staffed, organized, and managed field hospital in Haiti.
"I learned a lot about how to treat patients in medical school, but I learned more about how a hospital should treat its community,'' Greig says. "I think UM took that model to Haiti and, as a result, no one on the ground could manage to do what we were doing in terms of quantity and quality.''
For nearly a month, Greig worked 14-hour days trying to ensure that distinction, leaving Haiti only to attend her wedding in Miami and honeymoon on St. Barts. But after a week on the chic Caribbean isle, she returned to the field hospital with her husband and resumed her management duties. It was, she jokes, "a team-building exercise.''
Returning to Miami before heading to Cornell for residency and to join Extein for good, Greig had one last rotation to make up. It was in an area she knows a bit about: emergency medicine.