The Jay Weiss Center for Social Medicine and Health Equity, established in memory of philanthropist Jay W. Weiss, received an inaugural gift of $1 million from Sheryl and Barry K. Schwartz. The co-founder and former CEO of Calvin Klein Inc., Schwartz was a close friend of Jay Weiss.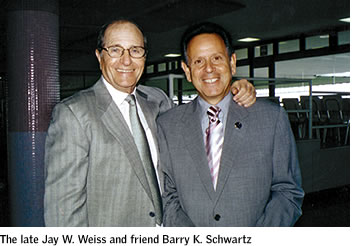 "Jay had a vision," says Schwartz. "He wanted to establish a place at the University of Miami Miller School of Medicine that would train doctors to help the underserved and provide health care to people who cannot afford it. During the last two months of his life he talked constantly about his vision for a center of this kind and exactly what he hoped it would accomplish."
Weiss was a lifelong contributor to local, national, and international charitable causes, including the Miller School of Medicine and the University of Miami Sylvester Comprehensive Cancer Center. He died in 2004 at the age of 76.
The founders of the Jay Weiss Center believe that there is a critical need for the development and support of physicians and policy advocates who will be effective in increasing access to health care and improving the quality of life of the poorest members of society. Paul Farmer, M.D., Ph.D., the Harvard University medical anthropologist and physician who has dedicated his life to bringing health care to some of the world's poorest populations, serves as a special advisor to the center.
The first project supported by the center was the establishment of the Jay Weiss Residency Program in Internal Medicine and Global Health Equity. This residency program offers a comprehensive training experience for doctors who wish to dedicate their careers to the service of the poor and the advancement of the goal of health care as a human right. The program's first two residents are currently taking part in a four-year training program that adds rotations at field sites in Miami and abroad serving the poor, specific research and curriculum in health equity, and a master's in public health to the traditional internal medicine training program.
The residents' first international rotation took place last July, when they traveled to Haiti for two weeks to shadow physicians at Zanmi8 Lasante, the medical center established by Boston-based Partners in Health in Cange, and at UM's family medicine residency training program in Cap Haitien. Following their Haitian study trip, the residents also attended the International AIDS conference that was held in Toronto in August.
The center's goal to train leaders and practitioners in social medicine and health equity will also be furthered by a new Grand Rounds series. Open to the Miller School of Medicine academic community, this lecture series will be held throughout the year.
"Jay touched so many people during his lifetime that it is my hope that others will learn from his example and also support the center that bears his name," Schwartz says.