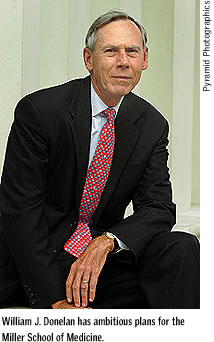 William J. Donelan was recently named UM's vice president for medical administration and the chief operating and strategy officer of the Miller School of Medicine and University of Miami Health System.
Donelan, a former executive vice president and chief operating officer of Duke University Health System and vice chancellor for health affairs of Duke University, "built Duke University Health System into a worldwide leader in patient care and a financial powerhouse to support medical research and education," says University President Donna E. Shalala. "In partnership with Dean Pascal Goldschmidt, Bill will lead the aggressive expansion of the University of Miami Health System, and our South Florida community and patients from around the world will be the beneficiaries."
The opportunity to help propel the region's only academic medical center into the highest ranks of university health care and research attracted Donelan to Miami. He joins Goldschmidt, the former chairman of Duke's Department of Medicine who became senior vice president for medical affairs and dean of the Miller School in April.
Donelan's career at Duke began in 1969. He was vice chancellor for administration and chief financial officer of Duke University Medical Center, and before that director and chief operating officer of Duke University Hospital.
"My interest in bringing my career-long professional experience in all of the missions of academic medicine is to help build a platform to continue to grow the excellence of the UM medical enterprise and to position us to make significant contributions to the welfare of the region," says Donelan.