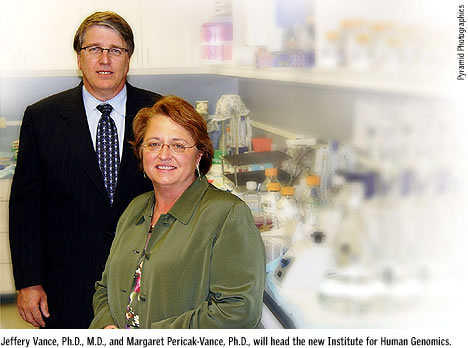 Pascal J. Goldschmidt, M.D., senior vice president for medical affairs and dean of the University of Miami Miller School of Medicine, came to the school with a vision of creating a center for human genomics. Even before he arrived on campus, Goldschmidt predicted that "considering the generosity of the trustees and other Miami benefactors, and the commitment of the State of Florida to biomedical research, we can shoot for a world-class team."
Goldschmidt's vision is poised to become reality with the recruitment of two internationally acclaimed geneticists, Margaret Pericak-Vance, Ph.D., and Jeffery Vance, Ph.D., M.D., who will be at the helm of a new Institute for Human Genomics and a proposed Department of Human Genetics. "The state of Florida is making substantial strides in recruiting some of the very best scientific institutes and centers to our region," says Goldschmidt. "A paradigm for this remarkable opportunity for the citizens of Florida is the recruitment of the Center for Human Genetics, led by Margaret Pericak-Vance and Jeff Vance."
The Vances are bringing their pioneering research and a team of investigators from their Center for Human Genetics at Duke University to the Miller School.
Margaret Pericak-Vance's groundbreaking use of novel disease gene mapping led in 1993 to the identification of the major susceptibility gene for Alzheimer's disease—apolipoprotein E— and very recently to the discovery of a gene that determines risk for developing age-related macular degeneration.
Jeffery Vance's lab has found and studied genes that contribute to diseases including Parkinson's, cardiovascular disease, and one of the most common inherited neurological disorders, Charcot- Marie-Tooth disease. He is the director of the National Institutes of Health-funded Morris K. Udall Parkinson's Disease Research Center at Duke University.
The Vances, a husband-and-wife team, and their researchers have uncovered critical genetic links to the origins of more than 50 diseases in all. They also have one of the largest ongoing programs examining the genetics of autism and related disorders as well as studying the genetic susceptibility to infectious agents like tuberculosis. Their team is one of the leading groups in the study of the genetics of multiple sclerosis.
"Jeff and I love to build things, we love to be creative when we build things, and we like to think outside the box," Pericak-Vance says. "This is the opportunity to build something truly outstanding and to integrate all of the University of Miami's strengths into one program."
It's a vision that dovetails perfectly with Goldschmidt's, as he described it for a recent story about his achievements and dreams in The Miami Herald. "This group was the most important and relevant group I could bring to South Florida and the University of Miami Miller School of Medicine," he told the Herald. "It's the incredible opportunity to have a substantial institution for the performance of genomic work in every important discipline.
"With the opportunity to recruit the entire team, the scaling up is really what is fascinating in the offer we provided. Here, someone who was the leader of a lab at Duke will be the leader of a center. The leader of a study will be the leader of a lab."
Six faculty members from Duke have already committed to bringing their genetic research to the Miller School of Medicine. John R. Gilbert, Ph.D., a human molecular biologist and molecular geneticist, will continue his work on essential tremor, autism, and Alzheimer's disease. Michael Cuccaro, Ph.D., a clinical child psychologist, will focus on disorders along the autism spectrum as they relate to genes and the environment. A neurologist and molecular biologist, Stephan Zuchner, M.D., will be starting a program for neurological and psychiatric genetics and continuing his work on hereditary neuropathies. William Scott, Ph.D., a genetic epidemiologist, will continue investigating the influence of genetic and environmental factors on infectious diseases and complex traits associated with aging.
Another genetic epidemiologist who will be making the move to Miami is Susan Blanton, Ph.D. Her research is focused on identifying genetic causes of various diseases and genomic medicine. Eden Martin, Ph.D., a statistical geneticist, works extensiv ely on Alzheimer's and Parkinson's diseases.
The Vances also hope to recruit more than a dozen additional staff members, including post docs, key research staff, and statistical analysts. They will join the researchers at the Dr. John T. Macdonald Center for Medical Genetics.
Says Goldschmidt, "Put together the world-class scientists joining us from Duke with the already preeminent researchers we have in diabetes, eyes, cancer, and spinal injuries, and what you've really created is a critical mass that will truly have widespread implications for all of humanity."