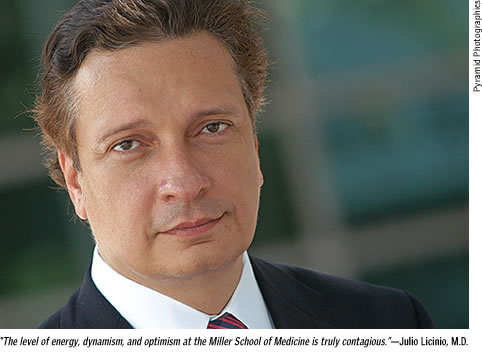 Just weeks after taking over as the new chairman of the Department of Psychiatry and Behavioral Sciences, Julio Licinio, M.D., was making headlines in South Florida and around the world about his new study, which suggests the use of antidepressants to treat depression has saved thousands of lives. The findings, published in the June 2006 edition of the peer-reviewed journal PLoS Medicine, were detailed by more than two dozen different media outlets, including ABC News, El Nuevo Herald, and international news service reports.
"Our findings certainly suggest that the introduction of SSRIs has contributed to the reduction of suicide rates in the United States," says Licinio. "However, the findings do not preclude the possibility of increased risk of suicide among small populations of individuals."
The pharmacogenomics of antidepressants, or understanding the genetic basis for why some people respond to medication and others do not, is one of his main areas of research—and he plans to make it a priority here. Before coming to the University of Miami, Licinio served as director of the UCLA Semel Institute Center for Pharmacogenomics and Clinical Pharmacology and associate program director of the UCLA General Clinical Research Center.
"No one knows exactly who is going to respond to one antidepressant and not another. So the idea behind pharma-cogenomics is that if you can identify genetic markers, you could test the person ahead of time and say, 'Well, you're likely to respond to Prozac,' or 'You're not likely to respond to this drug, let's try something else,'" explains Licinio.
The Miller School of Medicine's department is currently No. 15 in terms of National Institutes of Health funding for research out of all the departments of psychiatry in the country. Its very strong national and international reputation for behavior and social sciences research was a big draw for Licinio in choosing to come to Miami.
"I want to make sure the research that is here continues to stay here and that the department remains strong in the areas that it is already strong. But I also want to develop a whole new research portfolio in biological psychiatry and genetics with a focus on depression, schizophrenia, and bipolar disorder," says Licinio. "I have a concept for a Miami Depression Treatment Research and Training Center that would unify all the public aspects of the department with the private sector components and create a unified treatment program for depression with research into causes, cures, and new treatments."
Licinio has also conducted groundbreaking work on the fundamental endocrine and pharmacogenomic mechanisms at the root of obesity, specifically involving leptin. The hormone is linked to appetite control—it signals fullness and tells the brain you should stop eating. In addition, the hormone regulates sexual maturation and immune system function.
During his tenure at UCLA, Licinio contacted a family in a small village in Turkey who suffered from a rare genetic mutation that prevented their bodies from producing any leptin at all. He learned of the family through a paper published in the journal Nature Genetics, which first described the mutation. Three of the family members, all cousins and all severely obese, were flown to Los Angeles for clinical research treatment with leptin.
"Within months they all lost a dramatic amount of weight, and they continue to be followed by me every six months," says Licinio. "But remember, these are people whose bodies made no leptin at all; there are probably less than 15 people in the world today with this genetic mutation. Leptin is also a growth factor for the brain, so this research enabled us to not only help these people live a normal life, but helped us better understand the role leptin plays in the body."
Licinio plans to set up a national referral center at UM that could screen, evaluate, and offer new treatments for genetic forms of obesity. It would be the first of its kind in the country.
The renewed focus on research would also extend into the department's residency training program. The department currently has a strong clinically based postgraduate training program, but Licinio says he'd like to see half of the spots reserved for advanced research training in the neurosciences. He envisions someone leaving their residency with an additional degree, such as a Ph.D. in neuroscience or even a master's in clinical research.
"The idea is to make the residency the breeding ground for the academic psychiatrists of the future. I think what people get in the residency now is really very solid and very good strict clinical training, but that doesn't completely prepare them to be an academic leader," explains Licinio.
Licinio is the founding editor of the journals Molecular Psychiatry and The Pharmacogenomics Journal, both published by the Nature Publishing Group. Both journals will move their editorial office to the Miller School of Medicine, a place he thinks has a vibrant future.
"The level of energy, dynamism, and optimism at the Miller School of Medicine is truly contagious," says Licinio. "The University of Miami is at a critical juncture in its history, and I see it at the threshold of greatness. I have never seen academic leadership that is so positive, enthusiastic, and wholeheartedly committed to growth both in quality and quantity. I cannot think of a more exciting place to be or a better time to be here."