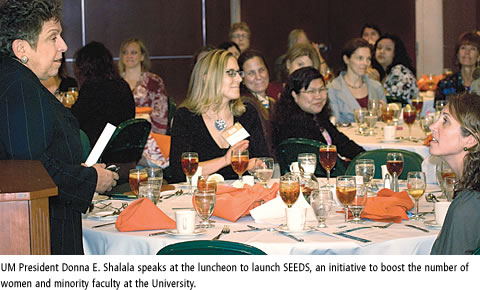 In nearly all fields of science and engineering, women and minorities—despite their increasing numbers in graduate programs in those areas—continue to face recruitment and retention barriers as faculty at U.S. colleges and universities, according to the 2006 National Academies report Beyond Bias and Barriers.
The report, which was chaired by University of Miami President Donna E. Shalala, also concluded that this dearth of women and minorities in science and engineering positions deprives the nation of an important talent source.
To that end, UM recently launched SEEDS, Scientists and Engineers Expanding Diversity and Success, an initiative that seeks to boost the number of women and minority faculty members at UM. SEEDS hosted its official debut luncheon at the Coral Gables campus last fall.
More than 100 women attended, as well as the deans of UM's four schools with science programs—Pascal J. Goldschmidt, M.D. (Miller School of Medicine), Michael Halleran, Ph.D. (College of Arts and Sciences), James Tien, Ph.D., (College of Engineering), and Otis Brown, Ph.D. (Rosenstiel School of Marine and Atmospheric Science), who are co-investigators—and Shalala.
SEEDS was established by Executive Vice President and Provost Thomas J. LeBlanc, Ph.D., and is funded by a $1.2 million grant from the National Science Foundation. Kathryn Tosney, Ph.D., chair of UM's Department of Biology, is the SEEDS director and primary investigator for the NSF grant.
Among other goals, SEEDS will implement a series of components that includes a best-practices committee and surveys designed to study how UM can improve diversity and gender equity in hiring.
"What's happening is we're losing minorities unnecessarily at every transition—from graduate to postdoc, from postdoc to assistant professor, from assistant professor to associate, and from associate to full professor," explained Tosney.
Tosney said unconscious biases are sometimes to blame for women and minorities failing to advance in the fields of science and engineering. Programs like SEEDS, she added, help to break down such biases and barriers.