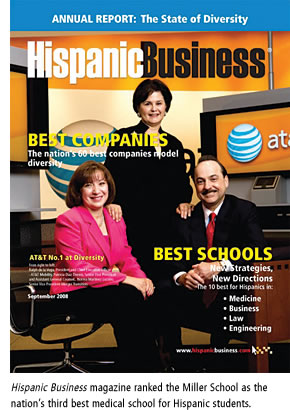 Recruiting a diverse student body has always been a high priority at the Miller School of Medicine. For the third year in a row that effort has been recognized by Hispanic Business, a national magazine that has named the Miller School one of the best medical schools in the country for Hispanic students. The Miller School ranked third in 2008 and 2007, and was fifth in 2006.
"It is important that the Miller School of Medicine's student body reflects the community in which we care for patients, and that is why recruiting a diverse population of trainees is one of our top priorities," says Miller School Dean Pascal J. Goldschmidt, M.D.
The 2008 Best Schools for Hispanics rankings are based on questionnaires filled out by the schools, reporting on enrollment, retention and graduation rates, faculty, and student services.
In medicine, the University of Texas Southwestern Medical Center at Dallas and Stanford University School of Medicine ranked ahead of the Miller School.
"A top goal of the Miller School of Medicine is educating a culturally competent physician," says Mark T. O'Connell, M.D., senior associate dean for medical education. "Research shows patients are more comfortable being seen by a doctor like them, and with the growing Hispanic population in our community and country, it is critically important to make sure Hispanic students are appropriately represented."