Cooling Power
New chiller plant and parking garage open


On the ground floor of the Miller School's new chiller and generator plant, three humongous white pipes stand like freshly completed sculptures in a museum. They may resemble works of art, but the cooling pipes are not mere objects: they are attached to three 4,000-ton chillers that will vaporize 150 million gallons of water annually to cool the medical campus. Each 4,000-ton chiller can cool the equivalent of 1,000 homes.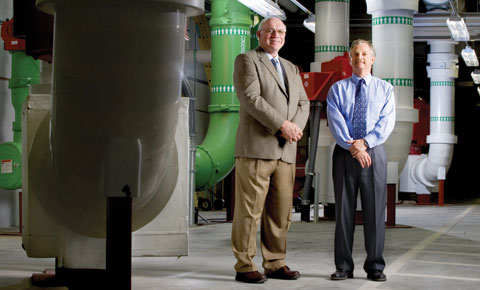 Ron Bogue and Mark Schwartz led the development of the Miller School's new chiller plant, which has the power to cool the equivalent of 3,000 homes.
Nearby there are three 20-cylinder, 2.8-megawatt generators, each with the capacity to power 1,500 homes. Even with such capacity, consideration was given to future growth of the medical school and space was left for two more comparable generators. The building was also constructed with space for two additional chillers should they be needed and 2,400 square feet of retail space that will likely house restaurants.
"When you look at South Florida, our new chiller plant is eclipsed only by the one at the airport," notes Ron Bogue, assistant vice president for facilities and services at the Miller School. "The need for a plant of this size is an indication of how much the campus has developed and how much more we expect it to grow."
The massive chiller and generator plant and nine-story parking garage above—with 1,400 parking spaces—were built to withstand a Category 5 hurricane. Underground pipes, 36 inches in diameter, will extend from the chiller building to other buildings across the campus to provide them with air conditioning via a highly energy-efficient system.
"This was a great, complex project, but it was built with the highest standards for energy conservation," says Mark Schwartz, senior project manager. "The upfront capital expenditure will save the University money in the long run."
The new ten-story, ultramodern Biomedical Research Building (BRB), across the street from the chiller plant and parking garage, was the first to be connected to the chillers. The Miami Institute for Human Genomics, as well as other research centers, have relocated to the BRB.