Breakthrough Stem Cell Trial
to Treat Heart Failure
Nonsurgical treatment tests two cell populations


When Max Eaton began feeling tired and out of breath last year, he knew what was wrong. The 66-year-old businessman had already had one heart attack and was suffering from heart failure. That's when he began doing his own research and learned about the groundbreaking stem cell trial being led by Joshua M. Hare, M.D., Louis Lemberg Professor of Medicine in the Cardiovascular Division and director of the Interdisciplinary Stem Cell Institute.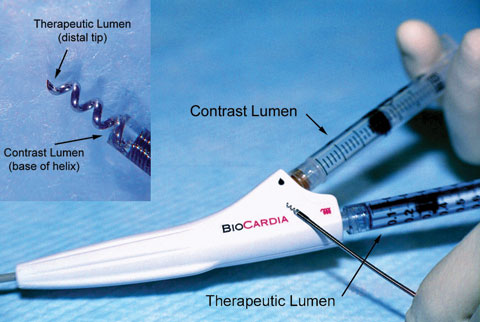 The groundbreaking clinical trial to treat heart failure with stem cells employs the Helical Infusion Catheter, a unique minimally invasive system to inject the cells without surgery.
In October 2008 Hare started the Transendocardial Autologous Cells in Ischemic Heart Failure Trial (TAC-HFT), the first use of a novel catheter device in the United States in what he calls a "breakthrough procedure." This is the world's first stem cell trial comparing two cell populations, bone marrow cells and mesenchymal cells, against placebo.
BioCardia, a biotechnology company based in California, developed the Helical Infusion Catheter system, which is the first catheter with a spiral-shaped needle to deliver the stem cells. This unique design contains several infusion points along the helix, with the goal of providing better retention of stem cells within the damaged tissue. Like other catheters, this minimally invasive method is able to inject stem cells into the heart without the complications of surgery.
Alan W. Heldman, M.D., vice chief for new programs and translational medicine in the Cardiovascular Division, has been using the BioCardia device in preclinical studies for four years. He says it is "incredibly exciting to treat patients with heart failure using a nonsurgical treatment that repairs the heart muscle itself."
Eaton was the first of eight patients to receive ten injections of bone marrow stem cells, not a placebo, as part of the open label phase of the study. Once the safety and dosage amounts are confirmed, the double-blind Phase I study is set to begin this summer.