Scientists at the Miller School's John P. Hussman Institute for Human Genomics, led by director Margaret A. Pericak-Vance, Ph.D., recently collaborated with other institutions on a study that identified four new genes linked to Alzheimer's disease. In the largest study of its kind, researchers from a consortium that includes the Miller School, University of Pennsylvania School of Medicine, and Boston University School of Medicine, noted that each gene individually adds to the risk of having this common form of dementia later in life.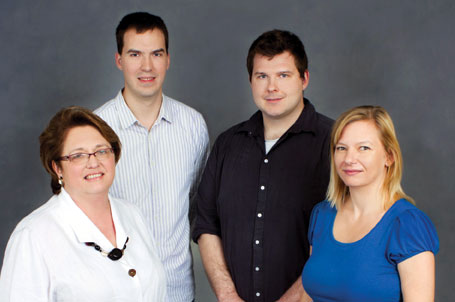 From left, Margaret A. Pericak-Vance, Ph.D., Gary Beecham, Ph.D., Adam Naj, Ph.D., and Eden Martin, Ph.D.
Pericak-Vance, also associate dean for human genomic programs and the Dr. John T. Macdonald Foundation Professor of Human Genomics, noted that these genes offer a portal into what causes Alzheimer's disease and represent a major advance in the field. The study, "Common variants in MS4A4/MS4A6E, CD2AP, CD33, and EPHA1 are associated with late-onset Alzheimer's disease," appeared in Nature Genetics, and Adam Naj, Ph.D., a postdoctoral fellow at the Hussman Institute, was the first author.
"This is a landmark study. Through this national and international collaboration, we have identified several new genes to further understand the intricate causes of Alzheimer's," said Pericak-Vance. "These findings, we hope, will lead to better prevention and treatment of this devastating disease."
The study, which included investigators from 44 universities and research institutions in the United States, was led by Gerard D. Schellenberg, Ph.D., at Penn, with primary analysis sites at the Miller School and Boston University, led by Lindsay A. Farrer, Ph.D.
Conducted by the Alzheimer's Disease Genetics Consortium, the study reports genetic analysis of more than 11,000 people with Alzheimer's disease and a nearly equal number of elderly people who have no symptoms of dementia. Three other consortia contributed confirming data from additional people, bringing the total number of people analyzed to over 54,000. The consortium also contributed to the identification of a fifth gene reported by other groups of investigators from the United States, the United Kingdom, France, and other European countries.