Determining whether a patient's cancer is metastasizing to other organs is one of the great challenges for physicians. It is well known that circulating tumor cells (CTC) can be present in the blood of patients who have no other overt evidence of metastasis or who have undergone complete surgical removal of a tumor. This established theory is the reason for adjuvant chemotherapy—giving chemotherapy to patients with the goal of eradicating CTCs that have gone undetected. Further, several recent studies have shown that CTCs can be used to rapidly determine if cancer treatments are working, often after even the first course of therapy.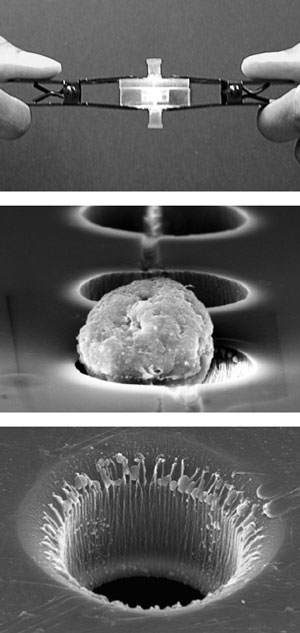 From top: a view of the assembled filter device; the following two images, shot with electron microscopy, show circulating cancer cells being captured on the filter-based microdevice.
A group of scientists and physicians, led by Richard J. Cote, M.D., professor and chair of pathology at the Miller School, has developed a novel filter-based microdevice that detects and characterizes circulating tumor cells, which "could transform the way cancer is diagnosed and treated," says Cote. Their findings were published online in Clinical Cancer Research, a journal of the American Association for Cancer Research.
CTCs can indicate disease progression and can be used to monitor the efficacy of cancer therapy. However, an efficient and sensitive method of capturing and analyzing CTCs has not been available. The portable microfilter device developed by Cote and Ram Datar, Ph.D., associate professor of pathology and member of the Sylvester Comprehensive Cancer Center, in collaboration with Yu-Chong Tai, Ph.D., professor of electrical engineering at the California Institute of Technology, works much like any filter.
The captured cells can be detected and analyzed directly on the microfilter device, providing clinicians with an efficient and reliable method of cancer identification. Cote, a member of the Sylvester Comprehensive Cancer Center, says not only is the device faster, more efficient, and less expensive than any other known method, it can also be used for virtually every type of solid tumor. "It can fundamentally change the way we manage cancer," he adds.