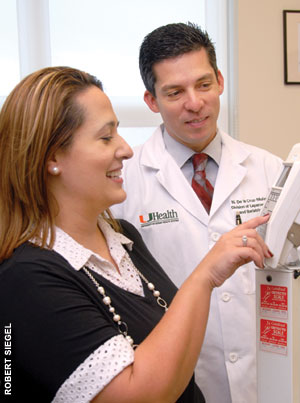 Nestor de la Cruz-Muñoz, M.D., and patient Judith Fernandez.
A study led by Nestor de la Cruz- Muñoz, M.D., associate professor of surgery and chief of the Division of Laparoendoscopic and Bariatric Surgery, shows that bariatric surgery results in significant and dramatic weight loss and improved fasting plasma glucose and HbA1c levels (a marker for diabetes) as far as three years post-surgery among ethnically diverse adults with diagnosed and undiagnosed type 2 diabetes and pre-diabetes.
After three years, all patients with type 2 diabetes were within the normal fasting plasma glucose range, according to the findings in the April 2011 edition of the Journal of the American College of Surgeons.
"In non-Hispanic whites, bariatric surgical procedures successfully reverse or improve abnormal glucose metabolism," said de la Cruz-Muñoz, adding that, "bariatric surgery in Hispanic and other ethnic minority type 2 diabetic adults had not been investigated until this recent study."
Pre-diabetics, or those with impaired fasting glucose and/or impaired glucose tolerance, have an increased risk of developing type 2 diabetes, heart disease, and stroke. From 2003 to 2006, 25.9 percent of U.S. adults 20 years of age or older had impaired fasting glucose, and it is estimated that at least 57 million American adults had pre-diabetes in 2007.
One meta-analysis showed a complete resolution of type 2 diabetes among 78 percent of adults who underwent bariatric surgery; after two years, more than 85 percent reported continued improvement in their condition.
In 2009 the American Diabetic Association declared bariatric surgery a treatment option that should be considered for type 2 diabetes patients.