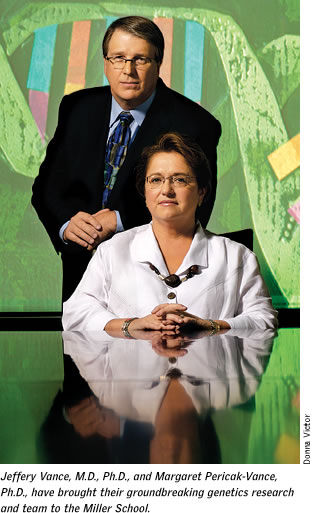 Throughout humanity's history, few things have seemed as random as the onset of disease. What makes Alzheimer's bedevil your father, while skipping you? Why are women seven times more likely to get thyroid-crippling Grave's disease than men? Are one's odds of getting colon cancer simply the luck of the draw? Preordained? Somewhere in between? Thankfully, we live in an age where medical researchers are increasingly finding the answers to these questions are embedded in our genes. And the Miller School of Medicine is poised to make a big difference, thanks to the addition of a world-renowned husband-and-wife genetics team. Margaret Pericak-Vance, Ph.D., and Jeffery Vance, M.D., Ph.D., opened the Miller School's Miami Institute for Human Genomics (MIHG) in January, after more than two decades of groundbreaking human genetics research at Duke University. The Vances were enticed by Miller School Dean Pascal J. Goldschmidt, M.D., who was previously chairman of Duke's Department of Medicine. It also didn't hurt that UM President Donna E. Shalala joined Goldschmidt in a tag-team effort to lure the Vances to South Florida. "There's great leadership here in Donna Shalala and Pascal -Goldschmidt," Vance says from his sixth-floor office in the Clinical Research Building. "Of course we knew Pascal well, so that was strong motivation." The drumbeat of genetics discoveries associated with the Vances hasn't slowed since their arrival at UM. In July, for the first time in more than three decades, a multi-center team of researchers, co-led by Pericak-Vance, announced they had uncovered a gene linked to multiple sclerosis (MS) on the interleukin 7 receptor (IL7R) alpha chain gene. The findings were published in the journal Nature Genetics.
"This is the first MS-associated gene outside of the major histocompatibility complex that has been confirmed in multiple populations," says Pericak-Vance about the finding. "We took a very systematic approach, we looked at multiple lines of evidence that would give us the best chances of successfully identifying a gene that was truly involved in MS susceptibility."
A paper released simultaneously in The New England Journal of Medicine (NEJM) confirmed the findings in the Nature Genetics article. Pericak-Vance was also an author on the study in the NEJM. The finding could pave the way for future research and treatment options for patients who suffer from the chronic inflammatory disease of the central nervous system.
In April Vance and a team of genetic researchers helped identify a key gene that could play a major role in early-onset cardiovascular disease in men under 51 and women under 56. Previous research had identified a big area on chromosome three believed to be important in cardiovascular disease, so the research focused on a peak area of that chromosome in a genetic association study. The strongest associations were found in three single nucleotide polymorphisms from the kalirin (KALRN) gene. The findings appeared in The American Journal of Human Genetics.
"These findings open up a whole new area of study for looking at risks of cardiovascular disease," Vance says. "By using the recent advances in genetic technology, you can find things you never had any clue might be important."
Given the Vances' medical and scientific prowess, it shouldn't be long before UM is mentioned in the same breath as the Broad Institute, a human genetics research institution in Cambridge, Massachusetts.
What makes facilities like Broad stand out "is the quality of the discoveries made at those places," says Alan Packer, senior editor of Nature Genetics. "Not only do they produce high-impact research that everyone in the field has to stand up and take notice of, but they have high-quality people, and they're successful at competing for grant money and putting it to good use.
"The Vances have been authors of some very important discoveries," Packer observes. "They're leaders in the field of human genetics, and I'd imagine they'd bring quite a bit of excitement to the University of Miami, as well as resources."
At Duke the Vances did benchmark work that uncovered the genetic footprints of a host of maladies, including cardiovascular disease, multiple sclerosis, autism, Alzheimer's, and age-related macular degeneration.
"Here at the institute our focus is on identifying the genetic contributions to common diseases that affect all of us," Vance says. "In the past, human geneticists worked with relatively rare disorders that could be triggered if a single gene was affected.
"Now we're looking at susceptibility genes, which are genes that make you more susceptible to common things like Parkinson's and hypertension," Vance continues. "They do this in concert with other genes, as well as your environment."
When the Vances left Duke, more than 50 of their 200 colleagues decided to pull up stakes and come to Miami. In addition, $34 million in federal research grant money followed the Vances and their colleagues.
To get the Miami Institute for Human Genomics percolating at top speed, the Vances need even more funding and manpower. MIHG is currently authorized to fill 50 job openings.
"We need people who are molecular geneticists, like myself, as well as clinicians, statistical geneticists, programmers and database people," Vance says. Once that batch of staffers is in place, MIHG will be looking to hire dozens more scientists and staffers, according to Pericak-Vance, who is a genetic epidemiologist.
Both have the ability to talk about their complex work sans technical jargon. The Florida legislature understands the potential impact clearly, appropritating $80 million to support MIHG earlier this year.
This is an impressive start, but one that must be built upon, says Goldschmidt. "To attract even more top-notch researchers, we are seeking additional funds," adds Goldschmidt, who anticipates that MIHG will trigger a South Florida biotech boom.
That's not outside the realm of possibility, observes Sena Black of Enterprise Florida, a statewide economic development agency. "Right now I think South Florida is particularly strong from a biotech standpoint, and I think genomics will make it that much stronger," she says. "An institute like the Miami Institute for Human Genomics will really ensure that Florida leads the way in health care delivery, new therapies, and new ways of curing diseases."
Regarding MIHG's operations, Pericak-Vance says her husband will be overseeing the laboratory side of the equation. "I like the administrative stuff," Pericak-Vance says. "I like putting things together."
There will certainly be plenty of lab and administrative work to go around, because in addition to shepherding the institute and its staff, the Vances are tasked with starting a university-wide program in genetics, as well as a Ph.D. program in the subject.
While the Vances are acclaimed scientists, if you want to see Jeffery smile call him an "artiste." That happens to be how he, his wife, and their highly collaborative research team view themselves.
"If you think of creativity . . . science is very creative, which is why people like research," he says, smiling. "Once you get into research, you're going where no one has gone before. That's really exciting and calls for outside-the-box abilities."
The institute has five centers that cluster faculty into their areas of expertise. The mission of the Center for Human Molecular Genetics is to take some of the more sophisticated approaches in molecular genetics and apply them to humans. The Center for Disease Models studies different organisms; the Center for Genome Technology is charged with conducting large-scale genetics studies; the Center for Genetic Epidemiology and Statistical Genetics is responsible for applied analysis and the development of new statistical genetics methodology. The mission of the Center for Genomic Medicine is to turn research developments into new treatments and cures.
Several of the institute's researchers work on UM's South Campus, where a biorepository facility is maintained. It contains frozen blood samples as well as extracted DNA, skin, various kinds of human cells, and brain material from autopsies. In about a year's time, the biorepository employees will move with the rest of the institute onto four floors of the Biomedical Research Building now under construction on the Miller School campus.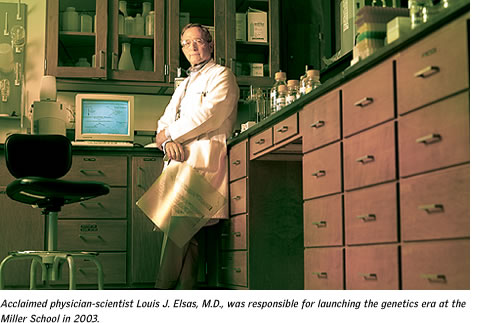 The genetics era at the Miller School began in earnest about half a decade ago. Its roots can be traced to an acclaimed medical genetics program at Emory University in Atlanta. Program director Louis J. Elsas, M.D., was recruited by President Shalala and former Miller School Dean John Clarkson, M.D., to bring his expertise to Miami.
Ending a 32-year career at Emory, Elsas came to the medical campus in 2003, working with the Departments of Pediatrics and Neurology. A gift of $12.5 million from the Dr. John T. Macdonald Foundation enabled the creation of the Dr. John T. Macdonald Foundation Center for Medical Genetics.
In conjunction with Tallahassee lawmakers, Elsas and his staff have dramatically expanded statewide infant screenings for inherited metabolic disorders. Florida newborns now undergo genetic screening for 40 maladies. Another of his major achievements at UM concerns perceptions. He's helped the research and medical community at UM/Jackson get comfortable with the predictive ability of genetics.
"We started teaching first-year students at the Miller School medical genetics," says Elsas, who did his residency training in medical genetics at Yale University. "We also started a four-year path that allows medical students to major in medical genetics."
The arrival of the Vances has focused an even brighter light on genetics at the Miller School, a development that pleases Elsas. "This is exciting and really laudable and something I'm very much in favor of," he says.
The Vances are enthused that their work has brought them to Miami, with its ethnic and racial diversity. "One of the unique features about Miami is it's probably what America's going to look like in ten years," Pericak-Vance says. "If you do the type of research we do, it's really important to be aware of ethnic differences and to study the relevant populations so that everyone can benefit from the results."
The creativity and intellectual rigor that go into their genetics research makes it gratifying for the Vances. But their work has a special meaning for the couple, in light of the sudden death of their beloved 14-year-old son, Jeffery Joseph Vance, in 1998.
A healthy teenager, "J.J." Vance's death was linked to thrombosis, unexplained blood clots that rapidly materialized throughout his body. The Vances are devoting part of their research to determine which genes facilitate the onset of thrombosis.
"It's important for us to do something meaningful with our lives," Vance says. "This makes us feel like we're doing something with real significance.