Zest for Life


On the high seas, Sydney Sussman is a sport-fishing champion. From the Bahamas to Cape May to the Palm Beaches, he's known for his competitive spirit, which often results in a big catch, as well as his big heart.
"It takes a lot of skill," says Sussman, a resident of North Palm Beach, Florida, who relishes the thrill of chasing marlin on his 70-foot Bertram sport-fishing boat Certifiable, usually with family members and friends. "But it's what I absolutely love to do."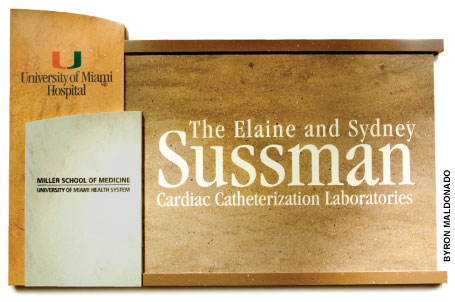 A major gift from philanthropists Sydney and Elaine Sussman created The Elaine and Sydney Sussman Cardiac Catheterization Laboratories at University of Miami Hospital.
He brings the same focus and passion to all of his pursuits. At 84, Sussman is a devoted husband to wife Elaine, the woman he pursued and charmed after meeting her more than 60 years ago. He's a role model and father to his son and two daughters, and the doting grandfather of three. He still exudes the courage that served him in the Army Armored Corps when he was commander at a prisoner-of-war camp in northern France and the vision that made him a successful businessman in the steel and real estate industries and helped him reshape the city of Trenton, New Jersey.
As a boy Sussman was grounded in the principles of integrity and honesty, the mantra of his parents, who owned a butcher shop in Camden, New Jersey in the days when the city was home to the New York Shipyards and RCA Victor Company. Sussman credits those Camden days with his love for different cultures and people and his consistent patronage of the performing arts.
He's also a big supporter of his fellow man. "I love life. I love people," Sussman says. "And I believe supporting the institutions that keep us healthy is one of the best ways to give back to our great society."
Sussman's philanthropy, which also benefits education and Jewish causes, includes a $5 million gift to the Miller School and UHealth – University of Miami Health System. The gift from the Elaine and Sydney Sussman Foundation supports cardiac health care and UHealth's new state-of-the-art Elaine and Sydney Sussman Cardiac Catheterization Laboratories at University of Miami Hospital.
"This is really a new day for University of Miami Hospital, and it's an opportunity to bring extraordinarily sophisticated cardiac care to patients from South Florida and beyond," said Pascal J. Goldschmidt, M.D., senior vice president for medical affairs and dean of the Miller School and CEO of UHealth, when the labs were unveiled. "Great institutions are made even greater when there is support from friends. The Sussmans are great friends."
Sussman's relationship with UHealth began by chance. When his daughter Andrea met Michael Federman, M.D., professor of medicine, on a Palm Beach golf course, their conversation prompted her to refer her father to Federman. In turn, Federman introduced Sussman to William W. O'Neill, M.D., chief medical officer for UHealth and a pioneer of interventional cardiology.
"It was clear from the level of care and the qualifications of the physicians that I was dealing with a first-class health system," Sussman notes. "Dr. O'Neill and the other doctors are nothing but excellent, and I wanted to do whatever I could to help their mission of caring and dedication."