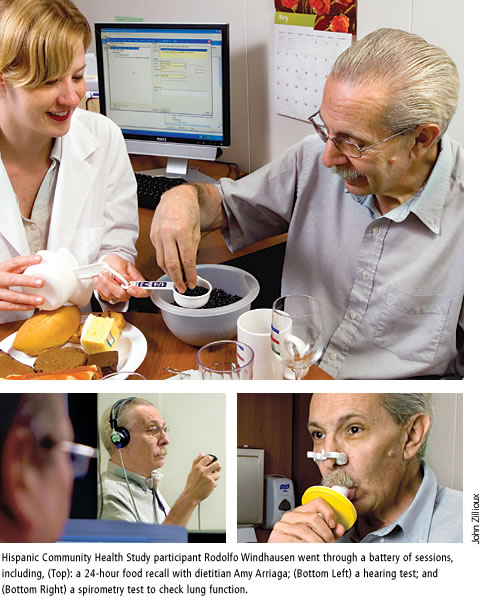 For Rodolfo Windhausen, a semi-retired journalist and translator, a four-block trip to the Miller School campus from his downtown Miami home offered a pathway for him to participate in a historic research project, the Hispanic Community Health Study/Study of Latinos funded by the National Institutes of Health.
Windhausen, 63, who was born in Argentina and lived in New York City for three decades before relocating to Miami four years ago, is one of the first participants in this unprecedented study designed to broaden the scope of the current research available on the health of Hispanics. His neighborhood is one of several that have been selected for participation based on Census Bureau data. The chosen communities are more than 86 percent Hispanic.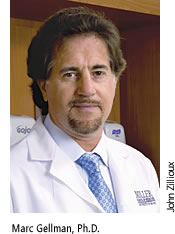 Almost everything we currently know about the health of Hispanics/Latinos in the United States has been derived from studies involving Mexican-American participants, which leaves a major gap in data if you consider the diversity of some 40 million Hispanics living in the United States today.
The six-and-a-half year, $61 million Hispanic Community Health Study aims to fill in the blanks in the current body of work by collecting comprehensive baseline health data from 16,000 Cubans, Puerto Ricans, Mexican-Americans, and Central and South Americans in San Diego, the Bronx, Chicago, and Miami. Currently the nation's largest minority group, in the next few decades Hispanics/Latinos from many backgrounds will represent an increasing percentage of the country's population.
The Miller School of Medicine, along with three other field centers and a data coordinating center at the University of North Carolina (UNC), Chapel Hill, form the pillars of the study, which recruits local participants to partake in a daylong health assessment.
"This study is a snapshot of the future of community-based health research because it brings together physicians, epidemiologists, nurses, psychologists, and community educators across disciplines," says Neil Schneiderman, Ph.D., James L. Knight Professor of Psychology, Medicine, Psychiatry and Behavioral Sciences, and Biomedical Engineering at the University of Miami and the study's principal investigator.
Miami is an ideal host city for a study of this nature, as its large Hispanic population offers a preview of what the United States will look like 30 years from now, says Miller School Dean Pascal J. Goldschmidt, M.D. "This is a remarkable study that will make a mark on the history of science and medicine."
In March the study's recruitment team began reaching out to potential participants, first by sending letters into the community to spread the word and then following up with visits to homes in the designated areas. During home visits, the staff determines eligibility and explains the details of the study to families. Those eligible from the household, between the ages of 18 and 74, are invited to participate. Families are encouraged to participate together, and transportation is provided if needed. Miami study participants are also offered a small stipend to compensate for their time.
"One of the things we're looking at is how assimilation affects health," says Marc Gellman, Ph.D., research associate professor in UM's Department of Psychology and the Miller School's Behavioral Medicine Research Center's associate director for administration. "It doesn't matter if participants have lived in the United States one day or 20 years—we only require that they self-identify as Hispanic."
Miami study participants like Windhausen, who visited the clinic in March, are introduced to a labyrinth of new medical suites on the seventh floor of the Miller School's Clinical Research Building and ushered from room to room for testing in areas including physical health, hearing, lung function, and psychology.
Each day, the 20-person UM research team sees four to eight people and collects data, some of which is reviewed and interpreted at reading centers throughout the county before it is sent to UNC Chapel Hill, where it is compiled. The goal is for the four field centers to see a total of 16,000 participants during the first three years of the study—the largest participant pool for a study of this kind. The study results could have a measurable impact on legislation and public health programs that affect Hispanic-Americans.
Participants may spend up to eight hours at the clinic, engaged in activities and assessments that include answering questions about their family medical history and daily diet regimen, sitting for a dental exam, and having their bodies measured by various medical tests. At the end of the visit, they are asked to take equipment home to measure their sleep patterns and level of physical activity.
"This study will give us a better idea of how Hispanics react and adapt to society as they insert themselves into this 'new world,'" says Windhausen. "It is a new world for many people, as it was for me more than 30 years ago. It's important to measure that impact."
Windhausen also hopes the study will provide a way for some of his neighbors and other participants, who like him lack medical insurance, to receive feedback on their health.
That is why, Gellman says, "The biggest incentive for patients is receiving the results. We give them free exams and results from many of the tests that they can share with their health care provider. This is not an intervention, but if we find something wrong we advise participants to seek medical treatment."