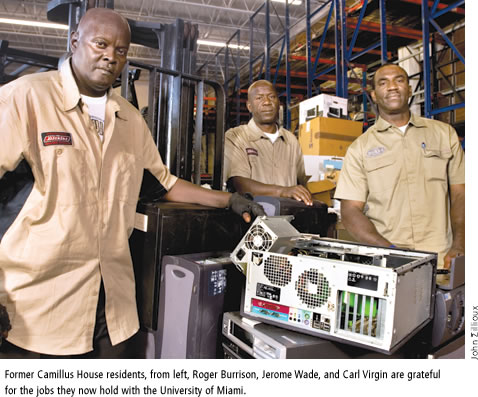 Roger Burrison's memories of a grim life on the streets of Miami stick with him like the discarded gum that litters the sidewalks he once called home. What remains foggy is his recollection of a particularly fateful night. "I was out there doing drugs," says Burrison. "When I woke up three or four days later, I was in the hospital with staples in my head." He pauses for a moment then adds, "That's when I knew it was time to do something." With the help of nurses at Jackson Memorial Hospital who gave him bus fare, Burrison, 46, made the trip to Camillus House, a nonprofit organization with locations just a few miles from the University of Miami Miller School of Medicine. Since 1960, the nonprofit has provided emergency and longer-term shelter for thousands and, as needed, companion services such as addiction treatment, counseling, and job training.
In Burrison's case, training through Camillus House's J.O.B. (Job Opportunity Bureau) program gave him an unexpected entree into the University. After about a year at Camillus House, he passed UM's rigorous screening, joined the medical school's temp pool, and landed a position at the University's warehouse and storage facility.
"I'm really grateful to UM and Camillus House," Burrison says one afternoon while visiting Camillus House after a day at work. "I never dreamed I would ever work for a place like the University of Miami. This job is truly a blessing."
The reviews have been good for Burrison and two other former Camillus House residents, Carl Virgin, 45, and Jerome Wade, 50, who last year started working in UM's Miami Lakes moving and storage division, which handles storing, sorting, disassembling, reselling, and donating the University's excess property.
"The fact that they are staying clean, coming to work, and coming on time is a great accomplishment for these men. They know the University reached out to them, and they are not taking that for granted," says Alberto Ramon, the surplus property and storage manager who supervises the trio. "They have all kinds of backgrounds, but they're turning their lives around and even looking to me for guidance. I'm like a brother to them. This is just a fantastic program."
Virgin shares that belief. Before Camillus House and his new job, he did stints in five treatment centers but found no permanent cure. "I had opened up my house to demons," he says.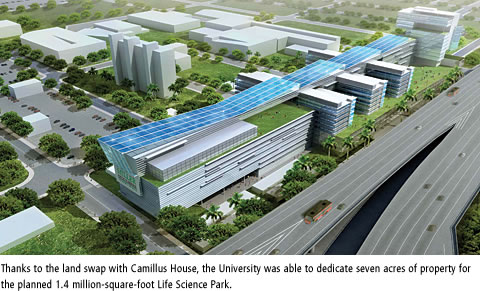 Wade, a New York transplant, chose to leave a "messed up" life and start over in sunny Miami—but he didn't know where to go when he stepped off the Greyhound bus. He was directed to Camillus House. "A lot of people would have turned their backs, but this shows there are people still willing to give us a chance," says Wade. "We are back on track because of Camillus House. We have jobs because of the University of Miami."
Although only a few people have been hired so far, Ronald A. Bogue, assistant vice president for facilities and services at the Miller School, believes the program will grow.
"Why wouldn't an organization as big as ours do this for the community that we're a part of?" remarks Bogue. "We're starting small with this program because UM isn't the kind of place where you just walk in and get a job. Our standards are high, but we're committed to doing this. If the University can help one person get his life back together, then it's a success."
A s the leading private university and health care institution in the region, the University of Miami has never shirked its responsibilities to help Miamians in need. But while working with other nonprofits is standard for UM, the employment partnership between the Miller School and Camillus House was born out of more unusual circumstances—a meeting to discuss a land swap between the two entities.
In that deal, UM got a parcel of land near the Miller School, on which it intends to build the Life Science Park on about seven acres. The planned state-of-the-art, 1.4 million-square-foot facility will be a hub for collaborative research and innovation expected to lead to viable medications and medical devices. In turn, Camillus House, which is also planning a new, larger building to offer more services to the homeless, gains a piece of nearby UM property that is adjacent to land it already owns and was deemed unsuitable for a biotech park.
At the meetings where the land swap was discussed, both UM's Life Science Park and the new Camillus House campus existed only on paper with future construction dates. But the good neighbors-to-be didn't let that delay the reaching out process. There were opportunities to do more good, Camillus House President Paul Ahr recalls, and both sides seized the moment "to see what other linkages were possible between UM and Camillus House."
"We talked about industries that could be created or that already existed within UM that could provide employment opportunities for individuals in our treatment programs or for people who had graduated our programs," Ahr says. "For us, just the notion of partnering with UM was a godsend."
"The University understood what we were doing and was very willing," says Fred Mims, Camillus House deputy director of the J.O.B. program. "Our clients have barriers, but UM saw where some of the barriers could be worked around."
The J.O.B. program, Mims notes, is work therapy that, for some, is combined with substance abuse therapy, following "the argument that if a person is constantly working while being treated it keeps the mind from being idle and thinking about drug use."
Before a prospective employee even gets to the Miller School's HR office, Camillus House provides a recommendation—not a guarantee—that the worker is up to the task, or as Mims puts it, "is stable, has a clear understanding of what it means to maintain and keep a job."
Of course, UM has its own thorough HR vetting process that all employees, regardless of category, must go through.
Despite the feelings of uncertainty about meeting with HR personnel and completing detailed paperwork, the realization that for the first time in many years they were sitting in an HR office was at once exciting and overwhelming for the men, recalls Jennifer Charyk, Camillus House's J.O.B. program manager who accompanied Virgin, Burrison, and Wade to their first UM interview. And, she says with pride, "They were all dressed up."
Adds Charyk: "Everyone had their employment forms, and they reviewed and signed everything as a group. They got really excited when they heard about the other potential opportunities in the future if they do well in their first positions. They got really fired up."
Since the word spread at Camillus House, Charyk has been inundated with requests from clients who want to seek out employment at UM. University officials say the program is working well, and it's likely the partnership with Camillus House will lead to more jobs. Burrison says that's good news.
"It wasn't easy getting here," he says. "But I'm sure other people can do it too. If you make the first step, there are people out there who are willing to help."
A Technology Incubator: UM Innovation
The University's land swap with Camillus House has immense benefits for both entities, for the surrounding community, and for South Florida. Because of this arrangement, there's now adequate space for the University's Life Science Park to rise in an area of Miami that will significantly benefit from the first-class biotech facilities and many jobs the venture will spawn.
The Life Science Park is part of UM Innovation, the University's fresh approach to transforming groundbreaking ideas generated at the University into products that help people. It is where technological advances and business are coming together to bring potentially life-changing ideas to the marketplace. Examples include a breakthrough antibody treatment for asthma, an innovative Petri dish that will change research on stem cells, and an instrument that has transformed the way tissue is processed for pathology.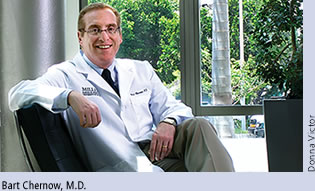 Bart Chernow, M.D., vice provost for technology advancement and vice president for special programs and resource strategy, describes the process as a "discovery mission where the discoveries made at the research bench are translated into commercial products that can help people." Chernow has brought together four distinct areas of operation, headed up by veteran physicians, researchers, and business people.
In addition to the Life Science Park, UM Innovation includes the Office of Technology Transfer and the Wallace H. Coulter Center for Translational Research, along with the Patent and Copyright Committee. The different areas work together to move novel ideas from concept to clinical trials or experiments, then out into the world with financial backing.
Eckhard R. Podack, M.D., Ph.D., professor and chairman of the Department of Microbiology and Immunology and one of the Miller School researchers using UM Innovation to move his inventions to patients, says having the tools here "makes it easier for faculty members to conduct their own clinical trials and find companies to advance the projects." Podack has five projects working through UM Innovation, including an immune therapy for lung cancer and an antibody that might have applications for asthma.
If any of those therapies prove to be effective on humans, moving them toward the marketplace would be the next step, and that's where the business side of UM Innovation would come in. The approach to finding funding is often via a licensing agreement or forming a start-up company. That can benefit patients, yield a financial return to UM, and generate funding for more research.
For more information on UM Innovation, visit its Web site at: www.med.miami.edu/uminnovation.