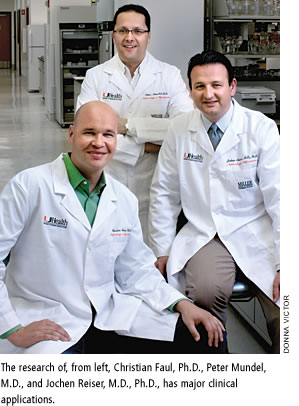 For many years physicians believed they knew how a commonly used immunosuppressant drug, cyclosporine A (CsA), worked to reduce protein in the urine. A key discovery made by a team of nephrology physician-scientists at the Miller School uncovered a new mechanism, likely leading to improved treatments for patients.
Peter Mundel, M.D., professor and director of the Miami Institute of Renal Medicine, Christian Faul, Ph.D., assistant professor of medicine in the Division of Nephrology and Hypertension, and Jochen Reiser, M.D., Ph.D., professor of medicine and chief of the Division of Nephrology and Hypertension, made the discovery, which was published in the September issue of the research journal Nature Medicine.
The discovery will make it possible to identify drugs that hold the benefits of cyclosporine in treating kidney disease, without its long-term ill effects, which can include the loss of kidney function.
Cyclosporine A, which is used in organ transplantation, is known for its ability to inhibit T cell function. It is also used in kidney disease to treat patients who have protein in the urine, which can be a serious risk for cardiovascular death. Scientists believed cyclosporine was able to reduce protein by inhibiting T cell function. This discovery indicates CsA works directly on podocytes, cells in the kidney that filter protein.
Mundel, the study's principal investigator, says the finding has major clinical applications. This is the second article from this new group of UM nephrologists published in Nature Medicine within eight months. "These new discoveries will allow us to find new drugs to treat proteinuria and more effectively help our patients in the near future," says Reiser.