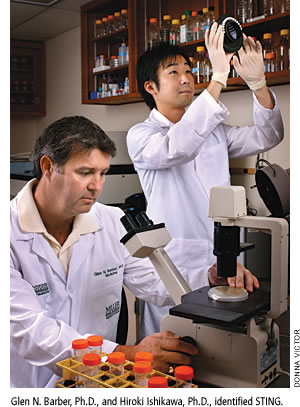 Scientists around the world now know what triggers the body to make interferon, a key component of the innate immune system, thanks to a study by researchers at Sylvester Comprehensive Cancer Center. The finding, published in the September issue of the prestigious journal Nature, could lead to the treatment of viral cancers.
Glen N. Barber, Ph.D., professor of medicine and Eugenia J. Dodson Chair in Cancer Research, and Hiroki Ishikawa, Ph.D., a postdoctoral fellow, identified a new molecule, STING (STimulator of INterferon Genes), which activates the body's innate immune system by triggering the production of interferon. In turn, interferon generates antiviral genes, producing an immune response that kills the virus. "STING plays a very fundamental, important role in the recognition of virus infection," explains Barber, who was the principal investigator of the two-year study.
The scientists not only found that the STING molecule recognizes DNA viruses, but they also discovered it was critical in shutting down certain RNA viruses, known as negative strand viruses. "This makes it twice as important," says Barber. "This molecule facilitates the production of interferon and innate immune response in reaction to DNA viruses and certain RNA viruses."
STING was also activated when it encountered bacteria, indicating that line of attack could be effective in fighting bacterial infections.