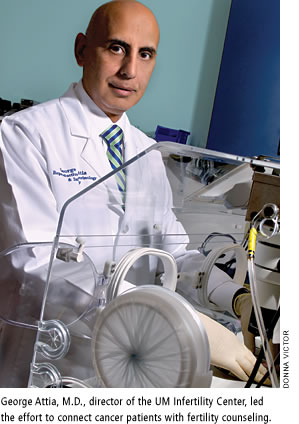 On the final day of her ER rotation at Jackson Memorial Hospital, while her fellow second-year residents were celebrating with a party thrown for them by the hospital's nurses, Nathalie McKenzie snuck downstairs for a mammogram, ultrasound, and biopsy. Days before—just ahead of her 31st birthday—she found a small lump in her breast, and she wanted to find out as quickly as possible if it was cancerous.
Then she bent the rules a little. McKenzie was registered as a patient under her maiden name, Dauphin, but worked as a resident using McKenzie, her married name. "This is Dr. McKenzie calling about patient Dauphin," she told the lab tech. "I need a rush on the biopsy results."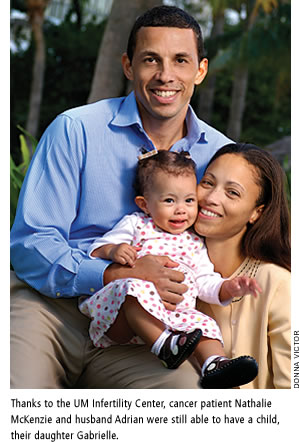 McKenzie listened in disbelief as she was diagnosed with invasive ductal carcinoma, an aggressive form of breast cancer. What felt to her like a pea-sized lump during a self-exam was actually the tip of a high-grade tumor. An MRI revealed that the cancer had not metastasized, but quick action was needed to prevent it from spreading.
"It was surreal," McKenzie recalls. "We have no family history of breast cancer. I had been taking all these steps just to be thorough—I thought there had to be a mix-up."
"I knew I had two options—a lumpectomy and radiation and possibly chemo, or a mastectomy and possibly chemo," says McKenzie, who had been married one year at the time of her diagnosis and hoped to start a family in the next few years. "I immediately started thinking about my fertility."
With early detection and cancer survival rates increasing, many young cancer patients are in a position to make life decisions that go beyond their course of treatment. Foreseeing survival, they want to understand how to protect their ability to have children while attacking the cancer.
"The whole dynamic of cancer patients and survivorship has changed," says George Attia, M.D., associate professor of obstetrics and gynecology, director of Miller School's Division of Reproductive Endocrinology and Infertility, and director of the UM Infertility Center at UHealth, the University of Miami Health System.
Under Attia's leadership, the UM Infertility Center has fostered a partnership with Sylvester Comprehensive Cancer Center that connects cancer patients with fertility counseling, a collaboration aimed at building a seamless bridge in care that allows men and women who are fighting cancer to simultaneously protect their ability to start a family in the future.
In October 2004 McKenzie had a mastectomy. Before she began chemotherapy, an experience she would later say is "like being in the ring with a heavyweight champ," McKenzie consulted with Attia. As an alternative to freezing her eggs, which would have delayed her treatment plan, McKenzie and her husband chose five months of fertility treatment with an injectible drug called Zolodex. Chemotherapy attacks rapidly dividing cells, which makes the ovaries a target. With Zolodex, the ovaries become dormant, which protects them from being destroyed.
"We pay attention to the details and individualize the treatment for every patient," says Attia, who has seen about 20 Sylvester patients since McKenzie. "We have a state-of-the-art infertility center, a successful IVF program, and a great nursing and medical staff, so it's a team effort."
The effectiveness of this case-specific approach is reflected in recent statistics related to in vitro fertilization success rates in healthy women. The Miller School's IVF Program, also led by Attia, has the highest percentage of cycles resulting in pregnancy among patients ages 42 and under and in patients under 35 when compared with all South Florida clinics and with the national average, according to data published by the Society for Assistive Reproductive Technology.
It is also reflected by anecdotal evidence. On November 20, 2007, McKenzie gave birth to a baby girl who became the first success story produced by the partnership between the UM Infertility Center and Sylvester.
"We named her Gabrielle because we knew she would be strong—that's what her name means," says McKenzie. "Gabby is a gift from God, and I cherish every day with her."
McKenzie, who started her fellowship in gynecologic oncology at UM in July 2008, also appreciates the partnership between Attia's group and Sylvester from the standpoint of a physician. "For pre-menopausal women it's important to be referred to fertility counseling from day one," she says. "With more women being diagnosed in reproductive years with cancer, especially breast cancer, it is imperative that we address issues important to that age group, which includes having babies."
Erika Calix, a current patient at Sylvester who has non-Hodgkin lymphoma and is consulting with Attia, hopes her diligence about her fertility now will pay off in the future.
Calix, who was 27 at the time of her diagnosis, wanted to make sure she could have children one day, but the first doctor she was referred to discouraged her from focusing on her fertility.
Calix tried to find answers to her questions on the Internet but found that resources were scarce. "It worried me," she says. "Almost no one has information on what to do and where to go for fertility treatments if you have cancer."
When the cancer returned after six months in remission, she was referred to Sylvester for high-dose chemotherapy under the care of physician Maricier Escalon, M.D. After discussing her treatment options and her desire to have a family, Escalon, assistant professor of clinical medicine, connected Calix with Attia. Under Attia's care, Calix received a series of shots, one each month for six months, of the drug Luperine that—like Zolodex did for McKenzie—moved Calix into a menopause-like state, protecting her ovarian function for the future. She completed her radiation and Luperine treatment in October 2008.
"If I had to do it all over again, I would've come directly to Sylvester and Dr. Attia," says Calix. "I still want kids in the future. No matter what happens, I'll know at least I tried something to protect my fertility. It's comforting knowing I tried."