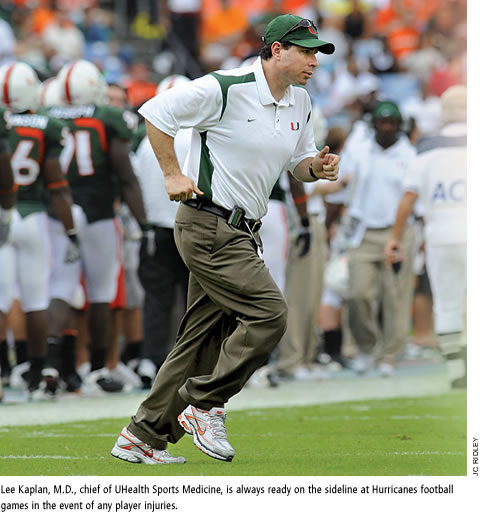 When Anne Breuer was 13, she tore the protective layer in her left knee playing softball. Her doctors removed part of her lateral meniscus, and she tried to return to teenage life as usual. "Everyone said, 'You'll be fine, you'll be fine,' but six weeks after the first surgery I tore it again," says Breuer.
The discomfort, which Breuer describes as having "a piece of gravel in your joint," disrupted even the simplest day-to-day tasks like climbing stairs. It prevented her from continuing to play softball and tennis and from running and other forms of exercise.
"Going through high school I wanted to go and try all these different things, but I was afraid of what would happen to me," she says. Doctors told Breuer that she was knock-kneed, a condition that creates excess pressure on the lateral compartment of the knee.
After a series of surgeries—including a femoral osteotemy, where her femurs were broken and realigned—did little to alleviate her discomfort, Breuer began to consider a lateral meniscus transplant, a complex procedure that would prevent the onset of early arthritis and delay the potential need for a knee replacement.
It's a procedure mastered by only a few people in the country, and one of them is Lee Kaplan, M.D. Breuer, who grew up in Wisconsin and attended the University of Wisconsin as an undergrad, had heard good things about Kaplan, who was working at the time as an assistant professor of orthopaedics and rehabilitation and team doctor at the University of Wisconsin.
Kaplan performed lateral meniscus transplant surgery on Breuer's left knee in June 2006. She was 23 and in her first year at the Scholl College of Podiatric Medicine in Chicago. "I think the biggest reason I did this, more than the ability to be active, was that I had big career aspirations," says Breuer. "Going into a surgical field, you know you're going to be on your feet all day long. In order to excel at the level I wanted, this is something I felt that I had to do."
After a difficult yearlong recovery, Breuer was back to doing her favorite things: rock climbing, tubing on the lake, hiking, and camping. But just as her left knee became fully healed, signs were pointing to a deteriorating right knee. Even after multiple surgeries, arthritis was starting to form, and Breuer decided she should have another transplant surgery.
In September 2008 she followed Kaplan to the University of Miami for her 16th surgery, a lateral meniscus transplant on her right knee, and became one of Kaplan's first patients in his new role as chief of UHealth Sports Medicine, located at University of Miami Hospital.
"The amount of expertise someone has in doing this procedure is really important. Because not many people do it, I wanted someone who hadn't done just one but who was trained in it, and that's what brought me to Miami," says Breuer.
Kaplan joined the Miller School in June 2008 to help develop and launch UHealth Sports Medicine, the University's first comprehensive sports medicine program. The program brings together leading-edge orthopaedic surgeons, primary care physicians, concussion experts, physical therapists, sports nutritionists, and athletic trainers to provide a one-stop resource for athletes—and for "weekend warriors" whose work-life balance depends on their ability to perform without injury on the tennis court, at the gym, on the golf course, or during their evening runs and weekend hikes.
UHealth Sports Medicine stands alone in South Florida's medical landscape for its multidisciplinary approach to providing care to people with sports- or activity-related complaints or injuries. Through the program, everyday athletes will have the same access to world-class care and the broad range of services available to athletes on a high school, collegiate, or professional level.
This approach appeals to Breuer. "The first time I met Dr. Kaplan I was a little frustrated," recalls Breuer, who, thanks to her successful surgery, returned to Chicago in October 2008 to resume her residency at Scholl with two "good knees."
"I felt that because I wasn't an athlete at the collegiate level, people up to that point were not understanding that despite the fact that I'm not going to play NCAA basketball, this is having an impact on my life. It can be difficult to find a doctor who understands that, instead of saying well, here are some pills, you'll be fine," she says.
"Dr. Kaplan really takes the time to get to know you on a personal level," she says. "You know he cares when he's talking to you—the level of compassion you get is pretty amazing."
The Program
Patients like Anne Breuer have always been the focus of Kaplan's practice.
"Although I spend an incredible amount of time and energy with the athletic department, the real patient load comes from the community," says Kaplan. "Anyone with an injury or medical condition affecting his or her ability to exercise, participate in sports, or maintain an active lifestyle is a candidate for our service."
Before Kaplan was a medical student at George Washington University or an orthopaedic resident at University of Miami/Jackson who worked on the sidelines as the team doctor at high school football games, he was on the field playing safety for The Johns Hopkins University's football team.
"I was either going to be Joe Namath or the team physician," he says.
It turns out he gets to do both. He is the team doctor for the Hurricanes, and he will quarterback a powerhouse medical team at UHealth Sports Medicine. "Most universities nationally have taken a step away from the medical school and university hospital," says Kaplan. "But UM is putting a great deal of emphasis on the medical school. I really believe that raising the University of Miami's focus on UHealth and on academic medicine will benefit all people in South Florida, if not the entire nation."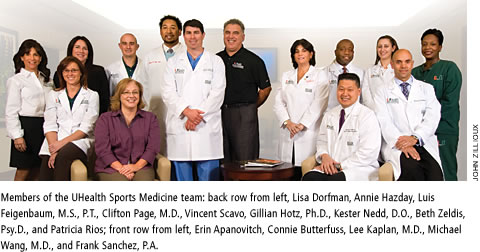 A rapid overhaul of 4,900 square feet of space with its own entrance on the first floor of University of Miami Hospital became the new UHealth Sports Medicine clinic. The spacious, modern facility, complete with a waiting room equipped with telephones, flat-screen televisions, and wireless Internet, is designed to accommodate multitasking patients.
As the official provider for the University of Miami Hurricanes, the sports medicine team works closely with UM's men's and women's teams—as well as club and intramural sports groups—to address injuries that include ankle sprains, muscle strains, torn ACLs, rotator cuff syndrome, Achilles tendonitis, and plantar fasciitis. Sports-related medical illness will also be a focus. Asthma, mononucleosis, athletic-induced amenorrhea, and overtraining syndrome are common conditions.
Kaplan plans to partner with The Miami Project to Cure Paralysis to work with athletes with disabilities. "Paraplegic athletes are a very competitive group, and often because of their chair-related activities they injure their shoulders, which is one of my areas of interest," he says. "We offer medical care for those types of injuries."
Research also is a critical component of the new program. The sports medicine team is actively researching causes and cures for a wide variety of sports-related injuries. Their research is translating into exciting advances in the clinic through improved patient care and on the field through improved training, performance, and injury prevention.
"UHealth Sports Medicine allows patients access to the same surgeons and rehabilitation facilities that athletes get and allows them to access new techniques developed by research," says Kaplan.
The All-Star Team
If the team led by Kaplan feels like a group of old friends who happen to work together, it's because in some ways it is. Kaplan's assistant Connie Butterfuss worked with him for two years in Wisconsin before joining the team at UM.
Head athletic trainer Vinny Scavo, who wears the 2005 state championship ring from when he was the athletic trainer at Chaminade-Madonna preparatory school in Hollywood, has spent his 25-year career working for some of South Florida's strongest high school football programs. Kaplan met Scavo when he was the team doctor for Miami Southridge Senior High School, where Scavo served as athletic trainer.
In his role in UHealth Sports Medicine, Scavo is the liaison to all UM athletes—and the face of the program in the community. He works with physician's assistant and Iron Man participant Frank Sanchez and clinic manager Annie Hazday to make sure patient care is seamless. "When patients leave the facility, we want to make sure they feel comfortable and have all the answers they need," says Scavo.
Concussion Program
During his orthopaedic residency, Kaplan also met Gillian Hotz, Ph.D., who along with neurologist Kester Nedd, D.O., developed the University's Concussion Program after Hotz tagged along with Kaplan to a Southridge football game in 1998.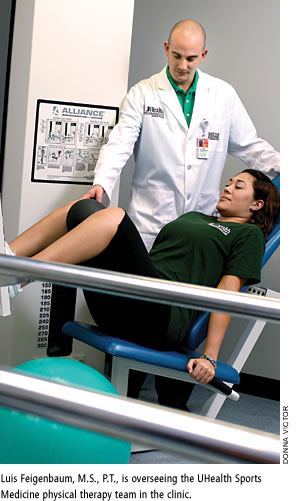 "I couldn't believe how hard these kids were hitting," recalls Hotz, who also treats adults and children with catastrophic brain injury from car crashes and other accidents. "We saw a kid go down on the field. I came back to Dr. Nedd and said, 'We have to start a concussion program.'"
Kids are in fact hitting harder then ever, says Hotz, and the increasing prevalence of youth sports leagues has led to fiercer competition, with even young kids in the gym training with weights. The trend continues on collegiate and professional levels. Research reported in The New York Times' sports magazine Play shows that NFL players are bigger and faster today than they were 30 years ago, which means they are tackling with greater force.
Nedd, an expert in managing post-concussive headaches and symptoms, and Hotz, a research neuropsychologist and co-director of the Pediatric Brain & SCI program and director of the WalkSafe Program, moved the concussion center to UHealth Sports Medicine, where they will focus, as they have for the past ten years, on helping athletes determine when they are ready to return to play.
They have witnessed a range of neurological injuries and issues in student athletes—a basketball player with Tourette syndrome, a baseball player suffering blinding headaches caused by taking consecutive pitches to the head—and they pride themselves on making appropriate recommendations based on guidelines endorsed by the American Academy of Neurology.
To bolster their research in concussion, Hotz has recently become a credentialed consultant for a program called IMPACT, which allows her to collect baseline data on local high school athletes at the beginning of the season that can be used to draw comparisons if a player suffers a head injury on the field.
"We have relied on Dr. Hotz and Dr. Nedd for years to review our concussed athletes and assist us in evaluating their return-to-play status," says Scott McGonagle, M.S., UM's director of athletic training. "With the implementation of IMPACT, we now have more information to work with when and if one of our athletes has sustained a concussion. It gives us good research data that helps us better project the safe return to play for UM athletes."
"You want these kids playing safe," says Hotz. "You want them to play. You encourage them to play. Football, basketball, soccer, cheerleading, lacrosse—they're great, but you want them to play safe."
Physical Therapy
For the first time in Miller School history, the Department of Physical Therapy has expanded beyond academia to include a clinical component based at UM Hospital, just down the hall from the sports medicine clinic.
The department, under the leadership of professor and chair Sherri Hayes, Ph.D., P.T., has hired six new graduates from UM's PT program to round out 14 full-time positions on the clinical side who will support the existing 19 academic physical therapists with their research projects.
Luis Feigenbaum, M.S., P.T., a lifelong 'Canes fan who teaches physical therapy courses on UM's Coral Gables campus and earned his athletic training license by putting in 1,500 hours with the UM Athletic Department, will oversee UHealth Sports Medicine's physical therapy team in the clinic. Feigenbaum is one of Florida's 17 board-certified specialists in sports.
The new physical therapy program will employ only full-time physical therapists, and the therapist who evaluates a patient will remain that patient's point person throughout their care. To accommodate a new flow of patients from the sports medicine program, the clinical department has plans to expand to three or four times its current size, which will enable it to accommodate an aquatics program, an underwater treadmill, infinity pool, and therapeutic Pilates program.
The department also has plans to expand, with an additional location in Coral Gables. "We're growing a hospital-based program here at UM Hospital, and we're also looking for space right off campus to serve students, faculty members, alumni, and the community," says Feigenbaum.
Sports Medicine for Everyone
Perhaps the greatest value of UHealth Sports Medicine to patients is that it offers what Kaplan calls a "portal into the entire University of Miami Health System."
"When we put this program together we had the vision that it would be very inclusive," says Kaplan. "We're working with other Miller School departments, including neurology, cardiology, exercise physiology, and biomedical engineering, to name just a few. The collaborative opportunities are tremendous."
Backed by the strength of a world-class academic medical center, UHealth Sports Medicine is well positioned to help patients who may come in with a complaint that turns out to be different than what they expected.
"Sports medicine is an area dear to the community," says Kaplan. "The biggest benefit is that if you come in with pain in your knee and it turns out to be a tumor, your doctor can say, 'Let me refer you to my friend upstairs who's a specialist.'
"While you're at the doctor, you inevitably ask other questions about your health. At UM different specialists are linked by the same records and have access to the same images. You have transportability and a truly multidisciplinary group."