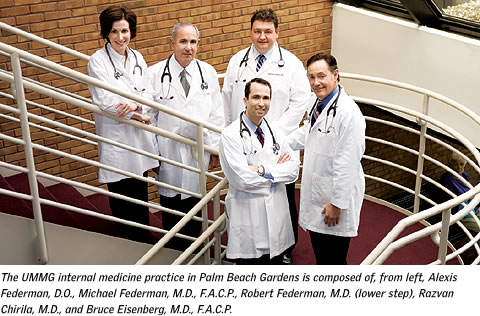 A recent article in the South Florida Sun-Sentinel illuminated something that Palm Beach County residents are already acutely aware of: the area is in the throes of a physician shortage that's expected to intensify.
In an effort to address Palm Beach's health care delivery needs, the Miller School of Medicine is opening four new medical facilities around the county. The first is an internal medicine practice at 3401 PGA Boulevard in Palm Beach Gardens that opened its doors in July under the auspices of the University of Miami Medical Group (UMMG) and the Miller School. The Palm Beach Gardens facility is staffed by five highly experienced internists led by Michael Federman, M.D., F.A.C.P.
Working in tandem with Federman at the new Palm Beach Gardens facility are Bruce Eisenberg, M.D., F.A.C.P.; Razvan Chirila, M.D.; Robert Federman, M.D.; and Alexis Federman, D.O. Additional information about this latest addition to Palm Beach County's health care landscape can be found at 561-368-DOCS (3627) or www.Universityimg.com.
The second UMMG facility opened in August and piggybacks on the Miller School's ongoing collaboration with Florida Atlantic University (FAU) to train medical students at FAU and at Boca Raton Community Hospital.
Taking this synergy to the next step is a major clinical practice on FAU's campus, in an 11,088-square-foot facility at 3848 FAU Boulevard in Boca Raton. Still in the process of ramping up, this facility offers 18 examination rooms, X-ray equipment, and surgical suites. Ira Karmin, M.D., is the medical director at this new Boca Raton site, which will also house Ob/Gyn and internal medicine practices, among others.
In the town of Palm Beach the UMMG is looking at a facility at 250 Royal Palm Way that would house a 10,000-square-foot urgent care center, according to UMMG spokesman Cristian Murray. The center is tentatively scheduled to open in early 2008 and would have two physicians and an X-ray machine on the premises.
There's also a good possibility that a CT scan or MRI machine will be made available to augment the health care needs of Palm Beach residents.
Rounding out the quartet of new Palm Beach facilities is the new building at Bascom Palmer Eye Institute's campus at 7101 Fairway Drive in Palm Beach Gardens. With two floors and 21,500 square feet of space for patients and offices, this is the largest venue of the four, Murray says.
"We're trying to determine what practices will be going in there," he observes. "We're conducting demographic studies to find out what medical services are needed by the community.
"Palm Beach County's population is growing, and older physicians are retiring and not being rapidly replaced by younger doctors," Murray says. "The University of Miami wants to take the lead in providing Palm Beach County with the same high-quality health care that Miami-Dade County has received for more than half a century."