Conventional wisdom has it that twentysomethings are hopelessly self-absorbed and narcissistic, a breed far likelier to earmark disposable income for keg parties and iPods than for activities that sustain and uplift humanity.
Fortunately, Palmetto Bay homemaker Samantha Sharpe, 32, appreciates that conventional wisdom can occasionally be off the mark. Combining that knowledge with a can-do attitude, she pulled off a one-day leisure event that generated $33,600 in cash and pledges for cancer researchers and clinicians at UM/Sylvester. And yes, the aforementioned twentysomethings played a major role in producing that haul.
Sharpe is a guiding light behind Young Philanthropists for Sylvester (YPS), a fledgling group of South Floridians in their 20s, 30s, and 40s that raises funds for the University of Miami Sylvester Comprehensive Cancer Center. Sharpe organized a YPS fundraising gathering at the Lucky Strike bowling alley in Miami Beach that was attended by roughly 200 people.
The bowling outing and the events preceding it were textbook examples of "Cultivating Young Philanthropists 101."
"One day I got a phone call from a cousin at seven o'clock in the morning," Sharpe recalls, laughing at her kin's audacity. "She said to me, 'Why don't you do a bowling thing called Strike Out Cancer at Lucky Strike?'" Sharpe began marshaling the troops that same day. She reserved a date for the Lucky Strike affair and started working her phone, reaching out to friends and acquaintances in her age bracket who shared a desire to K.O. cancer.
More and more respondents began jumping on the bandwagon, eager to do a good deed while simultaneously having fun. The result was a fundraising event that outwardly looked like just another Thursday evening at Lucky Strike. Most of the facility's 14 lanes were clogged with bowlers 21 to 45 who were laughing boisterously and generally enjoying each other's company.
Off to the side, not far from the bowling alley's bar, three UM/Sylvester volunteers manned a table where bowlers could sign up to become full-fledged YPS members, bringing a commitment to donate $2,000 to UM/Sylvester over a three-year period.
It was a scene Sharpe took in with a satisfied-looking smile. A mother of children 4 and 1, Sharpe rarely has a spare second for herself, much less time for bowling and cavorting. For her, YPS's first major fundraising event -wasn't primarily about lighthearted fun or even fundraising.
Her father, Coconut Grove homebuilder Steven Shere, is a survivor of stage 4 lung cancer, meaning the disease had metastasized to other parts of his body. Told he had four months to live, Shere has been a cancer survivor for two years following aggressive treatments.
"Every time he coughs, I cringe," Sharpe says. "You go, 'Oh God, is it something new?' You just have to live life every day to its fullest, because you don't know what tomorrow brings."
Sharpe, who graduated from UM in 1997 with majors in criminology and psychology, admits that her interest in YPS partially stems from self-preservation. Noting that her father's mother died of cancer, as did his sister, Sharpe pointedly observes: "I may be next."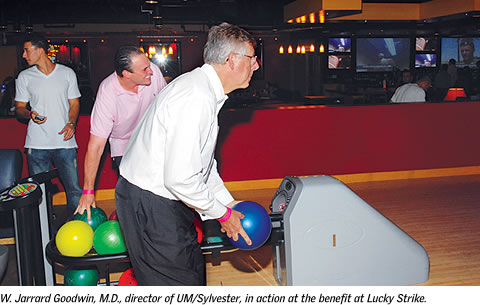 Another YPS participant at Lucky Strike, 28-year-old attorney Jennifer Olmedo-Rodriguez, also felt compelled by personal considerations.
"I have a lot of family members that have suffered from cancer," says Olmedo-Rodriguez, who does regulatory compliance work. "My grandfather passed away several years ago from cancer, and there have been various family members that have been diagnosed with cancer or actually passed away."
The young lawyer hopes YPS can help UM/Sylvester and the Miller School of Medicine become "household names in terms of local charities." However, YPS can help achieve an objective Olmedo-Rodriguez believes is just as important.
"The idea behind this group is to get young people attracted to this charity and to help them stay connected with it as they grow in their careers and become successful," she says. "Hopefully, they'll remember Sylvester and the Miller School when they're able to make the kinds of financial commitments they can't make now."