To most people, the late actor Christopher Reeve was the embodiment of Superman, a character Reeve skillfully brought to life in a series of films.
To Palm Beach resident Lois Pope, Reeve was "Chris," a quick-witted, kindhearted friend she used to jog along the beach with. The horseback riding accident that rendered Reeve a quadriplegic is one of the main reasons Pope offers financial assistance to students in the Miller School's Neuroscience Graduate Program.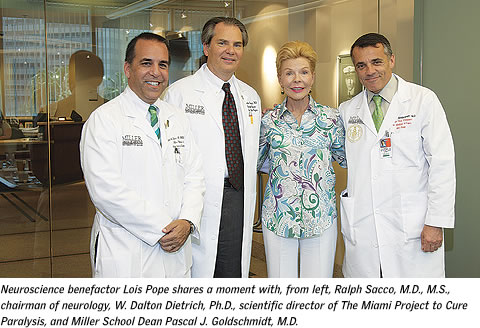 Several Lois Pope LIFE Fellows recently met with Pope in the lobby of the building bearing her name, the Lois Pope LIFE Center. It was a tossup as to who was more excited—the group of students about to meet their program's major benefactor or Pope, a philanthropist who exudes a passion to improve neurological research and medicine.
"I wanted to know what was being done for people like Chris," says Pope, who's made a $10 million commitment to the Miller School to advance the study of neurological diseases. "It's a horrible thing to feel that you're helpless and you can't help a dear friend."
Pope felt the same frustrating swirl of emotions when her mother suffered a stroke that eventually led to her death. Consequently, the Lois Pope LIFE Center has laboratories actively seeking ways to mitigate the devastating impact strokes can have on the nervous system and the brain.
In addition to giving the medical school a top-notch facility to study all kinds of neurological maladies—not just paralysis—Pope wanted to ensure that plenty of bright neurological researchers are in the Miller School pipeline. Students typically go through the Neuroscience Graduate Program in four or five years, leaving with a Ph.D. in neuroscience.
Some of the fellows that Pope recently met concentrate on spinal cord injuries and the regrowth of neurons—exactly the kind of research that would have benefited Reeve, who was paralyzed in 1995 and died nine years later.
Pope's involvement with the Neuroscience Graduate Program is significant on several levels, fellow Lana Jones observed while waiting for her arrival at the Lois Pope LIFE Center. "Among other things, it's important for me to meet her because she's a woman," Jones said. "It's always nice to see women associated with science, in whatever capacity."
At present there are 31 Lois Pope LIFE Fellows, according to Neuroscience Graduate Program Director Charles Luetje, Ph.D. "Lois Pope's support for graduate education helps with the cost of providing $23,000 annual stipends to the Lois Pope LIFE Fellows," notes Luetje. "Mrs. Pope has given us the ability to dramatically expand the program and attract high-quality students."