As breathing became increasingly difficult and fever consumed her body, the 42-year-old woman knew she needed a doctor—soon. Late that Sunday night, her husband rushed her to University of Miami Hospital, where the breast cancer patient was seen by emergency room physicians and then admitted.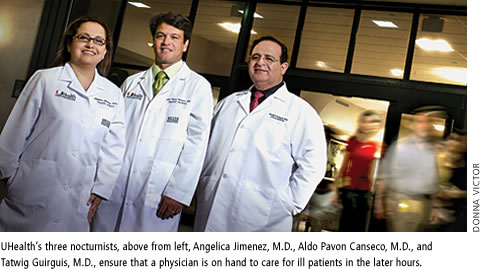 In a time of need, Bercline Jean-Francois chose UM Hospital because her oncologist, Stefan Glück, M.D., Ph.D., works just across the street at Sylvester Comprehensive Cancer Center. But just as important, because UM Hospital has a 24/7 "hospitalist" program staffed by faculty members of the Miller School's Division of Hospital Medicine, sub-specialists like Glück and primary care physicians are assured that regardless of the hour, a qualified hospitalist will be on duty when patients arrive.
In just over a decade, hospitalists—physicians whose primary function is the care of hospitalized patients—have solidified themselves in the pantheon of clinical care.
Since 1996 when Robert Wachter, M.D., coined the term "hospitalist" in The New England Journal of Medicine, the field has become the fastest-growing specialty in modern medicine. According to the Society of Hospital Medicine, only a few hundred hospitalists existed in 1996. Now, as more and more primary care physicians find that busy practices force them to spend less and less time attending to their hospitalized patients, there are about 20,000 hospitalists and there are projected to be around 30,000 by decade's end.
The phenomenon began in community hospitals, then was embraced by academic medical centers that incorporated faculty hospitalists to treat patients, teach residents, and conduct research in the burgeoning field.
"My vision was not only to create a group of doctors who are trained to provide efficient care for patients on the inside, but to also do the kind of research that will benefit patients they will never see," says Marc E. Lippman, M.D., chair of the Department of Medicine, who formally established the hospital medicine division in October 2007 to serve doctors and patients across the UHealth-University of Miami Health System.
Although hospital medicine units are spreading in academic institutions, the Miller School's Department of Medicine is one of a handful across the country with a separate Division of Hospital Medicine.
To lead the new division, Lippman recruited Amir K. Jaffer, M.D. Jaffer came to the Miller School with a wealth of experience, having worked at the Cleveland Clinic in Ohio for a decade, including several years as associate section head for hospital medicine.
"Hospitals are always looking at outcomes, and more and more hospitalized patients are demanding high-quality service around the clock," says Jaffer. "Hospital medicine is an opportunity to deliver very safe medical care with the best outcomes for patients, along with utmost patient satisfaction."
UHealth has committed significant resources to the stand-alone Division of Hospital Medicine. Before Jaffer arrived there were about five hospitalists on staff, including Efren Manjarrez, M.D., one of the first full-time hospitalists at University of Miami/Jackson Memorial Hospital.
"The leadership embraced us and are offering enormous support based on the value we bring to patient safety, medical education research, the economics of the hospital, and patient satisfaction," says Manjarrez, assistant professor of clinical medicine and director of clinical operations in the Division of Hospital Medicine.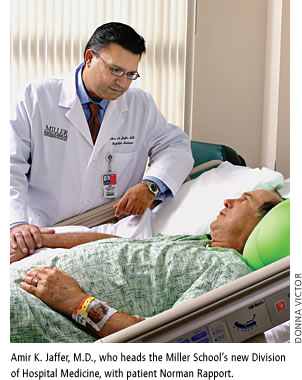 By the end of 2008 there will be more than 20 hospitalists caring for patients at UM Hospital, Bascom Palmer Eye Institute, and Sylvester Comprehensive Cancer Center, and training residents at Jackson, UHealth's primary affiliate institution.
"One of the advantages is that as hospitalists we don't have to manage office patients," Jaffer explains. "We spend the bulk of time in the hospital, we get to know patients and their families well, and we are able to coordinate complex care."
In the former Cedars hospitalist program that continues at UM Hospital, hospitalists either have contracts with managed care organizations or they have direct contracts with certain insurance companies. These programs thrive on efficiencies such as safeguards that eliminate unnecessary tests and a level of coordinated care that helps shorten hospital stays.
"In one sense it is a challenge because you see patients at their sickest, and you want to do everything for them," says Manuel Garcia-Frangie, M.D., a community physician and hospitalist at UM Hospital. "But there is a lot of effort being put into improving communication between primary care doctors and the hospitalists because getting information about the patient is part of making the care more efficient."
This growing efficiency in patient management explains why more hospitals are employing hospitalists. "Hospitalists provide both quality and consistency for patients throughout the hospital experience," says UM Hospital CEO Anthony M. Degina Jr. "They are focused totally on the hospital stay, and their ability to use resources appropriately and efficiently benefits the patient."
Patient management experts
Through the UM Hospital hospitalist service, the gravely ill Jean-Francois encountered Jaffer. He became her primary inpatient physician, coordinating tests, rendering treatment, and consulting with Glück, clinical director of Sylvester's Braman Family Breast Cancer Institute, and other sub-specialists when he surmised her port-a-cath might have caused a blood infection and other complications.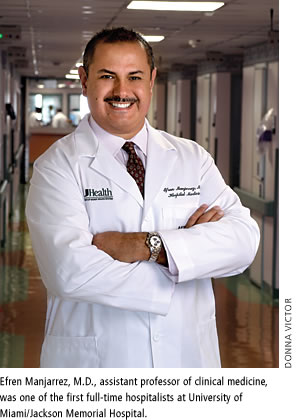 "He had never seen me before but he was very knowledgeable. God sent him here," Jean-Francois said in July while in the hospital, her husband and daughter by her side.
Sadly, Jean-Francois, the patient with a small voice and a big smile, succumbed to her illness a few months later.
By the very nature of the job, hospitalists take care of some of the sickest patients and have to be mindful that some cases could be terminal. The best care for the patient and compassion for families are paramount.
"It is important that we maintain our humanity and truly understand pain and suffering," Jaffer says. "The job we do to make patients get well is crucial, but we are also there for the families when they experience loss."
Jaffer believes there are numerous roles hospitalists can play to make patients' lives better. Recently he launched a service that manages medical problems for postoperative patients at UM Hospital; UM doctors had already been running a similar service known as Medicine on Duty at Jackson Memorial. He is also planning a center where hospitalists focus on evaluating patients before they undergo surgery to assess risk, with appropriate therapies implemented to decrease morbidity and mortality.
24/7 care from nocturnists
With studies showing how decreased physician coverage, especially at night and on weekends, can lead to poor outcomes, some hospitals are extending their hospitalist service 24/7, incorporating substantial weekend coverage and "nocturnists" working at night.
After hiring Tatwig Guirguis, M.D., last March, UM Hospital announced its 24/7 academic hospitalist service. He was joined recently by Angelica Jimenez, M.D., and Aldo Pavon Canseco, M.D., who also work nights to meet the surge of patients being referred and admitted to UM Hospital.
"Good hospitals can no longer afford not to have excellent doctors available at all hours," remarks Guirguis, who has logged countless night hours. "Serious illness doesn't have a set time."
William O'Neill, M.D., chief medical officer for UHealth and the Miller School's executive dean for clinical affairs, notes that the addition of hospitalists and nocturnists shows the UM Health System is "embarking on a new paradigm to give the best care to ill patients regardless of when they enter the hospital.
"Traditionally, most of the care in later hours was provided by residents in training, but with work-hour restrictions this could no longer suffice. Now we are hiring board-certified internists to provide this coverage," O'Neill says. "We feel this will dramatically improve the coverage for our patients at UM Hospital."
The rise of hospitalists
When the Accreditation Council for Graduate Medical Education mandated shorter work hours for residents in 2003, it compelled university medical centers to determine ways to provide continuous medical coverage for patients.
"Hospitals dealt with the work-hours issue in two ways: they hired more physician assistants and nurse practitioners—and they hired hospitalists," says Patrick Cawley, M.D., president of the Society of Hospital Medicine. "What we're seeing today in many university hospital programs is that the growth rate for patients seen by residents is flat while that for patients seen by hospitalists is on the rise."
Other industry changes led to the growth of hospitalist divisions, including increasing demands from insurance companies and health care regulating bodies for better and more cost-effective patient outcomes.
Teaching and research
With more hospitalists on the faculty, the Miller School is making teaching and research priorities in hospital medicine.
"As academic hospitalists at the leading teaching hospital in the region, we must produce research that advances the field," says Jaffer, who is involved with clinical trials on blood thinners and is an expert in anticoagulation.
In July, for the first time, internal medicine residents at Jackson Memorial Hospital were offered a special track in hospital medicine that, for a few months each year, will expose them to a curriculum focused on patient safety, quality improvement, leadership, business of medicine, risk management, and transitions of care. Six residents elected this track this coming year. In addition, the division offers these residents an elective in procedural training that allows hands-on training on models before performing procedures in the hospital. This curriculum was developed by associate program director Joshua D. Lenchus, D.O., R.Ph.
"Prior to this, we were working on an apprenticeship model for procedures—see one, do one, teach one. This course offers a better way," says Lenchus, assistant professor of clinical medicine at the Miller School and associate director of the Center for Patient Safety, who has presented papers on the course at several meetings, including one held by the Society of Hospital Medicine. "The next step is to show it has a positive impact on patient safety. That is what will really meld the facets of hospital medicine—quality improvement, education, and patient safety."