The University of Miami's purchase of a hospital and its transformation into University of Miami Hospital provided a crucial component for UHealth—the University of Miami Health System—the leading medical research and patient-care institution in South Florida and the wider region.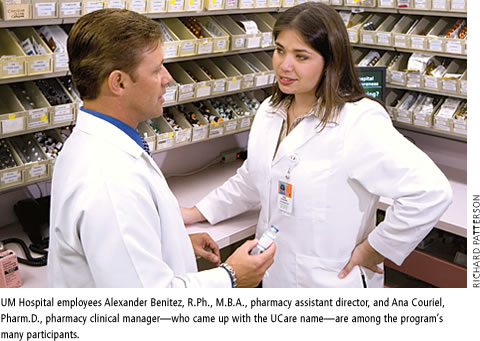 Bringing together the Miller School's outstanding institutions (UM Hospital, Sylvester Comprehensive Cancer Center, Bascom Palmer Eye Institute, and others) under the new UHealth brand also is an opportunity for the health system to recommit to the community, patients, and employees through exemplary leadership. This leadership plan, now known as UCare (U Can Achieve Real Excellence), is the University's reinvestment in its leaders—empowering and giving them the tools to practice evidence-based leadership to propel the University to new heights.
To assist with the task, UHealth turned to the Studer Group, the Pensacola-based health care consulting firm with a track record of helping medical institutions boost the delivery of patient-centric care through coaching and guiding an organization's leadership.
Even for a health care organization as big as UHealth, this is a huge commitment, notes Michele Chulick, associate vice president and executive director of clinical operations, but it's one that Miller School Dean Pascal J. Goldschmidt. M.D., and other leaders feel is vital for the patient-centered growth of the unified organization. Three Studer-taught Leadership Development Institutes (LDI) have already been held and a fourth is being planned.

"This is about transforming the culture, emphasizing our positives, and looking at how we can be successful as a new whole," says Chulick. "We are building the UHealth brand around a culture of teamwork and excellence."
Some of the best health care systems nationwide have been Studer clients for many years, and the firm's "hardwiring" methods have been positively recognized. The approach involves ingraining employees with the systems and tools to recognize what's right and what's working well, thus making such actions part of the culture of the organization.
What works? According to literature from Studer's second UHealth LDI seminar: Translating broad organizational goals into site- or department-specific goals; developing measurable goals for service, quality, people, finance, and growth; accountability; and making rewards and recognition part of the culture.
As an example, rewards and recognition could come in the form of simple thank-you notes. At the second LDI held in June for scores of UHealth supervisory staff, an employee said she framed a thank-you note from her manager and kept it as a reminder to work even harder for the growth of the organization and the satisfaction of patients. It was at this seminar, too, where Ana Couriel, Pharm.D., pharmacy clinical manager at UM Hospital, was lauded for coming up with UCare as the name for the health system's initiative. This "renaming," a step encouraged by Studer to ensure the University "owns" the values once the consultants depart, was initiated as a contest at the first LDI, where employees submitted more than 100 suggestions for a new name.
Jacquelyn Liberto, executive director of strategic operations for the health system, has the responsibility of "operationalizing" the UCare initiative, which she describes as an "investment in our leadership by providing them with tools, training, and resources to be successful.
"This is about a journey to transform our organization, and UCare reminds us that it is you, the individual, who is critical to achieving excellence in the delivery of safe, quality health care," says Liberto. "The process with Studer Group is providing us with the map, but it is up to us to make the trip successful."
At the June LDI, energetic Studer facilitators kept employees' attention with thought-provoking information and lively interaction. "Every day you get to contribute to an organization that saves lives—and that comes down to great leadership," Studer facilitator Bob Murphy told the group before asking employees to share results from the initial LDI. They responded with a trove of positive stories, ranging from unexpected reactions and receiving thank-you notes to frequent "rounding" on employees, a Studer principle and now a UCare component.
In that spirit, Dennise Eccles, R.N., M.S.N./Ed., used the second LDI seminar to give a public thank-you to Dean Cocchi, chief financial officer of Bascom Palmer Eye Institute. In an impassioned statement, she told the group how, on her first day in her new position as director of clinical services for Bascom Palmer at Plantation, Cocchi paid her a welcome visit, even helping to set up her computer.
"These actions are simple but they stand out," says Eccles, a 21-year UM employee. "What Studer is teaching is what I've always stood for, so I'm happy we're making it all part of our culture."
"This journey isn't going to be easy for us, but what I have seen is a commitment from the top leaders, and that tells you we will achieve our goals," says Cocchi, who admits he was surprised by Eccles's public thank-you. "Some of these things—thank-you notes, rounding on your staff—they are simple, but it is clear they go a long way."
An outpouring of positive feedback on the LDI sessions has convinced Chulick that with UCare, UHealth is on the right path. One participant wrote to Chulick: "Thank you for your commitment to patient excellence and to us as your team."
"We have incredible physicians, and we're combining that well-known clinical expertise with great patient-service values," Chulick says. "This is important for everyone—doctors who treat the patients, employees who contribute to the care of patients, and leaders who are accountable for executing the vision. We want our already great health system to stand apart, and we feel this is one way in which to do it."