UCare: It's All About the Patient
By Maya Bell
UHealth is "hardwiring" UCare, a patient-centric culture that drives the very best quality care and customer service, in all its hospitals and clinical facilities.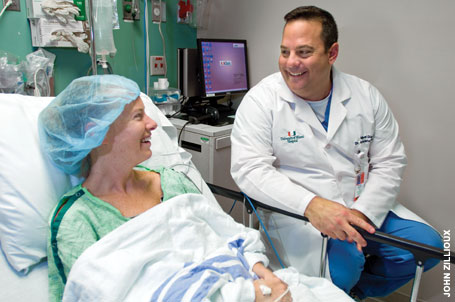 Miguel Diaz, RN, director of ambulatory surgery, checks on patient Morgan Mandigo before her second surgery at University of Miami Hospital for the dual knee injuries she sustained while skiing.
Ken Stenicky finally resigned himself to the inevitable. After enduring two sinus operations in 25 years, he had little choice but to submit to a third, a prospect that filled him with dread.
"I knew what to expect,'' Stenicky said about his operation. "It would not be fun.''
Yet a few days after his outpatient surgery at University of Miami Hospital (UMH), Stenicky felt compelled to write the director of ambulatory surgery, Miguel Diaz, RN, a note commending Diaz and his staff for being so "professional, patient, compassionate, and caring.''
Sidelined by a chronic illness, Stenicky has visited numerous medical facilities over the years and was surprised and impressed that Diaz made it a point to introduce himself and hand out a business card with his cell phone number.
"He told me he wanted to make sure I received very good care and to call him if I needed anything,'' the disabled financial services executive recalled. "I've been a manager of a lot of people, and it says a lot professionally for him to get out of his office, walk the floors, and check on patients. It is really nice.''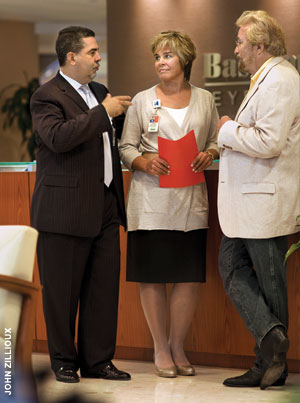 From left, Serafin Gonzalez, Pharm.D., director of pharmacy services, and Joanne Martin, RN, M.S.N., M.B.A., Bascom Palmer's chief nursing officer, visit with Dick Whitcomb, who was delighted with the treatment and personal service he received at the eye institute.
But such treatment is not meant merely to be nice at UHealth–University of Miami Health System. It is now the expectation in each of UHealth's three hospitals and more than 30 outpatient centers in Miami-Dade, Broward, Palm Beach, Collier, and Monroe counties. Stenicky was seeing UHealth's new UCare initiative in action, a culture of patient-centered care that UM set out to "hardwire" in all of its facilities after acquiring its flagship University of Miami Hospital and establishing the UHealth brand in 2008.
From the medical teams who deliver the cutting-edge treatment South Florida's only academic medical center is renowned for to the housekeepers who vanquish germs that spread infection, all employees of the comprehensive health system are being enlisted to do their part to ensure every patient encounter is as convenient, comfortable, and anxiety-free as possible.
"It's not that we weren't providing good care,'' Diaz said. "We were, but good is not good enough. Our priorities were on ordering the right labs, making sure the equipment was OK, getting the right medication, keeping the surgeon happy. That's still important, but we weren't as focused on what was important to the patient. Now that's huge."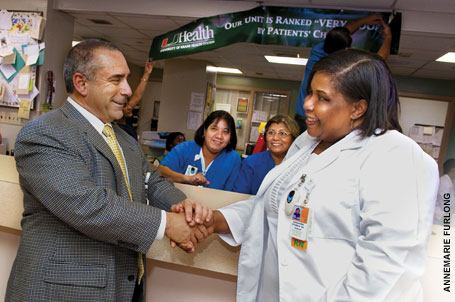 Anthony Degina, University of Miami Hospital CEO, congratulates nurse manager Cassandra Sturrup, RN,
for the high marks received by her post-op surgical floor
So huge that Dean Pascal J. Goldschmidt, M.D., and his leadership team partnered with the Studer Group, a health care coaching firm, to implement the UCare initiative. An acronym for U Can Achieve Real Excellence, UCare is UHealth's roadmap for creating and sustaining a unified health system devoted to quality care and customer service. Resting on seven pillars—service, people, quality, growth, finance, research, and education—it encompasses the tools, tactics, and best practices that more than 500 UHealth managers discuss and celebrate at quarterly Leadership Development Institute, or LDI, meetings and then share with their staffs.
For example, managers now "round" regularly on employees to foster better relationships and communication, nip problems in the bud, and recognize positive behaviors—even writing thank you notes for stellar performance or personal accomplishments. And most employees are following five service principles known as AIDET—for Acknowledge, Introduce, Duration, Explanation, and Thank you—to more effectively communicate their respect and appreciation for patients, and build patient confidence in the skill of their caregivers.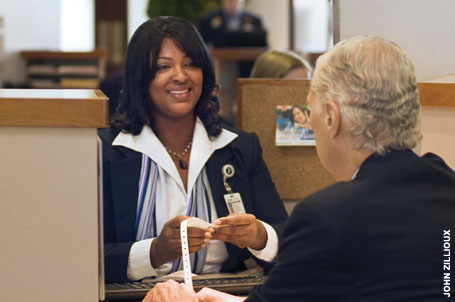 Milagros Chevalier registers patient Paul Roundy at Sylvester
UCare also includes metrics for measuring progress toward UHealth goals and holding managers accountable for meeting them. One key measure includes rankings on anonymous surveys randomly sent to patients by Press Ganey, a patient satisfaction firm, to gauge and compare their experiences with that of patients at comparable "peer" institutions. Hospital patients are, for example, asked to rate on a scale of one to five everything from the pleasantness of their room, to the quality of meals, to the likelihood they'll recommend the hospital to others.
That last barometer is UCare's most carefully watched service metric, one that every department in the UHealth system obsessively tracks to monitor its own progress, as well as that of competitors, peers, and the institution as a whole. That's because, as William O'Neill, M.D., the Miller School's executive dean for clinical affairs and chief medical officer for UHealth, notes, one patient's bad experience in one department can reflect negatively on the entire system.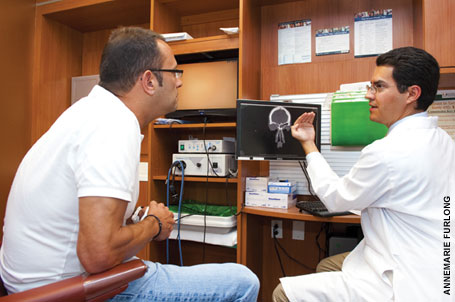 Ken Stenicky meets with José Ruiz, M.D., who performed his sinus surgery
"You can have pockets of excellence where people are doing great work and patients are getting great care, but that can be totally hamstrung if other areas are not providing the same level of care,'' O'Neill said. "That's really what the UCare journey is all about—setting the institutional benchmarks that ensure the entire organization is focused on the patient experience.''
Cassandra Sturrup, RN, the nurse manager on UMH's post-op surgical floor, which consistently ranks above the 90th percentile in patient satisfaction surveys, remembers the month her scores plummeted to the 49th percentile because one of her patients, a claustrophobic, was traumatized by being left alone during an imaging test elsewhere in the hospital.
That's why Sturrup assumes ownership of every complaint and expects her staff to do the same. When the dietary department fails to send a patient's specially requested meal, she doesn't just alert the department of the oversight. To avoid further delay, she dispatches a staffer to pick up the meal. She and her staff also keep track of what's important to each patient—from pain management, to a pitcher of cold water by the bed, to a cot for a loved one.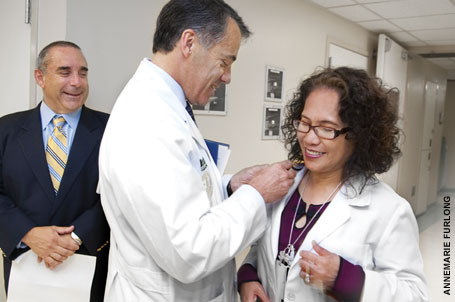 University of Miami Hospital CEO Anthony Degina and Dean Pascal J. Goldschmidt, M.D., present nursing manager Levi DeCotto, RN, with a "fire starter" pin for her outstanding work
Sturrup even manages to turn the furniture and fixtures on the 12th floor, which are awaiting renovation, into a positive. "What we lack in amenities,'' she assures patients, "we make up for in service.''
Patient Dick Whitcomb had nothing but raves about the service and amenities he encountered during his cataract surgery at Bascom Palmer Eye Institute and was surprised that Joanne Martin, RN, M.S.N., M.B.A., Bascom Palmer's chief nursing officer, called to thank him for his feedback. The Davie resident was even more impressed that when he mentioned how a design flaw in the dispenser for one of his eye drops wasted half the prescription, Martin and Serafin Gonzalez, Pharm.D., director of pharmacy services, pursued the issue with the manufacturer to help other patients avoid the same problem.
"The service is above and beyond,'' Whitcomb said. "It is one of the nicer places I've been.''
UHealth has many other pockets of excellence led by equally inspiring managers—"fire starters" in Studer-speak—who ignite the flame that infuses the magic of UCare in everything they and their staffs do. They are nursing directors like UMH's Marie Dowd, RN, who has transformed the cardiac floor into a place Dr. O'Neill is confident his patients will rave about; Levi DeCotto, RN, whose welcome signs, potted plants, and other homey touches have made the penthouse floor an inviting refuge; and Jackie Cereijo, D.N.P., M.B.A., RN, the director of Sylvester Comprehensive Cancer Center's Kendall satellite, whose staff throws "graduation" parties for patients completing chemotherapy.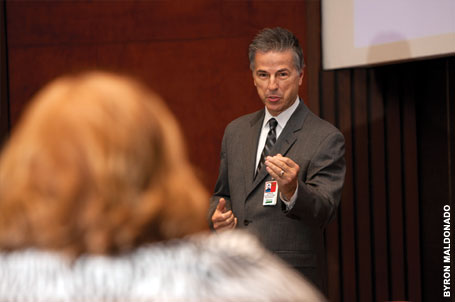 Charles Pappas, O.D., M.B.A., COO of Bascom Palmer Eye Institute, at a UCare training session
They and other managers who have succeeded in hardwiring UCare principles demonstrate every day how following the roadmap to complete patient satisfaction isn't just right for patients. It's also right for physicians, nurses, and others whose jobs grow easier, more rewarding, and better connected to what drew them to health care in the first place.
David Levi, M.D., professor of surgery and one of UHealth's most prolific liver transplant surgeons, hardly needs UCare to remember patients need compassion almost as much as cures. As Manuel R. Rodriguez, a bookkeeper from Miami learned, Levi showed as much concern for his feelings and fears as he did the histology of the cancer invading his liver.
"I felt like I was special to him,'' Rodriguez said of the doctor who successfully excised his tumor. "He treated me like a human being facing a life-changing experience.''
Yet Levi, who followed his father Joe onto the faculty, believes UCare is essential to UHealth's future. As the Miller School grows in size and stature, he says the service initiative is formalizing the patient-centered tradition the Miller School was founded on in 1952.
"UHealth provides an environment that fosters personal connections,'' Levi said. "Here, efficient health care delivery is not at the expense of the patient-physician relationship."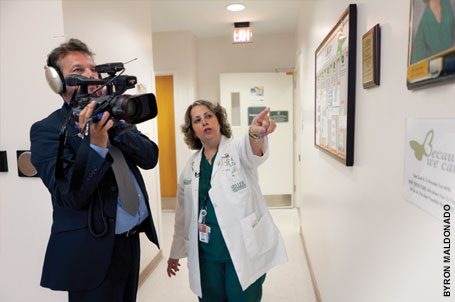 Maria Cabrera, RN, M.S.N., director of perioperative services at Sylvester/University of Miami Hospitals and Clinics, shows Studer Group videographer Daniel Pennington her UCare messages and reminders
Still, efficiencies are critical to both patient and employee satisfaction. For instance, when the UCare journey began, fewer than 20 percent of Sylvester's first surgeries of the day started on time. The ripple effect, Maria Cabrera, RN, M.S.N., director of perioperative services, remembers, was painful: "Patients weren't happy, physicians weren't happy, the staff wasn't happy, and finance wasn't happy because when you start late, you leave late. So we were paying overtime for dissatisfaction, burnout, and turnover.''
Kassandra Lage, Sylvester's director of patient access, was equally distressed by the negative vibe that permeated the crowded registration area. Many patients waited nearly an hour just to register, driving stressed employees to quit. "Patient-access reps felt like they didn't have time to be courteous,'' Lage recalled. "They'd say, 'Oh no, the patient is mad, and I have so many others waiting. I'd better hurry.'"
Today, 86 percent of Sylvester's surgeries begin within five minutes of their scheduled start time, and more than 80 percent of patients are registered within five minutes of their arrival, accomplishments that Lage, Cabrera, and their teams achieved through the UCare mainstays of teamwork, communication, feedback, and follow-up. They enlisted physicians, nurses, and others on the Sylvester staff in making on-time starts and timely registration a priority. Then they kept their teams focused on meeting their respective goal, recognizing them when they succeeded and alerting them when they faltered.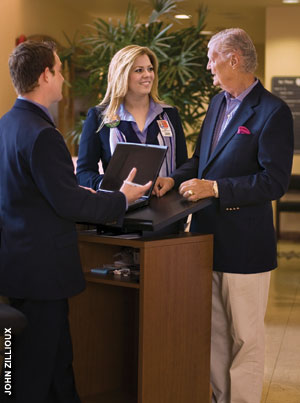 Patient Paul Roundy, right, praises Kassandra Lage, patient access director, and Federico Mejia, patient access representative, for streamlining the registration process at Sylvester Comprehensive Cancer Center.
"The main thing I brought was communication and feedback,'' said Cabrera, who has the distinction of being recognized as UHealth's first fire starter by Studer President Quint Studer. "If I notice the numbers slipping, I find out what's going on. But I focus on the positive. That's key.''
Lage is as elated by the registration area's consistently high scores for speed and courtesy as she is by the change in attitude and ambience. "The staff is smiling, and the patients are at ease," she said. "Now that we have patient flow under control, we can go that extra mile."
That doesn't mean, however, that everything always goes smoothly, as patient Ken Stenicky knows. Due to a mix-up, he was told to arrive 90 minutes after the scheduled start time of his sinus surgery. But rather than postpone the operation, a prospect Stenicky dreaded almost as much as another surgery, OR personnel fit him in with little delay. That acknowledgement of his needs, combined with the care and great outcome delivered by the nursing staff and his surgeon, Jose Ruiz, M.D., assistant professor of otolaryngology, compelled Stenicky to send Diaz a thank you note.
"While the procedure was not very enjoyable, the treatment by my physician and the nursing staff was terrific,'' Stenicky wrote. "All were professional, patient, compassionate, and caring. I was terrified, and they put me at ease.''