AIDET: Kind Care Boosts Patient Satisfaction
AIDET comprises the five fundamentals of UCare service: Acknowledge, Introduce, Duration, Explanation, and Thank you.
Patients often arrive at Sylvester Comprehensive Cancer Center's ultrasound division anxious and frightened. Sometimes they have no idea what the diagnostic imaging test their doctor ordered involves, why it's needed, or how long it will take.
But by embracing the five fundamentals of UCare service known as AIDET— shorthand for Acknowledge, Introduce, Duration, Explanation, and Thank you—the six-member ultrasound staff is turning even stressful situations into such positive experiences that patients overwhelmingly say they would recommend the department to their family and friends.
"Instead of us contributing to their anxiety, we try to comfort them and they actually leave with a smile," Sylvester's ultrasound supervisor Jacqueline M. Gonzalez, M.H.S., says. "We make them feel at home."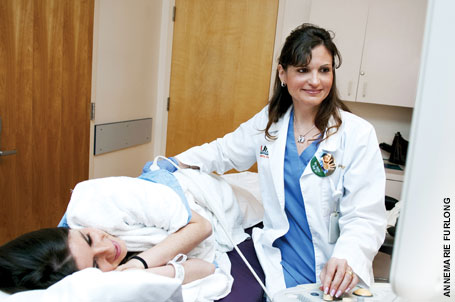 Ultrasound supervisor Jacqueline Gonzalez, M.H.S., performs an ultrasound on patient Angela Canas.
Indeed, clinical assistant Ingrid Guzman acknowledges the patients with a genuine smile and warm greeting, and introduces them to the ultrasound technologist who will be conducting the test. In turn, the sonographer gives a synopsis of his or her credentials, explains how long the test will take, and when the results will be available.
"The radiologist will dictate the study this afternoon, and your doctor will have it by Monday," Gonzalez assures patient Angela Canas during a kidney exam one recent Friday.
Sonographers also explain exactly what they're doing and what organs are visible on the screen. "Every time you hear that little bell, I'm taking an image,'' Luis Pairot told one thyroid cancer patient as he scanned her neck.
Though Pairot and other sonographers end each visit by thanking the patient for choosing UHealth, they rarely stop there. If a patient has another appointment elsewhere, one of them will call to make sure the next department is ready and escort the patient to the next stop.
Employees, and occasionally even physicians, at Bascom Palmer Eye Institute follow the same practice, adding another personal touch to the warm welcome that begins when staffers hand out blankets to anyone who finds the air conditioning at America's No. 1 eye hospital too chilly. They also regularly update family members waiting for loved ones.
"We tell employees one of the most important things they can do is treat patients like they are members of their family,'' says Nayla Muniz, clinical services director at Bascom Palmer. "It has made a big difference."
The payoff can be measured, in part, by rocketing patient satisfaction scores in random surveys conducted by the Press Ganey national health care polling firm. Before the staff in Sylvester's ultrasound unit and Bascom Palmer's visual fields division, supervised by Marcia Anderson, adopted AIDET principles, their rankings were in the single digits.
Today, they're consistently at the top—the 99th percentile—when compared to similar departments at other hospitals.
Employees often go out of their way to accommodate patients' individual needs. For example, one Sylvester patient who forgot her bladder should be full for a pelvic ultrasound feared the test would be rescheduled. But understanding how much anxiety that would cause, sonographer Maria Velez quickly put the patient at ease.
"I just had her drink water and fit her in later,'' Velez says. "She was very grateful. She just kept saying, 'You're very kind.'''
Though kindness comes naturally to the ultrasound and Bascom Palmer staffs, they're grateful that AIDET helps them ensure all their patients feel at home. "It's simple,'' Gonzalez says. "We want all of them to say, 'I had the best ultrasound experience ever at UHealth.'"