Rounding for Excellence
By Maya Bell
Rounding, the monitoring technique traditionally used by physicians to check up on patients, is the hands-on heart and soul of UCare.
The sun isn't up when David Zambrana, D.N.P., M.B.A., RN, his little black notebook in hand, rides the elevator to the penthouse of University of Miami Hospital to visit the nurses starting their day. Then, he works his way down the stairs, stopping on each of the dozen floors to do the same.
"How's it going?'' the chief operating and nursing officer asks. "How was your night? Anything I can do for you while I'm here?"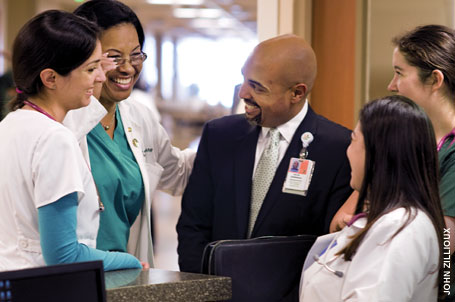 David Zambrana, D.N.P., M.B.A., RN, chief operating and nursing officer at University of Miami Hospital, converses with, from left, Catherine Perez, RN, instructor Bernice Jones, D.N.P., student Shantelle Bartra, and Yajaira Velasquez, ARNP.
When Zambrana spots a supply room door ajar, he closes it. When he passes a stretcher in a corridor or a scuff mark on the tile, he alerts housekeeping. When he learns the pharmacy was slow overnight, he makes a note of it and, upon returning to his office, will email the director. "I'll ask if they had any staff issues and forward the response,'' he promises.
Every week, Zambrana makes the rounds from the top to the bottom of UMH to ensure each floor looks its best and the frontline staff has the tools they need to do their jobs. He resolves issues as they arise, handing out praise when earned, advice when asked, and corrective measures when necessary.
A monitoring technique traditionally used by physicians to check on patients, rounding is the heart and soul of UHealth's UCare service initiative. From Miller School Dean Pascal J. Goldschmidt, M.D., who is UHealth's CEO, and Michele Chulick, associate vice president and chief operating officer for the Hospital Division, to the supervisor of the janitorial staff, managers at every level are making the rounds to touch base with employees and patients and glean what's going well and where improvements could be made.
For example, Zambrana also rounds on the managers he supervises, meeting with them monthly to build relationships, catch up on their accomplishments, and check on their progress toward achieving UCare's patient and employee satisfaction goals.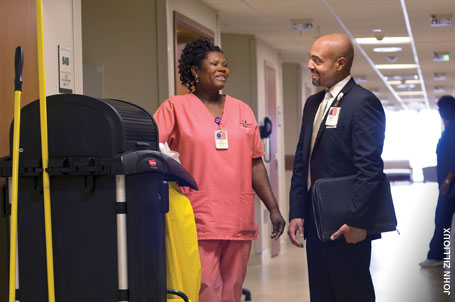 Zambrana checks on house keeper Anise Simon.
And he rounds routinely on patients to ensure they're receiving what they consider very good care. If a patient complains of, say, a leaking toilet, he'll call plant operations from the room and ask what time the patient can count on the repair. All of his nurse managers are likewise expected to round on the patients on their floor every single day and on their employees regularly.
"It's a way of ensuring that employees understand they are important and matter to the whole organization,'' Zambrana says. "It's also a structured way of gathering information.''
Not surprisingly, negative feedback often centers on the same employees, so rounding also enables managers to manage problem employees out the door if they fail to meet standards, allowing them to spend more of their time nurturing employees who embrace UCare's philosophy.
"When we round it's easy to tell who's demonstrating UCare principles and who isn't," says Richard Ballard, hospital administrator for Sylvester Comprehensive Cancer Center and University of Miami Hospital and Clinics. "You can watch it when they interact with patients. They've mastered it, and that's why their patient satisfaction scores are so high.''
For Chulick, meeting those employees when she rounds weekly with Goldschmidt is the highlight of her job. She loves visiting UHealth departments to acknowledge the accomplishments of staff who make a difference every day, whether by earning an advanced degree or embracing the UCare practice of calling every discharged patient to check on his or her progress.
"Rounding connects you to purpose," Chulick says. "It connects you to what we're here for. It's letting them know they are as important as our patients."
And that means reminding everybody—from physicians to housekeepers—that they are vital to UHealth's mission of helping the sick get well. That's why Goldschmidt, when rounding on UMH's penthouse floor in May, didn't just give nursing manager Levi DeCotto, RN, a "fire starter" pin for hardwiring UCare principles in her staff. Conveying one of UCare's most important messages, he also complimented room buffer Seul-Dieu Rillire for keeping the penthouse floors so clean.
"When you go home, tell your family you are saving lives, because that's your job,'' Goldschmidt told Rillire. "Infectious agents are among the most dangerous aspects of a hospital, so the fact that the floors are clean makes a huge difference to our patients. A clean environment means very good outcomes for them.''