Meticulous Dedication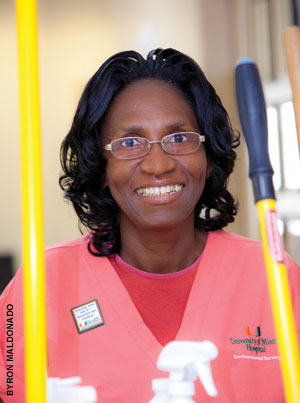 Inesse Dede
Housekeeper Inesse Dede is the personification of UCare principles. A two-time Employee of the Year at University of Miami Hospital, Dede's meticulous attention to every nook and cranny in the Cardiovascular Intensive Care Unit (CICU) earns her top marks from—and the awe of—hospital auditors.
Her sunny disposition, warm smile, and soothing banter make her a favorite among patients who consistently give her their
highest satisfaction scores. And her passion for disinfecting the CICU's 16 rooms as if patients' lives depend on it— which they do—is so inspiring her boss tapped her to train all newcomers to UMH's Environmental Services Division.
The secret to her success: "I just clean well,'' the Haitian native says. "Nothing gets by me."
Indeed, not a single speck of the invisible paste auditors from the Centers for Disease Control and Prevention surreptitiously smeared all over two of Dede's CICU rooms escaped her disinfectant-soaked cleaning rag. "She blew them away,'' Ossie Alfonzo, director of environmental services, remembers. "She's the best of the best.''
Dede's dedication, which she credits to an inner drive to help others as well as her own experience as a patient, even extends to her days off, when she's been known to return to the hospital to visit lonely patients. Two of her six children even volunteer at UMH.
That's because, for Dede, ensuring every patient's room is pristine is the means to her ultimate goal. "The patient is No. 1,'' she says. "Making them feel good—that's my job.''