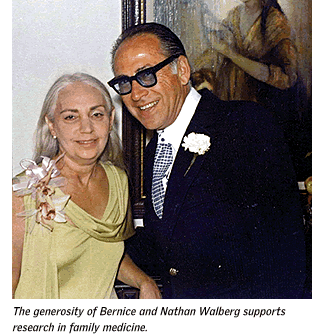 When Bernice Walberg fell ill, her husband, Nathan, turned to Robert Schwartz, M.D., for help. Mrs. Walberg's weight had fallen precipitously to 90 pounds, yet she refused to eat. As she grew thinner and weaker, her family became more and more concerned.
Schwartz, chair of the Miller School of Medicine's Department of Family Medicine and Community Health, decided that a good old fashioned house call was needed to properly evaluate Mrs. Walberg's condition.
"I have been making house calls my entire career," says Schwartz. "I made the decision to see Mrs. Walberg at home because it is generally difficult to spend enough time in the office to thoroughly understand and treat the problem she was having. By seeing patients in their homes, I can better understand both the physical and social dynamics of the patients' problems."
After visiting Mrs. Walberg, he recognized that among the other physical problems she was having, she was also suffering from dementia that caused her significant loss of appetite.
"I prescribed a medication that over a six-month period of time stopped the progressive weight loss and she stabilized," says Schwartz. "We found that she began to eat again, and along with her increased calorie intake, her energy and strength returned. At the same time, both her husband and I noticed that her symptoms of dementia actually improved, and we were intrigued by her response to the medication, which is not currently indicated for the treatment of dementia."
The department's Division of Primary Research/ Health Services Research and Development manages a diverse research portfolio that examines the structure, practice, and outcomes of health care. It also participates in national and multinational clinical studies that test the efficacy of new medications.
Mr. Walberg was so intrigued by the effect of the medication on his wife that he wanted to make a gift to the department to embark on further research to study the medication on other dementia patients, but just as his wife stabilized he became terribly ill. Schwartz continued to make frequent house calls, and he treated both the Walbergs until Mr. Walberg passed away.
Even though he was very ill, Mr. Walberg did not neglect his intentions to support the research that had helped his wife. Prior to his passing, he made the decision to put the Department of Family Medicine and Community Health in his estate plan. He was able to make a gift to the department via his life insurance policy.
Life insurance is often overlooked and underestimated, yet it can be a valuable and financially efficient way of making a planned gift. Donating a whole life policy to UM provides the donor with a charitable tax deduction for the cash value of the policy and/or the cost of the premiums.
Bernice Walberg is still in stable condition, and Dr. Schwartz continues to stop by her house to check on her progress.
"We will deeply miss Mr. Walberg," says Dr. Schwartz. "His enthusiasm and natural curiosity were delightful and contagious. His gift will provide the start-up funds we need to begin the process of better understanding treatment outcomes that appeared to help his wife. Once we generate positive data, we will expand our research activities to focus on such issues as treatment of dementia and Alzheimer's disease so that we can provide comfort to others suffering from such diseases."