Last fall, the University of Miami Sylvester Comprehensive Cancer Center celebrated a milestone—15 years of service to patients in Florida and beyond. Among those thousands of patients, pastry chef Darlene Fenster holds the distinction of being the cancer center's first.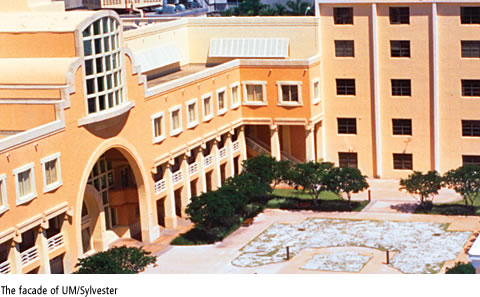 Fenster, a cancer survivor and a patient of Alfred Ketcham, M.D., since 1977, was invited to become the inaugural patient when the cancer center opened in 1992. Before UM/Sylvester, Ketcham had been attending to Fenster at Jackson Memorial Hospital, where she underwent an operation ‌to remove cancer cells caused by melanoma.
"I followed her carefully, and when the cancer center was ready to open its doors, I asked her to be the first patient seen at UM/Sylvester," says Ketcham, who was named chief of surgical oncology at the newly created cancer center. Ketcham, 83, has been retired for 10 years.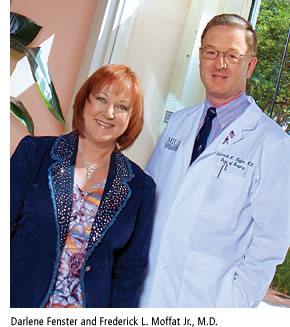 Says Fenster: "I was 28 and really scared. I was a brand new mom dealing with cancer. He treated me like his daughter."
The compassion shown to Fenster and the high quality of care she received are still hallmarks of UM/Sylvester and its mission of superior care for all patients stepping through its doors.
The best care in the best surroundings was the mission of Harcourt Sylvester Jr., the benefactor whose generosity and drive founded the cancer center. He was intimately involved in the center until his death ‌last August at age 80
In 1986, under Sylvester's leadership, the Harcourt M. and Virginia W. Sylvester Foundation committed $27.5 million to the University of Miami—the largest donation to the University at that time—to create UM/Sylvester. Six years later, on May 12, 1992, the comprehensive cancer center became a reality, finally opening its doors to patients in need of specialized cancer care.
During the past 15 years, UM/Sylvester has transformed cancer research and treatment at the University of Miami and throughout South Florida. Today, through the Miami facility and the Deerfield Beach location that opened in January 2003, UM/Sylvester treats 3,400 new cancer patients annually, performs nearly 200,000 outpatient visits, and more than 200 physicians and scientists work together to realize Harcourt Sylvester Jr.'s vision of a comprehensive cancer center.
Fenster, a resident of Plantation in Broward County, still heads to Miami for her yearly checkups.
"You have to enjoy every moment and make the most out of every single year. That's what having cancer at 28 does to you. You realize life is not a dress rehearsal. Enjoy it while you're here!" says Fenster, who is seen now by Frederick L. Moffat Jr., M.D., professor of surgical oncology in the DeWitt Daughtry Family Department of Surgery at the Miller School and a member of the Breast Cancer Site Disease Group at UM/Sylvester. Moffat had been one of Ketcham's surgical fellows.
It's largely because of Sylvester and his family's generosity that patients like Fenster and experts like Moffat meet in a place where compassion and innovation meld. To date, the family foundation has committed more than $50 million to programs at the Miller School of Medicine, including many breakthrough initiatives at the cancer center.
And it all started 15 years ago with a vision and a commitment. Even now, the powerful words Sylvester spoke at UM/Sylvester's dedication ceremony still ring true: "If we love, if we hope, if we help one another, if we help the less fortunate … we will exceed our fondest expectations. May hope run eternal in us all."
A Passion to Help Others
Harcourt Sylvester Jr.'s legacy thrives at his center.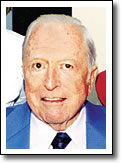 Of all the many memorable philanthropic moments in Harcourt Sylvester Jr.'s life, the creation of the University of Miami Sylvester Comprehensive Cancer Center stands statewide as one of the most significant commitments to treating and finding a cure for cancer. The center bears not only his family's name—it has Sylvester's imprint on nearly everything, including the patient-friendly design of the building.
The creation, launch, and operation of UM/Sylvester, the only university-based cancer center in South Florida, was a significant part of a significant portion of Sylvester's life's journey, beginning in 1980 after he lost his father to lung cancer. He decided to do something tangible to honor his parents and help fight the disease and created the Harcourt M. and Virginia W. Sylvester Foundation. UM/Sylvester was born from that foundation and its strong partnership with the University.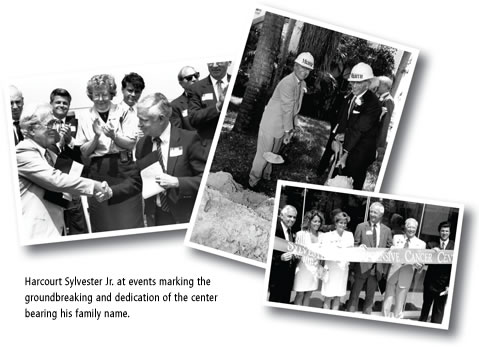 Sylvester, the former business executive and well-known philanthropist and visionary, died on August 10 last year at age 80.
Many at the University knew \ Sylvester well. W. Jarrard Goodwin, M.D., F.A.C.S., director of UM/Sylvester, came to know him as a philanthropist and as a friend.
In his tribute to Sylvester at an August memorial, Goodwin said, "First and foremost, Harcourt Sylvester cared about people—all people. That's what impressed me most."
Goodwin noted that Sylvester's "concern for others and his humility" were large parts of his life, not just for people connected with the cancer center but for anyone he came across. That didn't change when he became ill.
"I was impressed by his dignity and his contentment. This seemed to come from deep within," Goodwin said. "Instead of being bitter about declining health, he was grateful for his family and wonderful caregivers. As I visited him at his beautiful home in Palm Beach to tell him about our progress at UM/Sylvester, I found warmth, good taste, and contentment everywhere."
Sylvester was a champion to the outside world, but he was also a true example of a family man. "No man loved his family more," Goodwin said. "And there was plenty to love—three children, ten grandchildren, and two great grandchildren—over a long life that was rich with blessings."