The Buddy System
By Maya Bell
Dedicated to addressing health disparities in underserved communities, the Jay Weiss Center champions the community health worker model to break down barriers to effective care, improve outcomes, and save lives.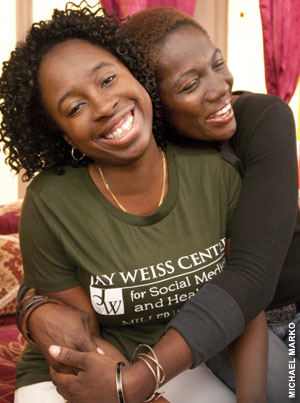 Teikia Williams (left), a community health promoter with the Jay Weiss Center's COACH program, helped the first coach patient, Andrea Bass (right), navigate the health care system, take her medications appropriately, and believe in herself.
The daughter of a biracial couple, Sonjia Kenya noticed while growing up in San Francisco that the black side of her family, her father's side, was plagued by preventable health problems that never bothered her mother's white family. In one heartbreaking example, Kenya's paternal grandmother died just six years after she was diagnosed with diabetes.
Now an assistant professor of family medicine at the Miller School, Kenya, Ed.D., M.S., M.A., was shocked to learn after her grandmother's death that diabetes afflicts one of every four African-American women over 55. "I said, 'Oh my God, why is it so bad in black women?''' she recalls. "And my grandmother on my white side said, 'You're in college; why don't you find out?'''
In 2007 Kenya's quest to narrow the well-documented chasm in health status between whites and racial and ethnic minorities in the U.S. brought her to the Jay Weiss Center for Social Medicine and Health Equity, where she and other center faculty, residents, and students are addressing the higher incidence of chronic diseases, mortality rates, and poorer health outcomes that plague underserved communities.
While researchers debate why such disparities persist, they know the social and economic conditions under which people live often play as much a role as access to and quality of medical care. How, for example, can a person who has no car and lives in a neighborhood without a grocery store eat fresh produce or other healthy foods?
With such social determinants of health in mind, Kenya is leading the center's inaugural study, Counseling on Adherence and Community Health, or COACH, to demonstrate the value of using "community health promoters" to address one of the principal reasons ethnic minorities die from HIV/AIDS at a higher rate than whites: Too often, they aren't properly taking the antiretroviral drugs that have transformed AIDS from a fatal to a chronic disease. In Florida alone, HIV/AIDS is the leading cause of death among African-Americans between ages 25 and 44.
Known by different names in different cultures, community health workers, or CHWs, are lay advocates trained to help people in their own communities navigate the health care and social service maze and become partners in managing their own health. COACH's CHWs regularly visit HIV-positive patients with elevated viral loads to educate them about their illness, accompany them on doctor appointments, coordinate available benefits and services, and address their difficulties with drug compliance.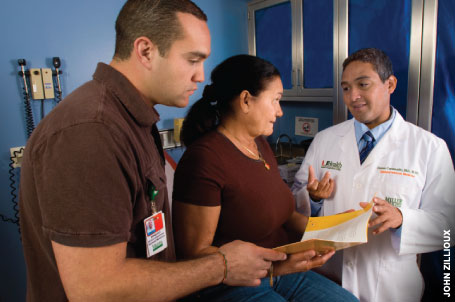 Olveen Carrasquillo, M.D. (right), associate professor of medicine, discusses diabetes with patient Zulma Alvarez, center, and health promoter Ernesto Reyes-Arrechea.
Though CHWs are not yet empirically proven effective, Kenya, director of health disparities programs, and other Jay Weiss scholars believe it's only a matter of time before they are broadly recognized as a vital force in the management of chronic disease in the U.S. That belief is well-founded: As preliminary results from COACH suggest, CHWs save lives and reduce costs.
"Some of our patients are literally on their deathbeds when they are paired with a health promoter,'' Kenya says. "Six months later, their viral load is undetectable. Having a health promoter really has statistically significant clinical outcomes. It changes people's health.''
Indeed, Andrea Bass was near death when Kenya met her at Jackson Memorial Hospital in 2007.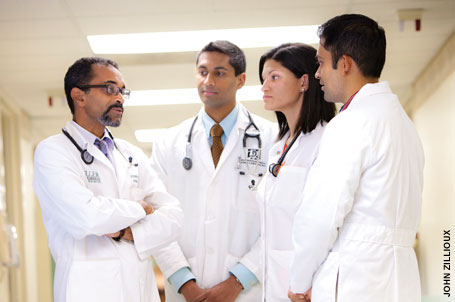 Stephen Symes, M.D. (left), director of the Jay Weiss Residency in Global Health Equity and Internal Medicine, meets with residents Kumar Ilangovan, M.D., Natasha Chida, M.D., and Nidhip Patel, D.O.
A substance abuser who shunned her HIV medications because they made her feel sick, she had no permanent address nor contact with family. But after a year with health promoter Teikia Williams, Bass's virus was at bay and she moved into her own apartment, resumed relationships with her mother and children, and even became a caregiver to an elderly woman.
"They believed in me so I could believe in myself,'' Bass says of her COACH experience. "They helped me realize there was life after HIV. I could still go places. I could still laugh. I could still live.''
Other Jay Weiss faculty are testing the CHW model in additional realms. With a grant from the NIH's National Heart, Lung and Blood Institute, Olveen Carrasquillo, M.D., associate professor of medicine and chief of the Division of General Internal Medicine, is recruiting Hispanics with uncontrolled diabetes to evaluate whether CHWs can help reduce their blood pressure, cholesterol and risk of cardiovascular disease by addressing their socioeconomic issues.
"You may be able to articulate the pharmacology behind the latest diabetes medication,'' notes Carrasquillo, a national expert on health disparities. "But if your patient isn't taking it because her son is being deported, that knowledge is worthless. Community health workers can help patients with non-medical and other socioeconomic barriers by linking them to resources, such as pro bono legal services, so they can begin to pay attention to their health.''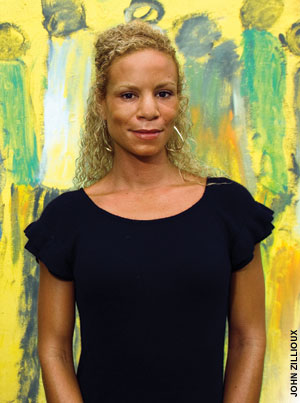 Sonjia Kenya, Ed.D., M.S., M.A., an assistant professor of family medicine at the Miller School who leads the Jay Weiss Center's COACH study, was inspired by her own biracial heritage to address health care disparities that affect minorities and underserved communities.
While Kenya and Carrasquillo enlist CHWs to improve drug compliance, the center's research director, Erin Kobetz, Ph.D., M.P.H., assistant professor of epidemiology and public health, recruits them to combat cervical cancer in Miami's Little Haiti. Though preventable with routine Pap smears, the disease kills four times as many women in Little Haiti as in other minority enclaves in Florida.

One reason, Kobetz and her community partners found, is that Haitian women harbor cultural reservations about Pap smears. So, for the past two years, CHWs have been teaching women in Little Haiti to use at-home devices to test for the human papillomavirus that, untreated, can lead to cervical cancer. The project is so successful that Kobetz is expanding it to Haiti.
Jay Weiss, a businessman and philanthropist who championed quality care for the underserved, certainly would have seen the promise of CHWs. His daughters, Jennie Weiss Block and Laurie Weiss Nuell, established the center after his 2004 death to nurture physicians dedicated to serving the poor and to promote the field of social medicine, which recognizes that social factors like income, education, and housing often determine health more than genes do. In addition to projects like COACH and Grand Rounds lectures, the center provides training programs in social medicine and health equity for medical students and residents, each led by tireless role models who work daily to ameliorate health disparities.
The center's medical director, Lee M. Sanders, M.D., M.P.H., associate professor of pediatrics, directs the Medical Student Pathway in Social Medicine, which graduated its first class last May. Sanders is an expert in health literacy; his advocacy extends to child-care centers and numerous other community programs.
Stephen Symes, M.D., associate professor of medicine and director of the internal medicine residency program, directs the Jay Weiss Residency in Global Health Equity and Internal Medicine. He has cared for HIV/AIDS patients much of his career. So has his wife, Alexis Powell, M.D., assistant professor of medicine and medical advisor for COACH.
Located in Dominion Towers, the center's modest suite belies its broad reach into nearly every pocket of disadvantaged Miami-Dade and to resource-poor settings around the world. Supervised by Symes and Sanders, residents and medical students can be found in clinics from Miami Beach to Mozambique. And, on many evenings, Kenya, social worker Shelly Baer, LCSW, and health promoters can be found in the community centers, parks, and shelters of Liberty City, Overtown, and other underserved neighborhoods, conducting workshops on topics such as hepatitis and self-esteem.
Such activities are not in their job descriptions, but as CHWs walk the streets of poor Miami, they hear about the needs of residents and try to fill them. Talking to HIV-positive patients at Jackson, they've learned the complicated reasons why so many don't take their anti-viral drugs as prescribed. Maybe the patients can't read and follow the instructions. Or they're supposed to take the pills with food, but often don't have any. Or, to hide their illness, they don't keep prescriptions in the refrigerator, where friends and family members would find them.
Whatever the reasons, preliminary analysis of the randomized study—in which half of the COACH patients are assigned a CHW and half are not—show dramatic results. Within six months of contact with a CHW, patients' viral loads dropped dramatically and their T-cell counts soared—evidence that the relationships are promoting healthier living, better compliance, and fewer hospital visits.
COACH CHWs say their secret is providing support to people who often believe no one cares about them. Bass says she owes her life to Williams's gentle but persistent advocacy, as well as her insistence that Bass record her medications, appointments, and other vital information in a notebook. That simple act proved empowering. "I felt like I was doing important stuff and I wanted to see what else important I could do,'' Bass remembers.
Such testimonials motivate Jay Weiss scholars to pursue new models of care that, one day, will end the health disparities that separate black from white, and rich from poor.
"You need teamwork,'' Symes says. "You need people who can listen and not talk. You need people who can see the barriers to health and say, 'What can we do about them?'''
Maya Bell is senior editor at the Miller School of Medicine.