A Bold Vision
By Dwayne Campbell
For nearly two decades, the Miller School's two-year Ph.D.-to-M.D. program made it possible for outstanding doctorally prepared students to pursue new careers in medicine. Twenty years later, five faculty members recall the pioneering program, which spawned more than 500 distinguished physician-scientists.
Since graduating from the Miller School nearly three decades ago, Michael Kolber, Ph.D., M.D., has become a leading authority on AIDS. Kolber, associate chief of infectious diseases and director of the Comprehensive AIDS Program at the Miller School took a circuitous and, as it turns out, ingenious route to medicine.
Unable to find a biophysics job after earning a doctorate in physics from the University of Illinois at Urbana in 1978, he joined the Miller School's Department of Pharmacology. There he learned about the school's pioneering Ph.D.-to-M.D. program—and found his calling.
"A Carnegie Foundation report had just come out saying there was a physician shortage in the nation," remembers Miller School Dean Emeritus Bernard J. Fogel, M.D., who directed medical education at the time. "At the same time, publications like The New York Times and the Wall Street Journal were writing about the oversupply of Ph.D.s who couldn't find work, some even resorting to driving taxis. We established our program on the premise that we could help fill the need by creating twice as many doctors in a short time."
Over its 19-year existence, the two-year Ph.D.-to-M.D. program molded 508 disparate, passionate Ph.D.s into some of today's most prolific physician-scientists. In addition to the Miller School's Kolber and Alan Pollack, Ph.D., M.D., chair of radiation oncology, UM's Ph.D.-to-M.D. grads include Roderic Pettigrew, the first director of the National Institute of Health's (NIH) National Institute of Biomedical Imaging and Bioengineering, as well as 85 full professors, 52 patent-holders, 14 academic chairs, two medical school deans, and one astronaut.
That's according to a 20-year retrospective published in the April issue of
Academic Medicine by five Miller School researchers, including lead author Leonidas Koniaris, M.D., associate professor of surgery, cell biology and anatomy, and associate director of the Miller School's current M.D./Ph.D. program, and William W. Awad, Jr., M.D., Ph.D., the longest-serving director of the Ph.D.-to-M.D. Program.
"People were drawn to the intensity of the program,'' says Kolber, who earned his M.D. in 1983 after completing the traditional four years in 24 packed months. "It was worth this great commitment so that we could help care for others."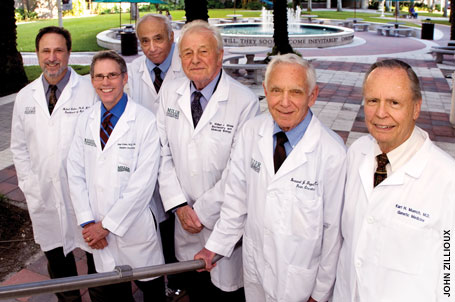 Former Ph.D.-to-M.D. students, from left, Michael Kolber, Ph.D., M.D., and Alan Pollack, Ph.D., M.D., are now colleagues of faculty members William W. Awad Jr., M.D., Ph.D.; William Whelan, D.Sc.; Dean Emeritus Bernard J. Fogel, M.D.; and Karl H. Muench, M.D.
The visionaries of the program were the late William J. Harrington, M.D., then professor and chair of the Department of Medicine, and William Whelan, D.Sc., then chairman and now professor of biochemistry and molecular biology. Emanuel M. Papper, M.D., Ph.D., dean at the time, embraced it, and Fogel helped bring it to life with partial funding from the NIH.
For the University, turning scientists into patient-centric physicians was a bold but risky idea—one that could fail miserably or make medical education history. "It was a very gutsy move," says Awad, professor of medicine, and biochemistry and molecular biology. "And it required a big effort on the University's part."
Tapped as the first director, Whelan served a year, with Karl H. Muench, M.D., professor of medicine, taking the helm the following year. Awad guided the program through the next 15 years, and Carolyn Abitbol, M.D., professor of pediatrics, oversaw its final two years.
For the inaugural class, when the medical school sought Ph.D.s with backgrounds in biomedical science, 150 Ph.D.s applied for 20 slots. They included two physicists, an engineer, and a chemist who held superior credentials and showed such promise that the admissions committee accepted them anyway. By the second year, the committee relaxed its bioscience requirements. The response was overwhelming: A thousand scholars, researchers, engineers, chemists, mathematicians, and professors (some tenured) in various fields sent applications from all over the world. "The applicants were outstanding; some were at the top of their fields," recalls Awad, who also served 12 years as chair of the admissions committee.
Although the Ph.D.-to-M.D. program produced graduates who were courted by some of the country's top residency programs, the physician shortage eased and the need for a non-traditional medical education program diminished. More significantly, lawmakers in several states worried that, although the UM Ph.D./M.D.s were outstanding, states would be forced to grant licenses to graduates of fast-track medical programs popping up abroad.
As a result, the program was voluntarily discontinued in 1988 and graduated its last class in 1990.
Two decades later, Koniaris, Awad, and other authors of the Academic Medicine article, "Perspective: Ph.D. Scientists Completing Medical School in Two Years: Looking at the Miami Ph.D.-to-M.D. Program Alumni Twenty Years Later," believe that accelerated Ph.D.-to-M.D. programs could help produce physicians who also will lead cutting-edge research and innovation in medicine.
"All one has to do is look at our graduates and their accomplishments," Awad says. "While they were here, we saw brilliance every day—the same brilliance patients are benefiting from today."
Dwayne Campbell is director of publications at the Miller School of Medicine.