Celebrating the Miller School's
Past, Present, and Future


A record-breaking 400 medical alumni, family, and friends traveled from as far away as Guam and the state of Washington to celebrate the Miller School's past, present, and future with three days of activities dedicated to bringing together former medical school classmates and celebrating the next generation of UM physicians.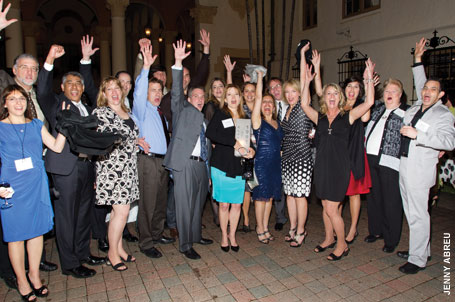 The Class of 1991 enjoys their 20th reunion.
Lisa Esserman, M.D. '81, and Harris Goldberg, M.D. '78.
"This weekend is so much more than just an excuse to get together with old friends and reminisce," Robert W. Carr, M.D. '81, said of the slew of seminars, ceremonies, professional workshops, and receptions. "It's an opportunity to learn what's going on at the School of Medicine and to be inspired by colleagues from around the world."
Held March 4-6, 2011, Medical Alumni Weekend began Friday afternoon with a keynote address by Karen Koffler, M.D. '89, on effective strategies to enhance well-being. Koffler is medical director at Canyon Ranch Living in Miami Beach.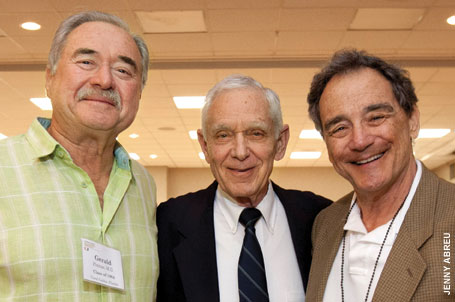 Gerald Pinnas, M.D. '64, Dean Emeritus Bernard Fogel, M.D. '61, and Jerome Sheldon, M.D. '64, reunite at the Scholarship Luncheon.
Later that day, first-year medical students, nostalgic alumni, and supportive family members gathered for the 11th annual John G. Clarkson Freshman Pinning Ceremony, where 149 members of the Class of 2014 were officially welcomed into the Miller School family and the medical profession amid pomp and circumstance.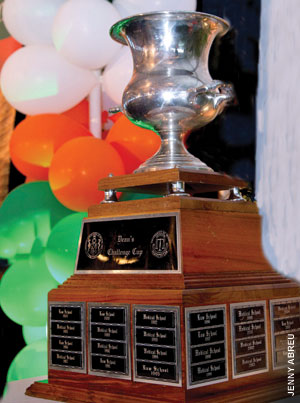 Students presented Dean Goldschmidt with the Dean's Cup, which was seized back from UM's School of Law in a series of athletic and other contests.
Students strode across the stage to receive the gold, orange, and green pin awarded after the near-completion of the first year of medical school from an alumnus or upper classman. At least seven class members were pinned by a parent or sibling who preceded their loved one to the Miller School a few years or a few decades ago. "I am so proud to follow my sister here,'' said a beaming Maddie Kubiliun, who received a big hug along with the lapel pin from sister Nisa, a 2003 grad.
Saturday morning saw the academic side of the weekend, with three continuing medical education sessions focused on advances in research and patient care. The sessions, led by James Grichnik, M.D., Ph.D., professor of dermatology and cutaneous surgery and director of the Melanoma Program at the Sylvester Comprehensive Cancer Center; Seth Thaller, M.D., professor of surgery and chief of the Division of Plastic, Reconstructive, and Aesthetic Surgery; and Luigi Meneghini, M.D., M.B.A., professor of clinical medicine and director of clinical operations in the Division of Endocrinology, Diabetes, and Metabolism, highlighted important developments in research and treatment and allowed alumni an opportunity to earn continuing medical education credits.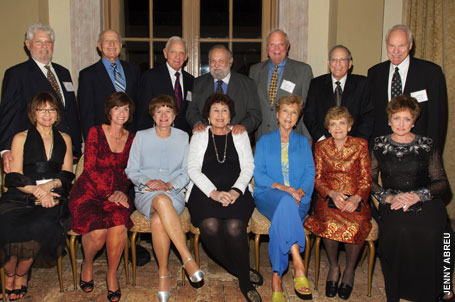 Members of the Class of '61 and their spouses celebrate their 50th reunion.
The Scholarship Donor Recognition Luncheon Saturday afternoon brought together nearly 100 alumni and supporters of the Miller School to meet with grateful students, faculty, and staff.
"Scholarships, grants, and endowments are critical to this institution and even more important to the bright young scholars who might not be able to attend medical school without the support of caring alumni and others," said Pascal J. Goldschmidt, M.D., dean of the Miller School.
| | |
| --- | --- |
| | |
| Beloved faculty member, Arvey Rogers, M.D., addressed the Class of 2014 at the Freshman Pinning Ceremony. | Joseph Armotrading, M.D. '91, dances the night away with Kerri-Ann Reynolds at the after-party. |
Last year, 41 UM medical students received scholarships and grants to complete patient-related projects, attend leadership programs, increase community activism, and pay for medical school expenses.
"More than 85 percent of graduating medical students carry a debt of at least $156,000," says Dean Emeritus and John K. Robinson Fund Chairman Bernard J. Fogel, M.D. "While the Miller School does what it can to assist students with financial need, the primary responsibility for subsidizing medical education expenses rests with students and their families. But we're here when they need an extra push."
| | |
| --- | --- |
| | |
| Members of the Class of 2001. | The reunion was held at the elegant Biltmore Hotel in Coral Gables. |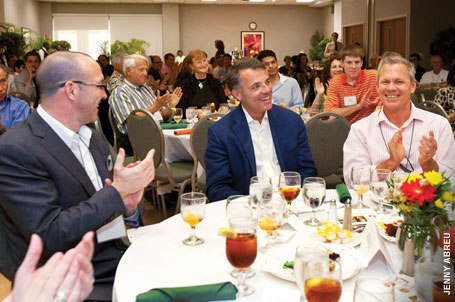 Matt Johnson, M.D. '96, and Bob Carr, M.D. '81, enjoy Saturday's Scholarship Luncheon with Dean Goldschmidt.
Stefania Prendes, a fourth-year medical student, received two separate grants through the John K. Robinson Scholarship Fund to present at child and adolescent psychiatry conferences. "With this support," Prendes said, "I was able to make some critical contacts and share my work with like-minded professionals interested in the same area of study." Third-year medical student Rimsky Denis was awarded stipends through the fund to present his public health field research in Ghana at two national conferences. "The financial support I received helped to fuel my passion for medical study and public service," Denis said.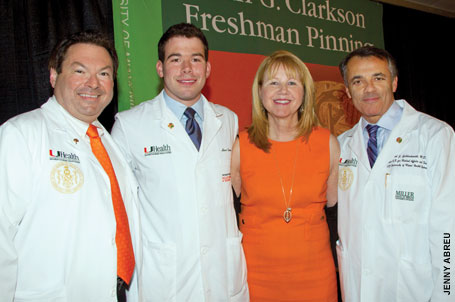 Edward Dauer, M.D. '75, who pinned son Marc, '14, celebrates with wife Joanne and Dean Goldschmidt.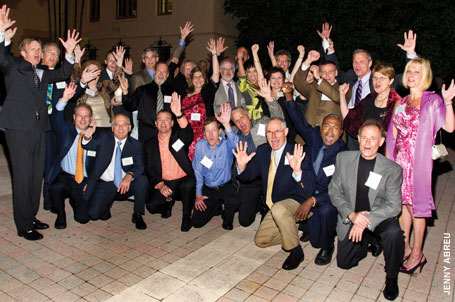 The Class of '81 celebrated their 30-year reunion with enthusiasm.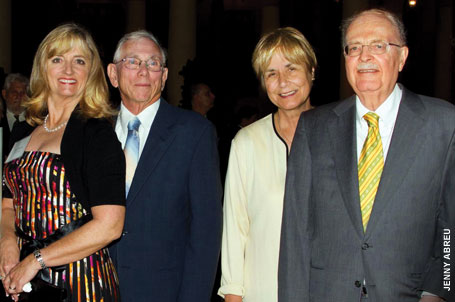 Barbara and Gerald Friedman, M.D. '66, and Barbara and Carl Alving, M.D. '66, celebrate the Miller School's past, present, and future.
Saturday evening marked the weekend's crowning event, the Alumni Reception and Banquet. Guests gathered under the stars at the historic Biltmore Hotel—original home of the UM medical school. As the evening progressed, alumni and friends made their way indoors for dinner and a program celebrating the classes of 1956, '61, '66, '71, '76, '81, '86, '91, '96, and 2001. Medical Alumni Association President Ruth Schobel, M.D. '81, began the program by welcoming classes celebrating milestone anniversaries, such as the 55th reunion of the Class of 1956, and Norman Kenyon, M.D. '56,
Bernard Fogel, M.D. '61, Sandy Jacobson, M.D. '61, and Karl Muench, M.D., spoke of the rich history of the Miller School and recounted stories from their respective classes and programs.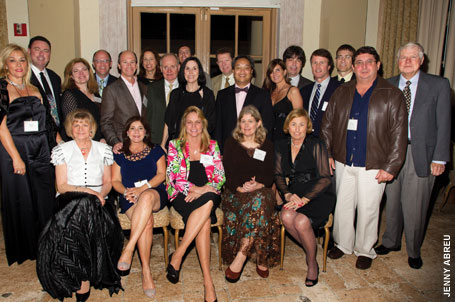 Members of the Class of 1986 enjoyed catching up with each other and mingling with other Miller alums.
| | |
| --- | --- |
| | |
| A live band performed into the wee hours Saturday night at the after-party hosted by Bob Carr, M.D., in honor of the Class of '81. | Jodi Ladge and Mitch Silverman, M.D. '81, celebrate the evening in style. |
After the ceremony and dinner, guests danced the night away at a party hosted by Bob Carr, M.D., and his wife, Eiko, in honor of the Class of '81. Carr, whose son Devon is a second-year Miller School student, commented on the importance of alumni support for their alma mater. "It's hard to believe, but several members of my class and others now have children attending medical school at UM," he said. "For me, it's come full circle. I am proud to see the next generation continuing the legacy of excellence, compassion, and professionalism that was begun at the Miller School of Medicine almost 60 years ago."