Empowering Diabetes Care in the Community


Oscar Rogers recalls the day in 2003 when the world around him started to move in slow motion. "One minute I was walking down the street; the next,
I could hardly put one leg in front of the other. Last I remember was waking up in the hospital, lucky to be alive."
Like many diabetics, Rogers didn't know he had the disease until it forced him into the emergency room with a blood glucose level over 700—more than seven times normal. He never wants that to happen again.
Rogers is participating in a community-based health program made possible by multi-year, multi-million-dollar support from United Health Foundation (UHF) to establish a Center of Excellence at Jackson Health System's Jefferson Reaves, Sr. Health Center in Miami's Overtown community. Now in its eighth year, the program is operated by the Miller School's Department of Family Medicine and Community Health.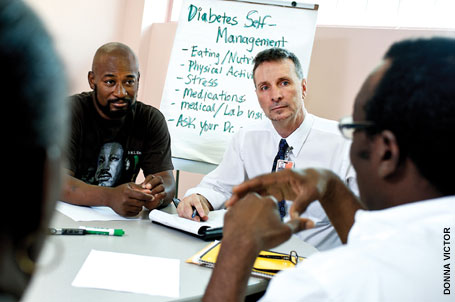 John G. Ryan, Dr.P.H., center, leads a diabetes management group at the Jefferson Reaves, Sr. Health Center.
"Underserved people deserve the same quality of care as anyone else," says Reed Tuckson, M.D., UHF board member and executive vice president and chief of medical affairs, UnitedHealth Group. "Through leadership, talent, and innovation, the Department of Family Medicine and Jefferson Reaves have been able to provide high-quality care. This center successfully puts quality care and wellness resources within reach for hundreds of individuals and families in need."
John G. Ryan, Dr.P.H., associate professor of family medicine and director of primary care/health services research and development, calls the UHF-funded program a "clinic within a clinic" that allows extremely high-risk patients to access the clinical care and support services.
"Preventive steps and regular care don't cost a lot," Ryan says. "If we can catch diseases like diabetes in the early stages and encourage patients to monitor and care for themselves, we can prevent a host of other problems, saving money and lives in the long run."
Freeman Brown, another participant, has witnessed some of the long-term effects within his own family. "My mother lost her legs to diabetes, and my son had half his foot amputated," says Brown. "Seeing them go through so much made me realize how serious diabetes is and what can happen if you don't do something about it."
Given that some 17 percent of Jefferson Reaves patients are diabetic—and that at least 10 people are at risk or undiagnosed for every one person in treatment—many aspects of the program focus on diabetes care and education, but all services at the clinic are administered by a multidisciplinary team that addresses a host of health-related issues.
"We are taking a comprehensive approach that is innovative for a community clinic," says Robert Schwartz, M.D., professor and chair of family medicine
and community health and director for the UHF-funded program. "Patients have access to specialists in exercise science, nutrition, women's health, social services, and behavioral health—all in one location—who work as a team with the primary care physician. It's a model of how people should be treated."
To complement services offered by the program, the Department of Family Medicine recently received a $100,000 gift from Chevron Corporation to provide participants with tools to better monitor chronic health conditions like diabetes.
"The Jefferson Reaves, Sr. Health Center project serves a critical role in our community. We are proud to support this initiative as part of our global effort to help build and maintain healthy communities in the places where we operate," says Alexandra Valderrama, regional manager for policy, government, and public affairs for Chevron Downstream, Latin America.
Through Chevron's support, Ryan leads a monthly discussion group attended regularly by Rogers, Brown, and eight to ten others. In addition to these sessions, which cover everything from getting the most from doctor visits to nutrition demonstrations, the Chevron gift helps subsidize some of the more modest costs of self-managed care.
"I've had diabetes for eight years," says Rogers, "but I learn something new every time I come here—from the staff and from my colleagues. When I find out something new, I'm like a kid at Christmas, bursting to share what I learned because I know it could change or save someone's life."
Outreach is crucial to expanding the program in the community. To that end, Rogers has been named a "community ally," a role in which he helps to identify opportunities to extend the UHF- and Chevron-funded activities by partnering with area churches and civic organizations to hold diabetes and cardiovascular disease-prevention programs.
"Participants in the program really hold each other accountable, and they encourage each other in a way that I or other health care workers just can't do," Ryan says. "The program emphasizes self-managed health care, but it really is a group effort. From our staff to our patients to our generous supporters and on to the community as a whole—we're all in this together."