Supporting Crohn's and Colitis Research


Ana Adler has always been one to root for the underdog. So when she made the decision to support the Miller School of Medicine, she wanted to champion a division that doesn't always get the spotlight.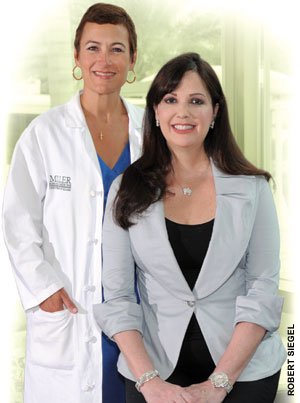 Maria T. Abreu, M.D., with Ana Adler, whose generous seed gift will help establish a Crohn's and Colitis Center at UHealth.
"After a couple of remarkable experiences my family and I had with UHealth, I knew it was time to do something to show my appreciation," Adler says, "but I wanted to know that my gift would make a difference by funding a program that doesn't get a lot of attention."
Through her own support and fundraising efforts, Adler presented Maria T. Abreu, M.D., chief of the Division of Gastroenterology, with a generous gift of $300,000 to establish the Crohn's and Colitis Center at UHealth. Scheduled to open this year, the clinic will provide state-of-the-art, multidisciplinary care to patients with inflammatory bowel disease and support clinical trials for developing new treatments for Crohn's and colitis.
Ulcerative colitis and Crohn's are the most common forms of inflammatory bowel disease, affecting some 1.5 million people nationwide. "Because of the nature of these conditions, people are reluctant to discuss them," says Abreu, "but they are chronic, incurable diseases that are painful and often debilitating. Current treatments can be toxic, and as many as 80 percent of sufferers require surgery at some point. As more patients from immigrant populations are diagnosed each year, the time has never been more critical for us to find a cure."
Once considered a disease that mostly affected people of Ashkenazi Jewish descent, Crohn's is now showing up in increasing numbers among Hispanic populations.
"My father suffered quite badly from Crohn's," says Adler, a first-generation Cuban-American. "Anyone I mention this to knows at least one or two others who have it. It's so common, yet nobody talks about it. When I learned that Dr. Abreu was starting a clinic dedicated to Crohn's and colitis, I knew I wanted to be part of that effort."
Given South Florida's large Hispanic population, Adler notes that it is especially critical to have a Crohn's and colitis research and treatment center here. "There's no other center like this in the state, so it serves a unique purpose in our area. People can come from across the country and Latin America to get the best care available. UHealth is fortunate to have one of the best doctors in this field in the country—if not the best."
But Adler recognizes that treatment alone isn't enough. "I am planning a gala to raise awareness about the center and get more support for research," she says. "Ongoing fundraising is critical because without research, we're not going to find a cure. We can't sit back and rest just because we've raised enough money to start building the center. That's only half of the equation."
As Abreu points out, "Ana Adler is a pioneer in terms of support for this disease. She has gotten people to start talking about a topic that was once taboo, and she is leading the charge to find a cure. I wish there were more like her!"
To join Ana Adler and Maria Abreu in supporting critical research to treat and end Crohn's and colitis, contact Beth Goldberg at egoldberg@med.miami.edu or call 305-243-3492.