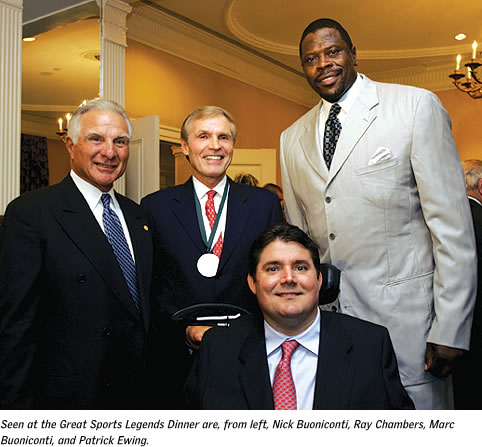 The 21st Annual Great Sports Legends Dinner at New York's Waldorf-Astoria Hotel hosted such greats as seven-time Tour de France winner Lance Armstrong, Desert Storm military commander General H. Norman Schwarzkopf, and 11-time NBA All-Star Patrick Ewing.
The high-profile event raised more than $4 million for The Buoniconti Fund to Cure Paralysis, the national fundraising arm of The Miami Project to Cure Paralysis at the Miller School of Medicine.
Along with Buoniconti Fund Award winner Ray Chambers and Buoniconti Fund Outstanding Business Leader Award winner Craig Neilsen, the event featured a host of sports luminaries: baseball Hall of Fame member Wade Boggs, NFL all-time leading ground gainer Emmitt Smith, skateboarding pioneer Tony Hawk, college basketball coaching legend Dean Smith, NFL Hall of Fame receiver and former UM Hurricane football great Michael Irvin, former NHL goaltending star John Vanbiesbrouck, tennis standout Michael Chang, and award-winning women's track coach Beverly Kearney.
"This is one of the most excellent arrays of athletes and honorees we have ever put together," said Nick Buoniconti, NFL Hall of Famer and defensive captain of the undefeated 1972 Miami Dolphins who co-founded The Miami Project with Barth A. Green, M.D., professor and chairman of the Department of Neurological Surgery at the Miller School. "These generous people will help us to continue our work to find a cure for spinal cord injuries, which affect millions worldwide."
Legendary television newsman Tom Brokaw returned to serve as the master of ceremonies and introduced each legend as he or she received an award.