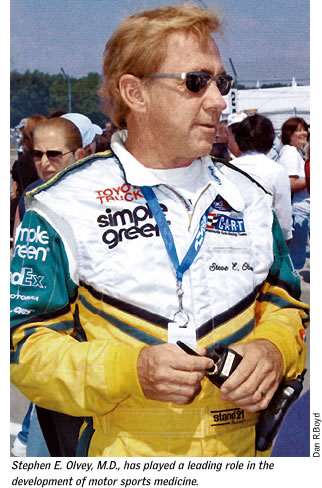 One hundred percent fatal. That's how trauma physicians describe a bilateral above the knee traumatic amputation. No one can survive the profuse bleeding unless competent help arrives immediately.
Without a miracle, race car driver Alex Zanardi would be dead in four minutes. Help arrived in just 19 seconds.
"The Zanardi crash was a situation where an individual sustained an injury that was considered universally fatal," says Stephen E. Olvey, M.D., associate professor of neurological surgery and one of the physicians who treated Zanardi that day.
Zanardi was saved, not only by the physicians who treated him at a German race course in September 2001, but by a long investment in safety.
Olvey has now written a book about his 40 years of providing emergency medicine to injured race car drivers. Rapid Response: My inside story as a motor racing life-saver tells the story of the evolution of motor sports medicine, an effort led by Olvey and a handful of other physicians.
Olvey first worked as a track physician in Indianapolis in 1966, when a hearse served as an ambulance and intensive-care specialists were nowhere to be found. "In Milwaukee the medical director was an Ob/Gyn," he recalls.
And in the 1960s, one out of seven drivers involved in a crash was killed.
"I started the first program where the same physicians went around to the races," says Olvey, who is also director of the Neurosurgical Intensive Care Unit at Jackson Memorial Hospital, but who grew up in Indianapolis. "We standardized things."
Olvey recounts the inadequacy of motor sports medicine through the 1950s and '60s, when deaths from fire and head injury permeated the sport. Swede Savage crashed in an inferno in 1973 and died a month later from complications related to contaminated plasma. Gordon Johncock suffered a badly broken leg racing in Milwaukee—then was accidentally dumped from the back of the ambulance.
In 1975, as the new assistant medical director at the Indianapolis Motor Speedway, Olvey was put in charge of organizing more consistent and better medical care at the various Indy car tracks. By the early 1980s, a trained physician—often Olvey—would usually be on the scene within 30 seconds after a crash. Tracks offered medical facilities equipped like trauma hospitals and required medical helicopters.
In 1996 driver Emerson Fittipaldi, who lives part time in Miami, crashed at Michigan International Speedway, severely fracturing his cervical spine. Not agreeing with the care offered in Michigan, Olvey flew Fittipaldi to UM/Jackson, where he had successful surgery led by Barth A. Green, M.D., F.A.C.S., professor and chairman of the Department of Neurological Surgery, and Frank J. Eismont, M.D., professor and chairman of the Department of Orthopaedics.
Olvey says many physicians were focused on saving an injured driver's life but not thinking about getting them back into a race car. Instead, he and his colleagues worked on restoring drivers' ability to compete.
Zanardi, the driver who lost his legs, returned to the German track where he was injured two years later to drive his last 13 laps with prosthetic legs.
At full speed.